A biracial family on a camping trip in the countryside near Forks, Washington were accused of being antifa and hunted by a "Purge-style" mob after rumors circulated about busloads of antifa coming out to loot small towns.
Assertions that antifa—which is not an organized movement but instead a descriptor of protesters who confront and defend other protesters against fascists, white supremacists and other violent extremists—would be bussing out to attack rural towns have become common in right-wing media and on social networks since the protests began.
Often these rumors are started by far-right organizations using sock puppet accounts on Twitter and Facebook. These sock puppet accounts often claim to be antifa in an attempt to convince people the alleged attacks are real and to delegitimize resistance from the left.
The events in Forks seem to be connected to a series of Facebook posts made by Seth Larsen, owner of gun shop Fred's Guns in nearby Sequim. Posts still visible on his shop's Facebook page include accusations that Black Lives Matter (BLM) is a violent organization and calls for people to attend a local BLM march to "make sure this is a peaceful demonstration and declare ALL LIVES MATTER".
Another post called for "patriots" who were "qualified shooters" to contact him so they could act as security, accompanied by a picture of right-wing marchers.
Most significant is a now-deleted video, allegedly taken down on the order of the local police. In it he claimed to have seen busloads of black-clad antifa coming to town intending to incite violence.
He also claimed that he had received "intel" that this was going to happen beforehand, though he did not specify who he had allegedly received this intel from.
Later videos feature him asking people to cool down, seemingly at the request of the police, but also contain the claim that the police told him his intel about incoming antifa looters was correct. Screenshots that appear to be from his personal Facebook page, which have been shared on Twitter, also show posts in which he claims to have seen busloads of "rioters dressed in black" arriving at the Sequim Walmart, with cops and "local boys" going out to "protect their town," warning that Forks could be next.
While no antifa troops arrived in Forks, a biracial family, including a sixteen-year-old girl and her grandmother did, driving in an old school bus.
The family was on a camping holiday and stopped at the Forks Outfitters store to collect supplies when they were accosted by between seven to eight cars worth of people.
Those people then demanded to know whether the family were antifa members while blocking the family's exit from the parking lot, forcing them to drive around the group's cars in order to leave. Four cars then followed them, allegedly containing people carrying semi-automatic rifles, on the way up to their camp site.
Later that night the family heard chain saws and gun shots and decided to leave, only to discover the road had been blocked with cut down trees.
A group of four high school students discovered what was going on and came to clear the road with chain saws, summoning the local sheriff's department on the way. The family was able to leave the area and were then escorted by deputies to give their statements at the sheriff's office, who are now holding a criminal investigation.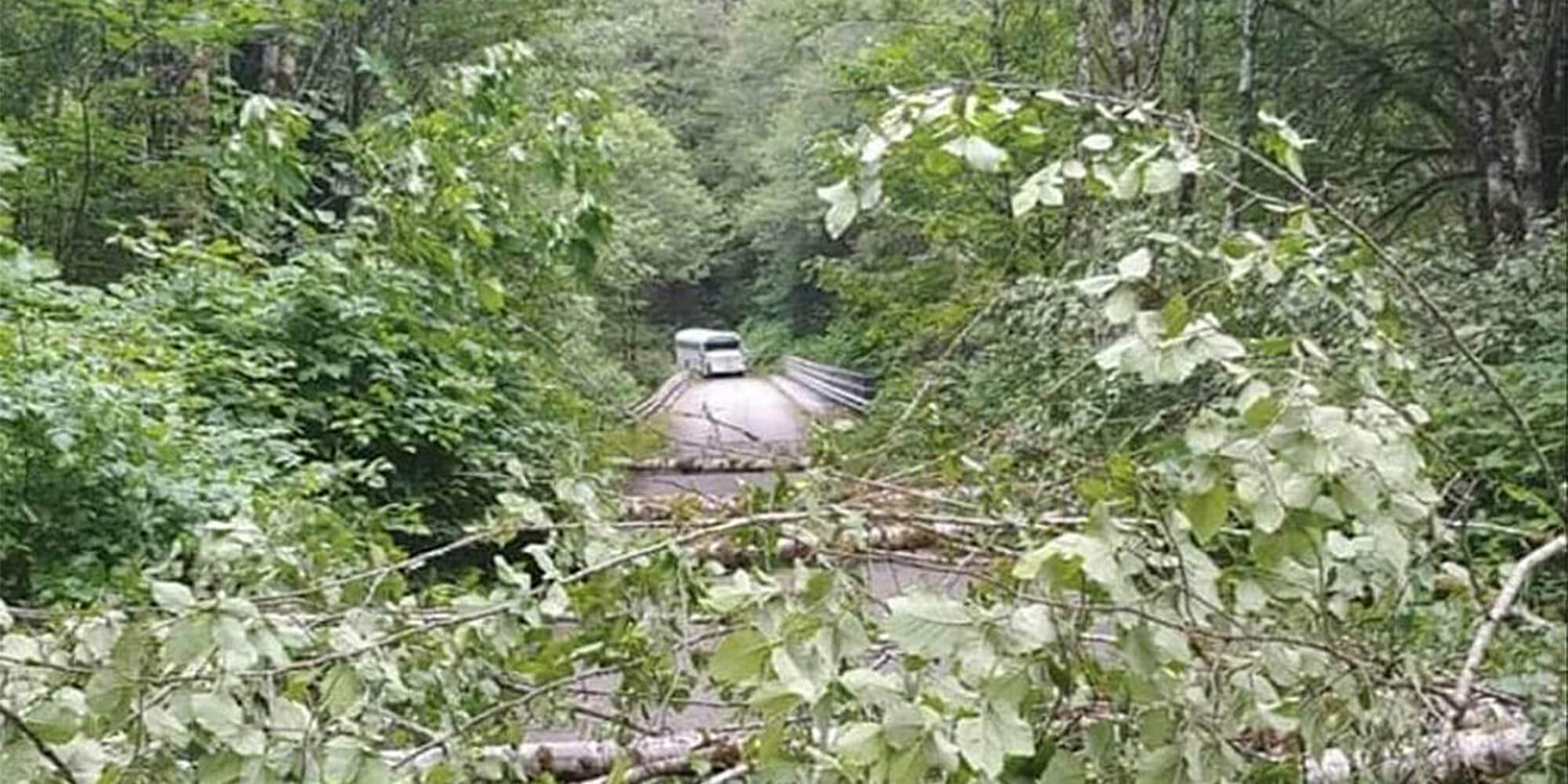 Meanwhile residents proudly chronicled the harassment of this family on Facebook, likening it to The Purge movies and asking "U think they realized they came to the wrong place yet?"
Larson went on to share a picture of the bus blocked in by the fallen trees and claim this was one of his predicted antifa buses, held off by the townspeople laying trees across the road. Though he has now deleted these posts, many people captured screenshots first and shared them on Facebook and Twitter.
Rather than making a retraction or apologizing Larson is now sharing screenshots of threats allegedly sent to him by antifa.
Meanwhile some of the people who have previously supported him and his assertions are now publicly disavowing him on social media.
Larson and the Forks Sheriff's Department have been contacted by the Daily Dot and this article will be updated if they respond.
READ MORE: