Update 9:12am CT, Sept. 18: Republican Legion has pulled the ammunition pages from its site. The Daily Dot has reached out for comment and will update this story if we hear back. Mitchell has also deleted his tweets. 
The original story appears below. 
Popular conservative media personality Bill Mitchell's recent tweets selling ammunition might violate Twitter's terms of service.
The fervently pro-Trump Mitchell sent a string of tweets over the weekend pushing merchandise for the website Republican Legion. While some of the offerings were standard-issue like T-shirts and hats, Mitchell (who didn't respond to Daily Dot's request for comment) also sent several tweets advertising Trump-branded 9 millimeter and .45 caliber pistol ammunition.
https://twitter.com/mitchellvii/status/1172902899229372418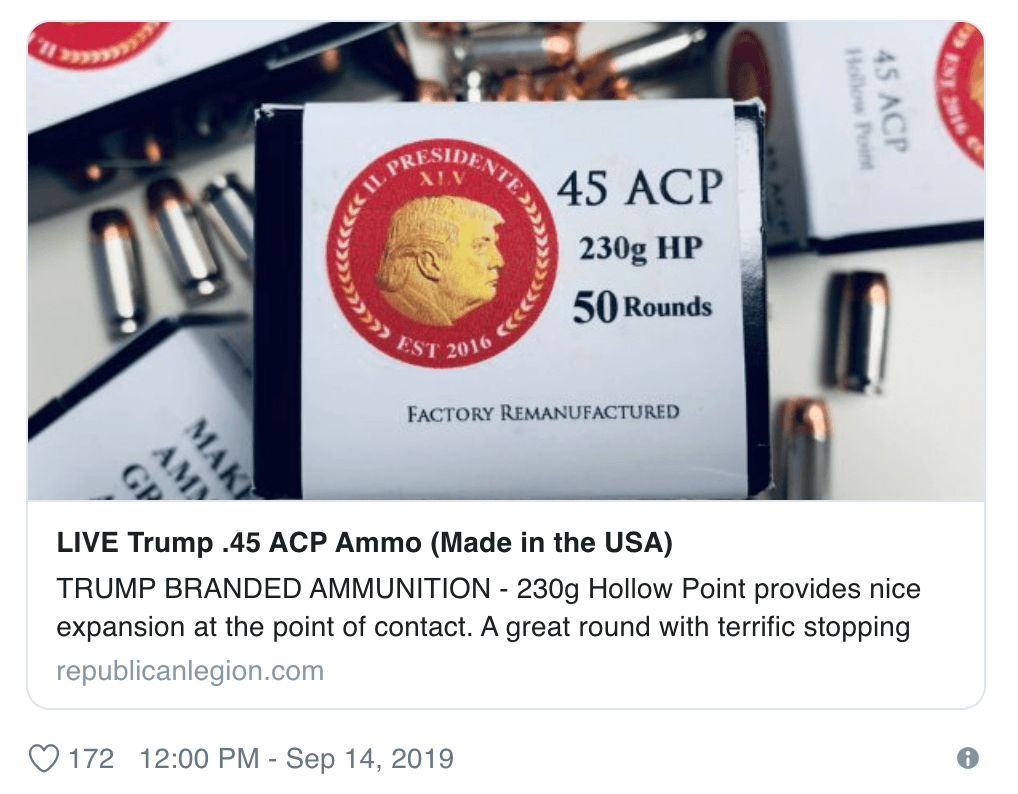 https://twitter.com/mitchellvii/status/1173051726884155393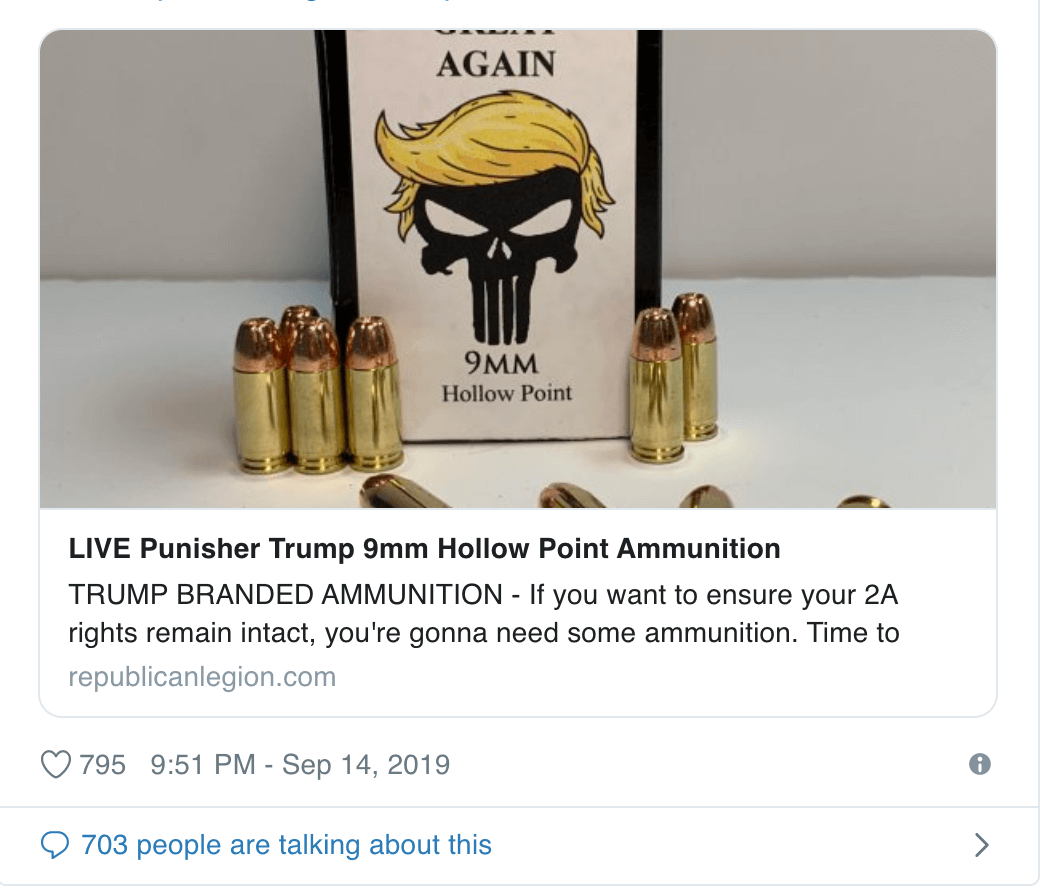 In offering ammunition for sale on his Twitter feed, Mitchell is almost certainly in violation of Twitter's rules regarding regulated goods and services, which ban the sale of "weapons, including firearms, ammunition, and explosives, and instructions on making weapons."
Twitter also clearly bans paid advertising for "gun parts and accessories, including gun mounts, grips, magazines, and ammunition." 
Mitchell's tweets are not labeled as ads or sponsored, but there's still an open question of whether he is profiting off them. The website Mitchell is promoting, Republican Legion, is registered to Richard Granville, whose conservative-leaning search engine Yippy hired Mitchell earlier this year.
It's unknown whether Mitchell is getting a cut of whatever Republican Legion sells through his Twitter feed. Mitchell has disclosed his employment by Yippy, but hasn't mentioned the sales tweets at all, seeming to include them as links in otherwise unrelated tweets. 
There are other Twitter accounts devoted to selling firearm accessories that have slipped past Twitter's rules, such as BulkAmmo and BuySellAmmo, but these appear to run third-party ads or links to newsletters, and have almost no engagement. 
800 rounds 9mm Luger – 60 rounds 556 – 15 Rifle Slugs https://t.co/EhDGhCGzjN pic.twitter.com/YEVI2wmGLX

— BuySellAmmo (@BuySellAmmo) September 10, 2019
Mitchell, on the other hand, has 450,000 followers and routinely gets thousands of retweets for his posts. 
Twitter did not respond to a request for comment.
The ammunition the site is selling appears to be wildly overpriced. It offers 50 .45 caliber or 9 millimeter rounds for $44.95 – with nothing to distinguish them from other brands except some Trump branding and the slogan "Make Ammo Great Again." 
In contrast, other ammunition-selling websites have the same rounds for sale at much lower prices, including a similar box of 9mm ammunition for $18.  
The site is also clearly selling ammunition based on fears of mass gun confiscation and the possibility of civil unrest.
"Every single 2020 Democrat [sic] candidate wants to strip Americans of our Second Amendment rights. Some have said it openly, while others try to be a little more obscure," declares Republican Legion's ammunition pages. "Leftist progressives don't understand the point of gun ownership, despite seeing what's going on in places like Venezuela and North Korea (and Chicago?) where tyrannical dictators run the show. Freedom isn't free … and never more than one generation from extinction."
The site's "about" page takes it a step further, declaring "America is on the verge of another Civil War" with conservative content the subject of "economic terrorism."
Bill @Pulte and me outside the White House. pic.twitter.com/PvfWQvEFa2

— Bill Mitchell (@mitchellvii) July 24, 2019
At this point, it would be fair to ask why this matters. After all, if people want to buy overpriced ammo just because it has a Trump campaign slogan on it, that's their right, as long as they aren't violating firearms laws.
With over 450,000 Twitter followers and a regular livestream, Mitchell is a major presence in right-wing media—though he's been criticized by friends and foes alike for raising $15,000 on GoFundMe to pay for a move to Washington, only to move to Miami to work for Yippy. He is a fervent, tireless promoter of President Donald Trump, and has been to White House on several occasions, including the recent White House social media summit—proving he has at least some access to the president's inner circle.
I will be attending the White House Social Media Summit on July 11th, 2019 in Washington, DC. I thank President Trump for the honor of this private invitation.

I will stand up for all of you there. We are #MAGANation and we will not be silenced! pic.twitter.com/vRtghUgRyw

— Bill Mitchell (@mitchellvii) July 2, 2019
Beyond his links to the White House, Mitchell has also linked up with other questionable Trump-supporting movements. As developed by Mitchell's friend, the conservative investor Bill Pulte, Mitchell is a vocal part of the growing "Twitter philanthropy" sphere, a movement that claims to be giving money away to random people on the internet merely based on retweets and need, but has been criticized as a thinly disguised data-gathering operation for the Trump campaign.
And Mitchell has been a vocal supporter of the QAnon conspiracy theory. This is the discredited idea that a team of Trump insiders and military intelligence figures has been dropping clues on the (now-down) imageboard 8chan about an upcoming purge of supposed pedophiles and deep state figures—a purge meant to end with mass execution. Mitchell was supposed to speak at a QAnon-promoting "digital soldiers" conference, organized by his new boss Richard Granville, though the event was ultimately canceled.
Mitchell consistently tweets approvingly about Q and its supporters, claiming "no downside" to the movement he has called "harmless fun," despite the violence associated with the movement and its most ardent believers.  
If #Qanon is wrong, it's harmless fun. If #Qanon is right, #DeepState is SCREWED.

I like those odds.

— Bill Mitchell (@mitchellvii) August 2, 2019
Two murders have already been committed by QAnon followers, along with a host of other crimes, including arson. An armed QAnon believer blockaded the Hoover Dam. Many others have been banned from social media for violent threats, including the entire QAnon forum on Reddit.
Ultimately, it's not clear if Mitchell is tweeting links to ammunition sales to promote Yippy and Richard Granville, to advance a political agenda, profit, or just to share.
But a QAnon believing media figure with a large following among rabid Trump believers and conspiracy theorists selling ammunition to fight a new American Civil War should make anyone nervous, even if Mitchell isn't breaking any laws doing it.
READ MORE: