Presumptive Democratic presidential nominee Joe Biden has concocted a plan in response to calls to reform and defund police: give cops more money.
George Floyd's death at the hands of a white Minneapolis police officer last month has inspired nationwide Black Lives Matter protests against police violence and systemic racial oppression.
Many protesters have begun calling to defund the police or to disband police departments entirely.
This morning, Biden responded to these concerns by proposing to give police departments $300 million more.
He qualified it by saying that police departments that are racist shouldn't get that cash. But people are still hung up on the fact that he wants to give cops more money when they're asking for the exact opposite.
In an op-ed in USA Today, Biden said that the money should help departments implement "community policing," which essentially involves cops getting out of the cruiser and getting to know the people they're sworn to serve and protect.
"Every single police department should have the money they need to institute real reforms like adopting a national use of force standard, buying body cameras, and recruiting more diverse police officers," he wrote.
Irrespective of the arguable worthiness of these goals—given that as of 2017 the U.S. already spends $100 billion annually on policing and an additional $80 billion on incarceration, according to a Popular Democracy report—$300 million isn't going to go far toward implementing anything.
It's also seen as an incredibly tone-deaf reaction to calls to give officers less money.
"The neoliberal policy recommendations in this Biden op-ed on addressing systemic racism are legitimately beyond parody," tweeted John Carl Baker, a senior program officer with the Ploughshares Fund, a Christian pacifist group that opposes nuclear weapons.
"Giving cops more money is literally the opposite of what we're demanding," said @AimlessFriend.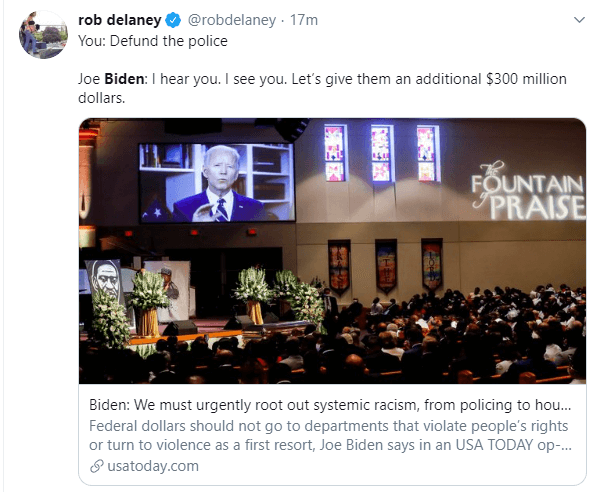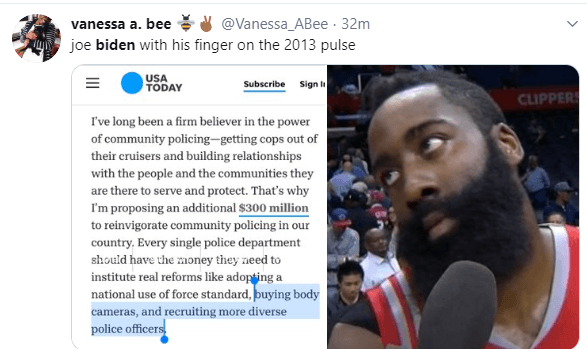 The other parts of Biden's proposal included things that have been urged by people taking part in Black Lives Matter protests, such as increasing mental health funding and removing some of the social services from police purview.
But that $300 million is proving to be a sticking point.
READ MORE: