Sen. Bernie Sanders (I-Vt.) dropped out of the presidential race last week.
Since then, his legions of internet followers—referred to pejoratively as "Bernie Bros"—have attacked former Vice President Joe Biden, who's all but assured the Democratic presidential nomination. Many have claimed they won't vote for Biden, even if it means a second term for President Donald Trump.
Today Sanders attempted to quell their dissent in a Periscope appearance with Biden.
Thousands watched as Sanders gave a full-throated endorsement of his former political rival.
"Today I am asking all Americans—I'm asking every Democrat, every Independent, I'm asking a lot of Republicans—to come together in this campaign to support your candidacy which I endorse," Sanders said.
"…We need you in the White House, and I will do all that I can to make that happen."
Then he and Biden had a wide-ranging conversation about economic inequality, criminal justice reform, systemic racism, student loan debt, the coronavirus pandemic, and Trump, whom both identified as the biggest impediment to American prosperity. Sanders called Trump a bigot and "the most dangerous president in the modern history of this country."
The pair also announced that their teams are working together. They plan to create six working groups to focus on various subjects like criminal justice reform, climate change, and the economy.
Giving Sanders a say in shaping Biden's policies is likely seen as a move that will appeal to Sanders supporters.
Both men repeatedly stressed that they fundamentally agree on most subjects and highlighted that Trump is their common enemy. This theme will likely persist throughout the remainder of the campaign.
After the live-stream ended, Biden tweeted a photo of the two smiling with a one-word caption: "Unity."
Viewers themselves were torn, however.
Many of the comments during the video congratulated one or the other for the show of solidarity. "I'm voting for kids in cages, the Supreme Court, and women's access to choice," said one.
But many were also sharply critical. "What are u DOING BRUH!!!!!" said one presumed Sanders' supporter.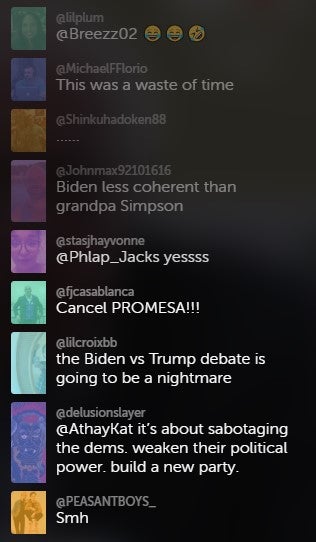 Twitter users were similarly conflicted.
Both "Good for Bernie" and "Sorry Bernie" trended in response to the endorsement. The former thought Sanders did the right thing for the good of the country. The latter insisted they would not vote for Biden.
Near the end of the video, Biden issued a direct appeal to Sanders' base.
"I hope you'll join us. The more the merrier," he said.
"We need to come together, we need to beat Donald Trump."