Right-wing Twitter users were fooled by an obvious prank on Tuesday after an admitted troll claimed that "antifa" was preparing to descend on conservative areas of the country.
The prank, carried out by political activist and performance artist Adam Rahuba, involved a tweet in which President Donald Trump was ordered to concede the 2020 election.
"If you do not concede by Sunday at noon, we will begin to block roads in conservative areas," Rahuba tweeted at Trump. "Your supporters will not be able to go to work or the grocery store to feed their families. We are armed & will retaliate to attempts at vehicular manslaughter."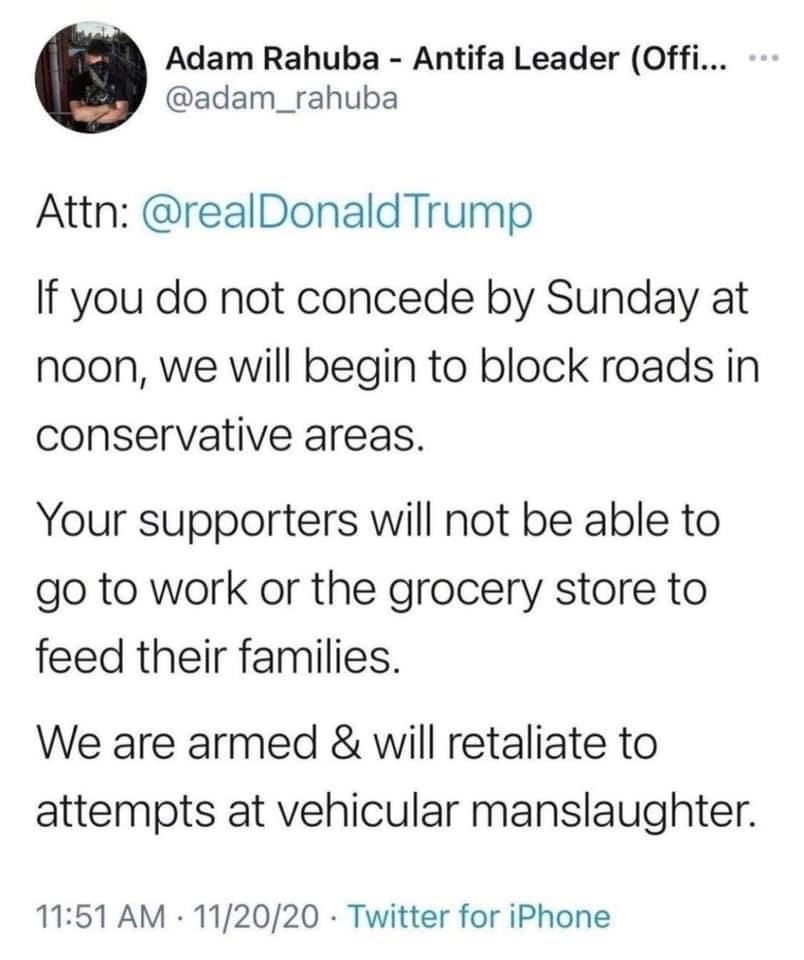 Rahuba admits on his personal website, disinformationartist.com, that his ultimate goal is to "exploit conservative bias and fear" by planting disinformation online.
While Rahuba had initially kept his trolling a secret, his identity was revealed earlier this year after the Washington Post found that he had been behind a fake antifa campaign to hold a flag burning ceremony at the Gettysburg National Cemetery in Pennsylvania.
Despite the fact that Rahuba's social media posts regarding the fake event contained obviously satirical remarks, such as offers for "Antifa artists" to paint children's faces during the flag burning, right-wing sites including the Gateway Pundit ran with the story.
And even though Rahuba has become a somewhat high-profile figure, conservatives continue to fall for his pranks.
Brandon Straka—founder of the #WALKAWAY campaign, which encourages liberals to cease their support for the Democratic Party and embrace Trump instead—breathlessly shared the tweet on Tuesday to his more than 662,000 followers.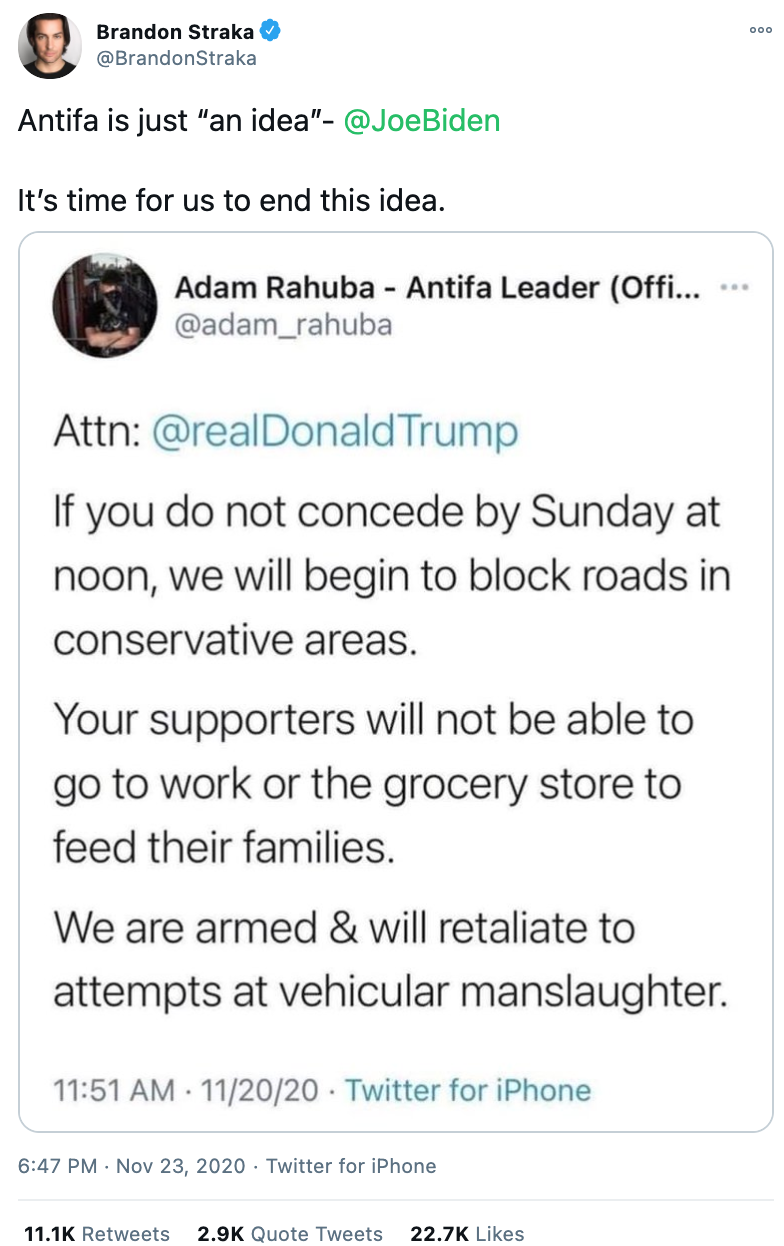 Speaking with the Daily Dot, Straka pushed back on the notion that he fell for the fake tweet by claiming that it revealed the violent nature of antifa.
"Fool conservatives into what? Believing that antifa is violent and dangerous?" Straka said. "Where's the joke?"
The Daily Dot followed up by pointing Straka to numerous other pranks carried out by Rahuba, including one in which he created a fake Antifa recruitment site made to appear as if it was founded by conservative commentator Ben Shapiro, but did not hear back.
Rahuba's account was taken down by Twitter not long after.
Incredibly, Straka's tweet was still picked up by the Gateway Pundit, the conspiratorial outlet that fell for Rahuba's Gettysburg prank.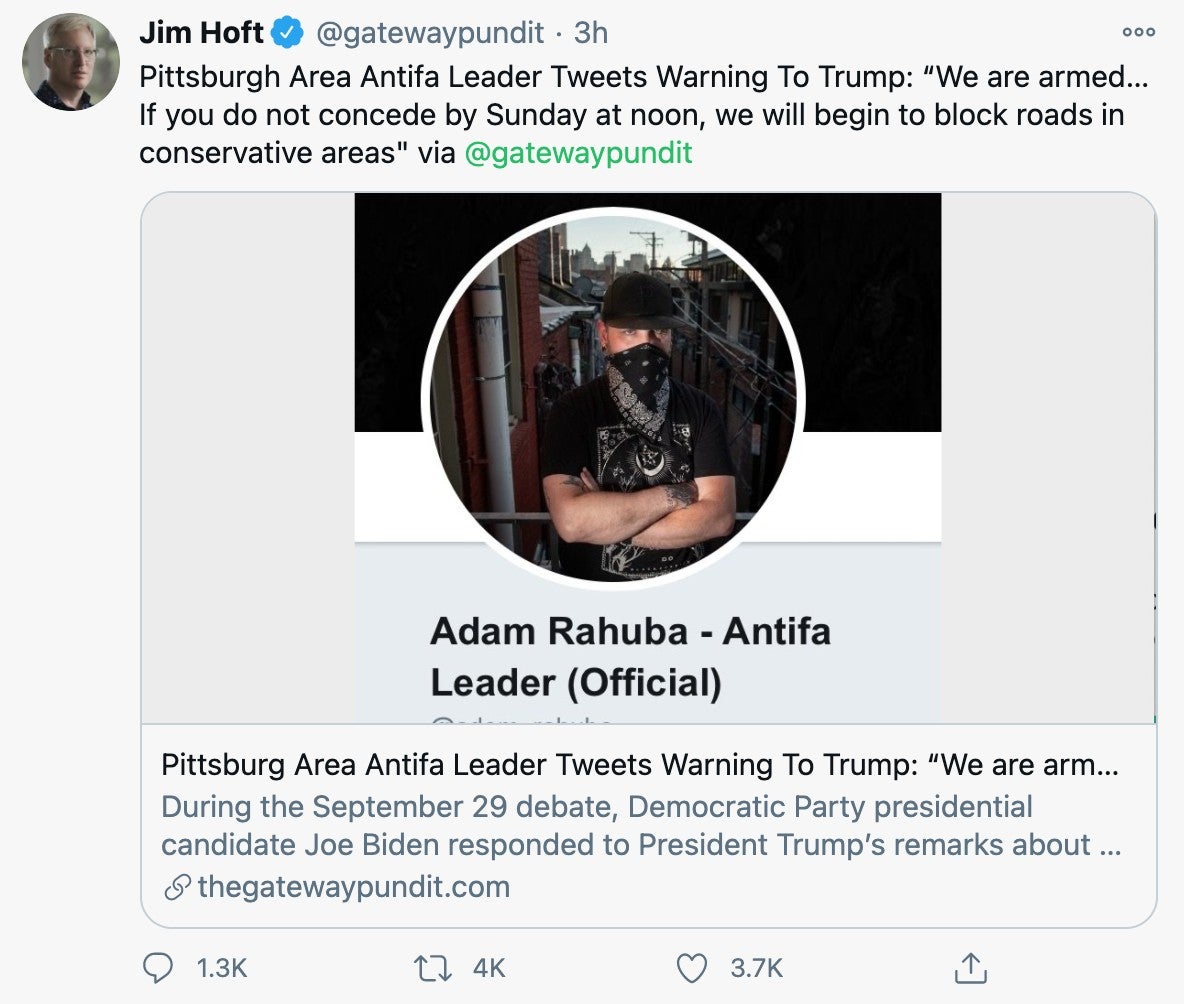 In the article, Patty McMurray, who also heads up the conservative website "100% FED UP!," suggests that other media entities could be purposely avoiding coverage of Rahuba's comments.
"How many mainstream media outlets will report about Rahuba's violent threats against 'conservative areas?'" McMurray asks. "Does anyone else find it curious that only conservative media outlets are able to access information that exposes the dark underbelly of the left?"
The Daily Dot reached out to McMurray as well to ask whether the Gateway Pundit planned to update its article given Rahuba's admitted desire to fool conservatives but did not receive a reply either.
The Gateway Pundit also once fell for a hoax about antifa "supersoldiers" back in 2017.
Rahuba later shared a screenshot of the Gateway Pundit article to his Instagram in an apparent celebration of the successful prank.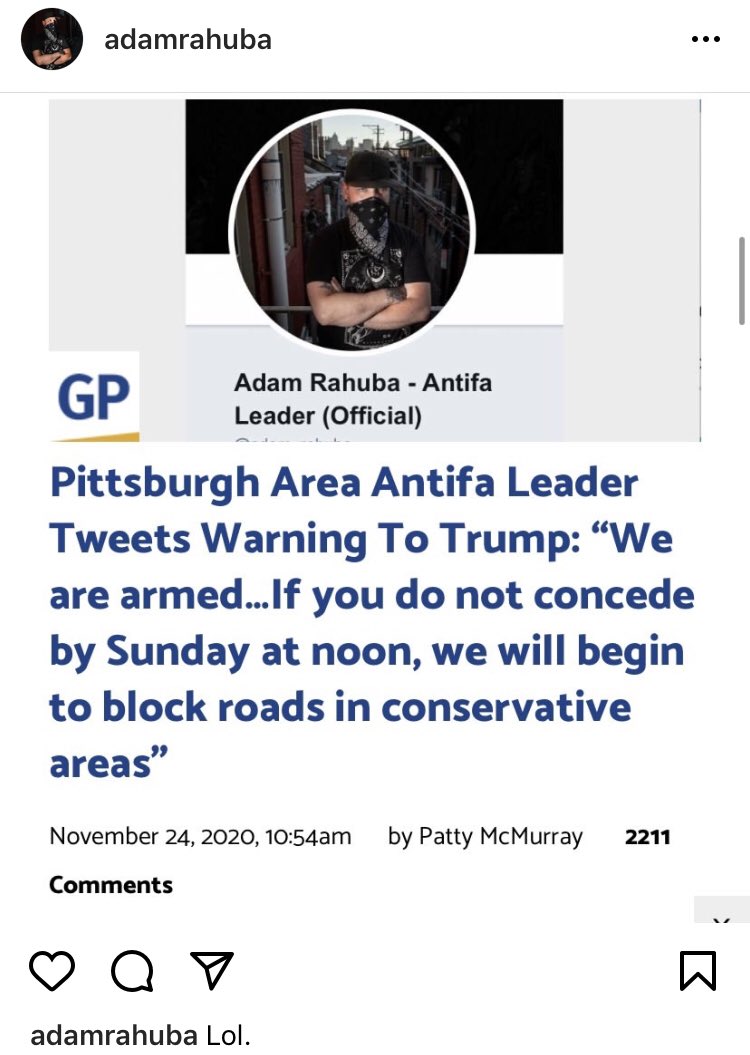 Rahuba's latest prank is similar to numerous others from the past several years that saw conservatives across the country flocking to defend their towns against non-existent Antifa rallies.
More election 2020 coverage