The Armory is the biggest and most well known weapons black market on the Dark Web. It may also be an elaborately faked storefront that has potentially scammed thousands of dollars from buyers in just a few months of operation.
For the thousands of people who have stuck around the world of Dark Web black markets in the six months after the FBI brought down the Silk Road, the Armory is just the latest episode in a long, strange tale full of curious happenings between what some see as an endless supply of dedicated scammers and naive buyers.
Let's take a stroll down the market's infamous aisles.
The website, which requires a minimum order of $1,050, has around 400 items for sale, ranging from bullets to bombs, but the inventory is mostly concentrated in rifles and pistols. Like Silk Road and the dozens of other Dark Web markets that have come and gone since its demise, ordering from the website is as easy as navigating Amazon.com.
One of the Armory's most easily recognizable items is a $2,800 AK-47 rifle that is on sale, down from the sticker price of $3,600. The markdown is still many times over the legal price for this firearm. An American law called the National Firearms Act says this gun must be entered into a government registry upon purchase. That makes an untraceable gun, or a gun with a fake serial number—as is the Armory's stated specialty—much more valuable.
Then they have the military section, complete with a $359.69 hand grenade, a $1,999 AKS-74U short assault rifle, as well as more affordable armor and riot shields for equipping your very own militia.
"[O]ur online orders are not small, usually it's a single handgun followed by a dozen or more arms," the markets' owners recently wrote on Reddit, "and repeat sales after that."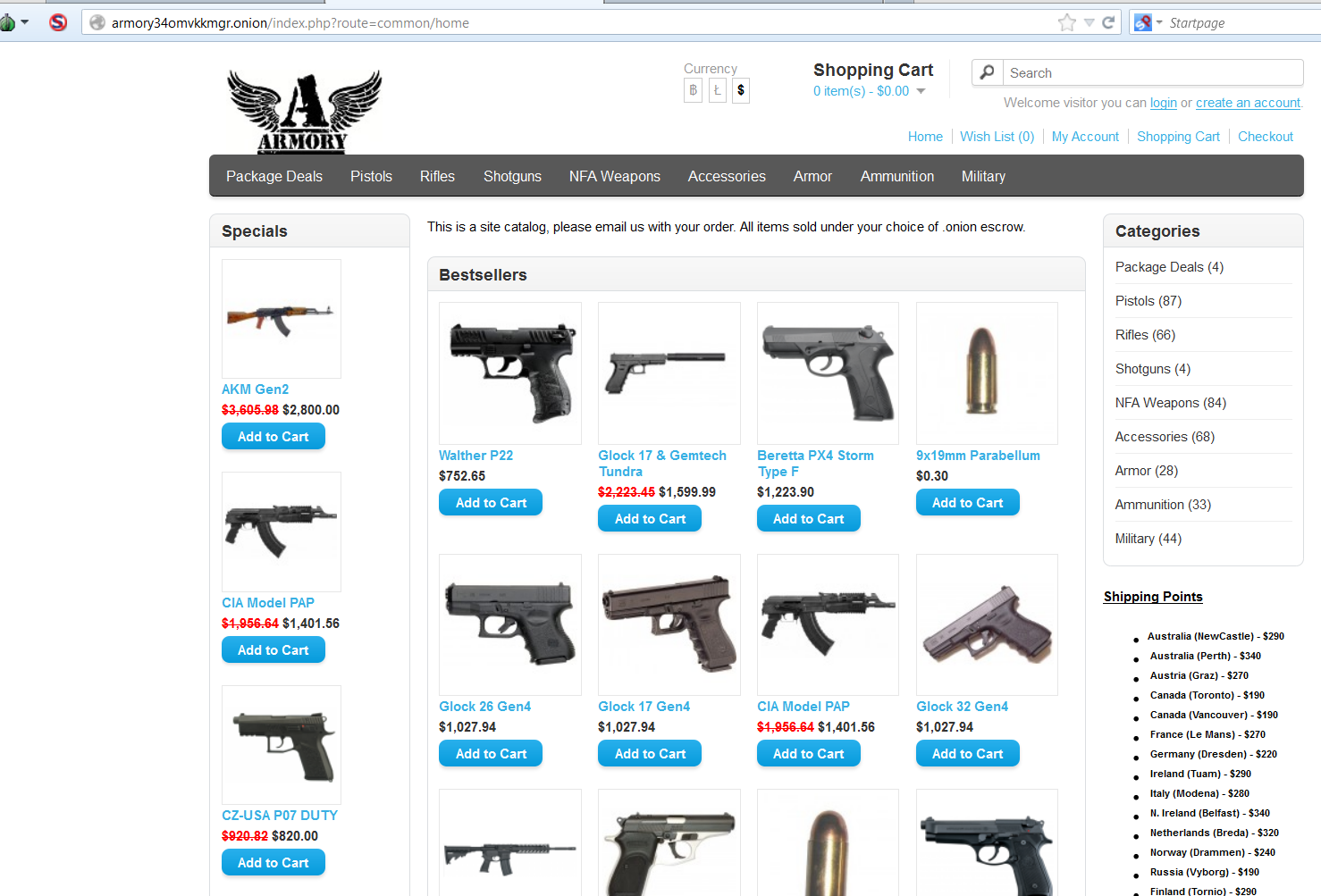 On its face, the Armory looks like the best—or worst, depending on your perspective—gun store the world has ever seen.
A huge selection of weaponry is available to virtually anyone around the globe at the click of button, without the involvement of any laws.
Deals on the Armory are nearly anonymous, of course. Money transactions are exclusively conducted in Bitcoin, and the site hides behind the encrypted Tor network, home of the Dark Web markets and other Deep Web sites. The store's owners boast of a global private shipping system with bases in 15 countries and a fleet of private trucks that allow buyers and sellers to avoid a postal system that has led to several arrests for Deep Web drug and gun buys.
According to a variety of online comments, the team behind the market is said to be a collection of American, British, and Canadian soldiers who "saw the need of local citizens and militias (not Taliban) that needed arms and defensive support." They formed "out of necessity" a storefront called RogueArms in 2001. Their Internet business began somewhere from two to four years ago—they give different answers to different people—including, they say, a brief run on Black Market Reloaded, an old, well-respected black market that did in fact sell loads of weapons around the world—before setting up their own, independent shop late last year.
The store's owners spend hours every day posting to Deep Web-related communities, like Reddit's /r/DarkNetMarkets, where they aggressively insist upon their business's legitimacy despite the fact that virtually no one has ever stepped up to vouch for their services—an incredible fact when you consider how easy it is to set up shill accounts to talk up your own business. But that doesn't mean no one has tried to buy from them.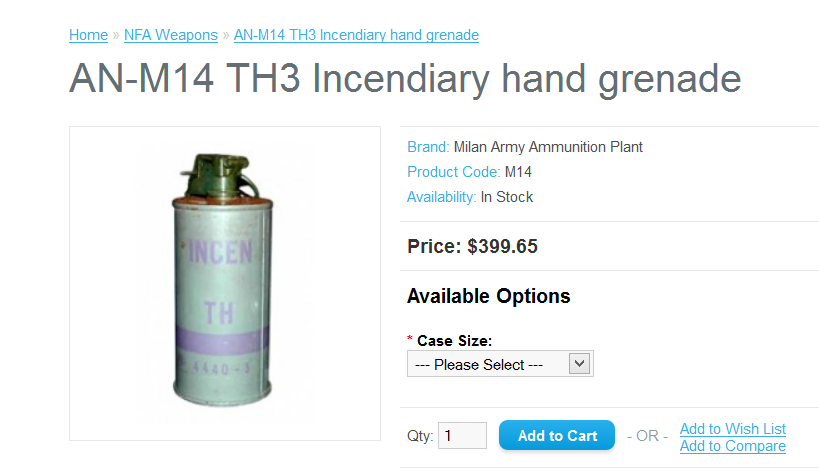 On the anonymous Deep Web, trust is a valuable commodity earned in various ways.
For some new drug dealers, sending out free small samples to well-known buyers can earn good reviews that drive in future customers. Credit card and identity salesmen can show off a sample of a few usable documents to prove their merit.
Weapons dealers generally don't have the luxury of giving away anything for free because the price of doing so can be prohibitively high. After all, who's going to send you a sample rocket launcher in the hopes that you come back to buy a few landmines?
Despite the barriers of anonymity and the suspicious nature of online black markets, trust still finds a way on the Deep Web.
How else did the original Silk Road start except that a few trusting individuals decided to dive in blind to a new venture? The same can be said of Black Market Reloaded and every Dark Web market that has come since. The early adopters simply hope for the best. Often, it works out for early birds well enough because, even if a market is a scam—and they can be big scams—swindlers will want to please the first customers in order to attract a bigger, richer crowd from which to pilfer bitcoins.
For the Armory, many of the first customers say they've had no such luck. Some have come forward to say that the market's owners dragged the transaction along for weeks before it became clear that no guns were actually going to arrive.
"It seems like a scam, and I don't honestly think too many (if any) people have successfully ordered from them," wrote one redditor. "I can't find any real looking feedback anywhere. I remember one review that simply said, 'they did it,' and that was it, lol."
But the Armory's owners, whose reddit account is impressively active but still seems to have trouble responding to customer complaints, say there are explanations for all of the issues: Shills, liars, and critics in bad faith are besieging them at every turn.
In short, there is little evidence either justifying or condemning the Armory's veracity. No matter how you slice the rumors, it seems like a risky bet—and that's on top of buying illegal firearms.
Despite a flood of criticism, the Armory has plans to stick around and even expand. The owners promise to open up new vendor accounts in established Dark Web markets within the next month, a move that will no doubt push more customers to give the market a try.
Will we finally get to see if this Walmart of weapons is real?
Photo via quinet/Flickr (CC BY 2.0)