YouTube logged another clean-out of Universal Music Group (UMG) this month, pulling 2.5 billion more views from its YouTube channel.
The major music label's channel now holds merely 582,000 views, a drastic drop from the 8 billion-plus views it boasted as recently as December.
According to YouTube analytics site Social Blade, it's the third great drop in total view counts for the channel in the past three months—and the second most drastic. In February, YouTube removed more than 3 billion views from the channel, which a UMG staffer told the Daily Dot in December is considered largely dormant.

This all begs the question: What exactly is going on with all this housekeeping?
It's awfully hard to tell.
When the Daily Dot first reported the cleanup in December, we noted that the purge came at the same time that hundreds of YouTubers had taken to Google forums and their own YouTube channels to announce that they'd been subject to a series of video takedowns. Many claimed they'd violated a part of YouTube's Terms of Service: TOS item 4, Section H, which bans automated methods of inflating view counts. Others, like the comedy troupe Fortress of Attitude, who didn't take part in any shady gaming, still saw videos removed for tampering with YouTube's view-count systems and haven't gotten a legitimate response from the video-sharing site.
That aforementioned violation was a major talking point that week on Black Hat World, a forum where users trade tips about unethical search-engine optimization tactics. Conversation there shifted between talking about the small-time violators and UMG, as well as Sony Music.
YouTube quickly worked to dispel the notion that Universal or its many artists had purchased fake YouTube views, telling Billboard magazine that YouTube "routinely" adjusts view counts to reflect accuracy and video representation. The Google-owned company also claimed that channels like Universal's and Sony Music's had transferred the majority of their videos onto the music-streaming website VEVO since that site's inception in 2009, leaving behind a sea of "dead views" on their YouTube channels.
"As a result, the views that those videos received during their time on the dedicated label channels were taken away in YouTube's latest 'clean up' effort."
It's worth noting that YouTube and Billboard maintain a complicated relationship.
Just eight weeks after Billboard's post that dispelled rumors of fake views, the company announced that it was teaming with YouTube and using video views as a metric in its highly regarded Billboard Hot 100 singles chart. (YouTube did not then respond to our request for comment.)
Buying YouTube views is a tremendously easy operation for anybody who wants to try it. I bought 60,000 of them for a personal video in January; it cost me $60. The broker tacked on another 100,000 views a few weeks later during a test launch of a new botting method. My video's view count now sits above 165,000.
In the process, the Daily Dot talked to a number of players in the YouTube-botting underworld. News of the Sony/Universal purge arrived in our inbox by way of Jacob Povolotski, a computer wiz who'd added 8 million phony views to a terrible song about "Pickles" just a few weeks beforehand. Fletcher Batts, who's long facilitated the purchasing of fake YouTube views for rap artists through his websites Hip Hop Encounter, Pimp My Viral, and ViralShowPR, suspected that buying fake views was a rampant practice in the major music world.
"Every artist that I know of uses this service in some kind of way," he said. "It's easy, and it's inexpensive. That's just the reality. Everybody cheats in some form or fashion. Sometimes you get caught."
In an industry rife with scandal and shady business practices, view-botting paints an unflattering portrait of YouTube.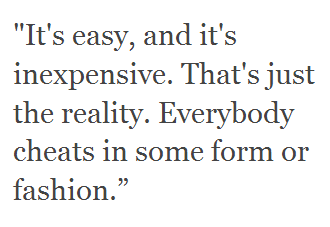 We sought answers from the company's public relations department after news broke in January that the site had stripped Lady Gaga's VEVO channel of 156 million views. A corporate communications manager refused to go on the record to dispel the rumors after swapping a series of phone calls and emails, and the company declined to comment on my own fake YouTube views.
In this most recent cleanup, YouTube's lineup of negatively affected channels reads like a laundry list of major music personalities (Justin Bieber, Lady Gaga, etc.), but there are also a few conspicuous channels. YouTube user Razko2 lost more than 24 million views this month. Despite currently possessing zero videos, Razko's channel oddly boasts 6 million views. A large number of other YouTubers, like SFDanger and King638, also lost substantial views in the past three weeks.
Situations like Razko2's leave us questioning what exactly is going on with this housekeeping that YouTube has put into effect, and how exactly the site decides to manage it.
It doesn't seem like there's much room left under the rug.
A YouTube representative responded to the Daily Dot's request for comment Wednesday, saying the company would be happy to chat and referring us to a Billboard story about K-Pop videos that had nothing to do with the cleanup. We spoke Thursday. The conversation was short. YouTube did not go on the record. Instead, an employee said that they could see if they could come back with an official statement.
YouTube officially declined to comment Thursday evening in what was termed a "non-call." 
Photo via Justin Bieber/Facebook