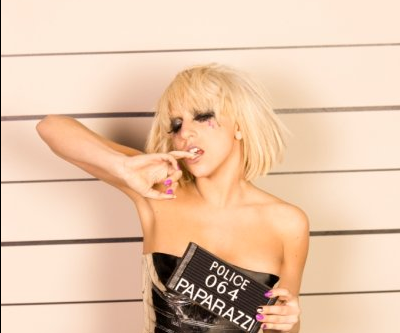 YouTube slashed 156 million views from Lady Gaga's VEVO channel this week. The move comes exactly one month after the video-sharing site, owned by Google, stripped the cumulative view counts of channels belonging to Universal Music Group (UMG), Sony/BMG, and RCA Records by more than 2 billion views.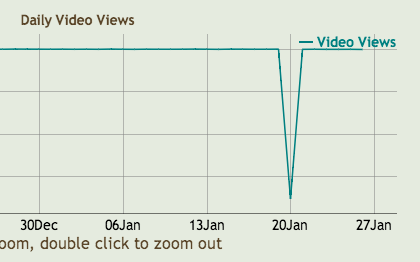 The purge, which came Monday, Jan. 21, is the lone negative outlier in a sea of positive view-accumulation days for the worldwide pop artist. Before YouTube slashed her total, Gaga's VEVO channel on the video-sharing site had accumulated more than 500,000 views every day since at least Oct. 28, according to YouTube statistics analysts at VidStatsX. Since the purge, Gaga's VEVO channel has accumulated slightly more than 3.2 million views.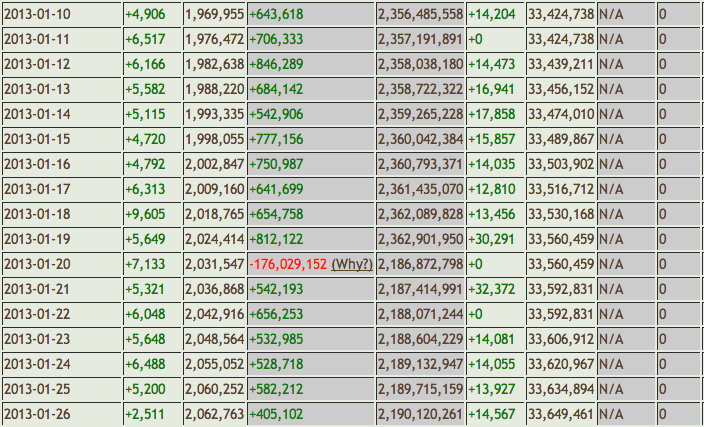 Her VEVO channel's current view-count total sits just under 2.2 billion views.
VEVO is a music video website owned and operated by Sony Music Entertainment and UMG, among other groups. On Jan. 17, the Daily Dot reported that the company was nearing a major distribution deal with YouTube, rumored to be worth $50 million.
Gaga's VEVO channel wasn't affected by YouTube's drastic purge of view counts on channels belonging to major pop stars—Michael Jackson, Chris Brown, Beyoncé, Avril Lavigne, among others—in December.
At the time, a YouTube spokesman told Billboard magazine that the missing views were actually the product of YouTube cleaning out dead views—or views that once existed on the artists' and labels' YouTube channels but were now showing up on their VEVO channels instead.
The Lady Gaga cleanup is interesting because it actually did happen to her VEVO channel, which hosts 64 videos and would presumably be protected under Billboard's explanation.
YouTube did not respond to the Daily Dot's request for comment.
Gaga's Official YouTube channel, which houses 108 videos, took a hit as well. On Jan. 18, YouTube stripped it of 39 million views, according to statistics provided by YouTube data analysts at Social Blade.
Gaga's VEVO channel wasn't the only YouTube channel to take a massive hit Monday, but it was the most notable. Other big losers this round included comedy channel YourDailyLaughz, which lost 226 million views; Japanese entertainment channel JIJIPRESS, which lost 190 million views; and the Santa Claus-tracking channel NORAD Tracks Santa, which lost 86 million views.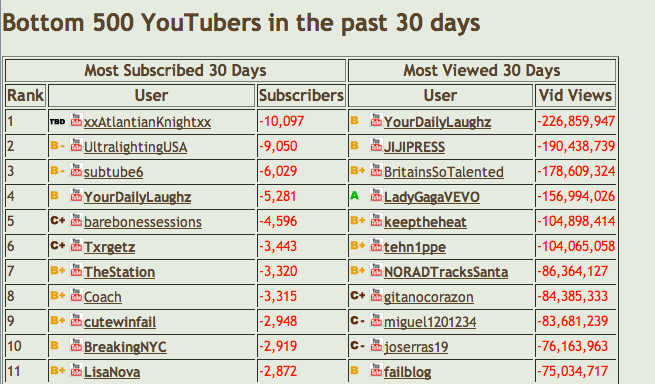 Another notable purge occurred on the channel belonging to Britain's So Talented, which lost 178 million views. That channel currently claims to have accumulated 147 million views since it first started posting views in April 2009, but its current stock of videos is only five clips deep, and they account for less than 50 million views.
There is a considerable black market for purchasing fake YouTube views. Shortly after reporting on the initial purge, I wrote a detailed account of my experience buying 60,000 views for a $60. It all happened in 48 hours through conversations on Skype and transactions on PayPal. Those views have yet to be deleted—and have since risen to 160,000 through further botting—and YouTube has declined to comment on them.  
"Every artist that I know of uses this service in some kind of way," Fletcher Batts, the social media marketer responsible for ViralShowPR, a now-defunct website that offered YouTube views for purchase, told me at the time. "It's easy, and it's inexpensive. That's just the reality. Everybody cheats in some form or fashion. Sometimes you get caught."
Photo via Lady Gaga/Facebook