Wikipedia is famous for allowing anyone to edit its online encyclopedia entries. But does anyone still want to?
That's the question Wikipedia leaders and social science researchers are tackling. They've documented a drastic decline in the retention of new Wikipedia editors over the last five years.
A new study published in the American Behavioral Science Journal by former Wikimedia Fellows says Wikipedia has lost some 30 percent of its English-language editors since 2006, as a result of off-putting automated rejections, restrictive new rules, and controlling older editors.
"What was most surprising was the scale of the problem," lead researcher Aaron Halfaker told the Daily Dot.
According to the study, the total number of English-language editors dropped from about 50,000 in 2006 to roughly 35,000 in 2011—a startling development for a project that prides itself on openness.
Founded in 2001, Wikipedia was a first-of-its-kind experiment in online collaboration. Anyone who desired could sign up and become an editor, contributing to any of the site's entries, which now include more than 23 million topics. This openness allowed Wikipedia to cover a much wider range of subjects than a traditional encyclopedia, but it also made the project a source of criticism for its frequency of misinformation, either through accidental mistakes or deliberate vandalism.
That's why Wikipedia instituted new rules in 2007 to improve the quality of information, but according to Halfaker, these same rules have driven away more than just the unwanted vandals.
In 2006, only about 6 percent of "quality" new editors had their contributions rejected—a.k.a. "reverted" in Wikipedia lingo. In 2010, the number of contributions by new editors were being reverted at a rate of 1-in-4 by senior editors and the site's own automated response systems.
Halfaker said that as a result, only about 11 percent of new editors have been staying on past their first two months, driving down the total number of contributors to the site. He said part of that has to do with the "nasty" initial experience many new editors have. 
If you're a new Wikipedia editor, the first message you get is usually from a bot or a semi-automated editing tool. It'll warn you of such issues as "lack of sources" or "blanking" and is designed to deter vandals or "bad-faith editors."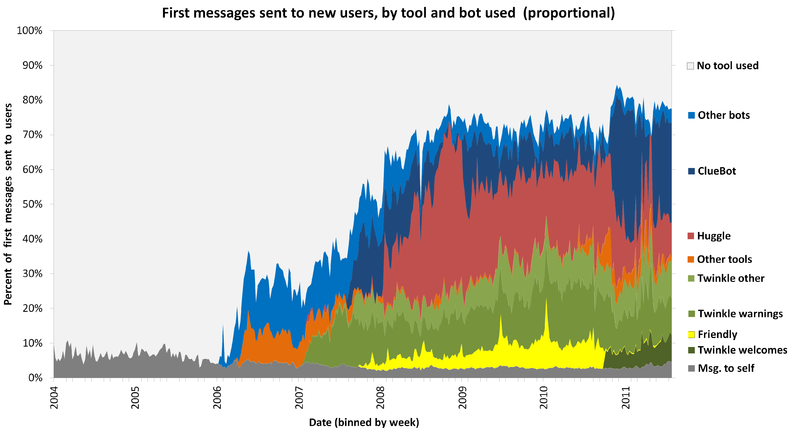 Photo via Wikimedia
The study also found that "calcification" in the site's rule-making procedures favors the input of older editors, in some instances icing-out newcomers. The dominance of senior editors has also recently been documented in Wikipedia's response to breaking news events. 
It's all a serious concern for those in charge of Wikipedia, who commissioned the study in 2011. 
"Many of the findings in the report were initially developed that summer and have been very helpful in understanding some of the factors that have contributed to a decline in the total number of active editors on Wikipedia in various languages since 2007," said Matthew Roth, global communications manager for the Wikimedia Foundation. "We've been successful in slowing the rate of decline, but we're striving to reverse it and increase the total number of active editors."
Wikipedia has already taken several steps to help engage new editors and encourage them to stay on longer. Last year, the site launched the Wikipedia Teahouse as a way to encourage editor mentorships. The site is also testing a new visual editing system that aims to improve the site's editor interface.
"We understand that increasing the number and quality of active editors in the projects is key to the success of Wikipedia and it is one of our fundamental priorities," Roth said.
The authors of the study agree and say the Wikimedia Foundation has taken positive steps to turn things around. Because there have been no other projects like Wikipedia in the past, Halfaker said it's hard to make assessments about how the decline in editors affects the overall quality of the information provided. However, he said, his research models definitely show a possible editor shortage in the not-too-distant future if nothing is changed.
"From what I can extrapolate from our models, Wikipedia isn't going to run short on contributors for at least five years," Halfaker said. "The Wikimedia Foundation has a team working on the problem, so hopefully we'll never get to that point."
Photo via Wikipedia