The importance of a great domain name cannot be overstated (ask the owners of penisland.com, or Pen Island, if you don't believe me), but the best ones usually cost a pretty penny.
Thanks to ICM Registry, the registry of .xxx domains, some of the best (read: perviest) domain names on the Internet just got even more expensive: They've increased the prices of 229 domains, including horny.xxx, buttfucking.xxx, and gaysex.xxx. So if you were thinking about registering one of these names for your family genealogy website or new line of toddler educational toys, well, you're SOL.
ICM announced it was revising the prices of 238 domain names earlier today. Although eight of the domain name prices were reduced (cum.xxx, for example, now costs a paltry $75,000, as opposed to its original $132,000), most of them have been hiked up, including black.xxx, which got a $215,000 increase.
While these prices take most of us out of the .xxx domain name game, if you're a smut peddler with deep pockets there's good news: ICM has also added 400 new domain names to its list of premium domains, with a total value of more than $13 million. Here's a list of the domain names that got the highest price lift, so if you've had your eye on any of these, you can bid them adieu. Bye-bye, seniors.xxx. We hardly knew ye.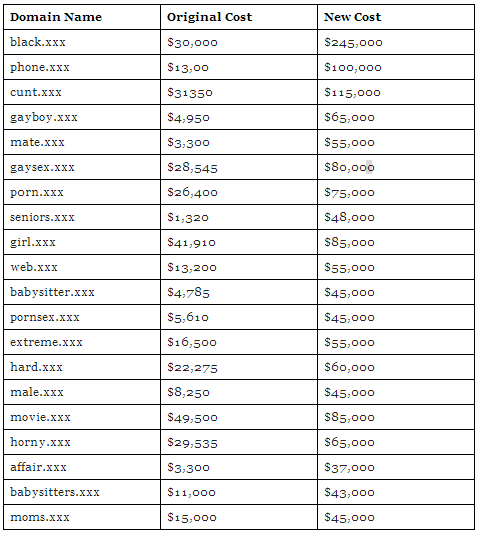 H/T Online Domain | Photo by Mikamatto/Flickr (CC BY – 2.0)