Maybe the $3 million asking price was a little steep.
Still, you'd think a historical artifact like Schindler's List—or one of the few documents that comprised it—would have some value to a certain type of enthusiast. But an auction for the famous list has closed without a single bid. 
The 14-page piece, typed on onion-skin paper, was put up for auction by Israel's Gazin Auctions. Traced back to Itzhak Stern, Oskar Schindler's accountant, it includes 801 male names of Jews who worked in Schindler's factory and thereby avoided Nazi concentration camps during World War II.

Eric Gazin of Gazin Auctions noted that "The value and price of noted historical documents has been rising the past two years as investors realize their significance and investment value. It's a fair price given its history and its provenance." 
It doesn't appear as though any serious collectors agree with him.
The $3 million starting bid threshold was just one stumbling block for buyers: the winning bidder would have had to pick up the document in Israel, "for security" and so it could be inspected, the auctioneers told the Daily Mail.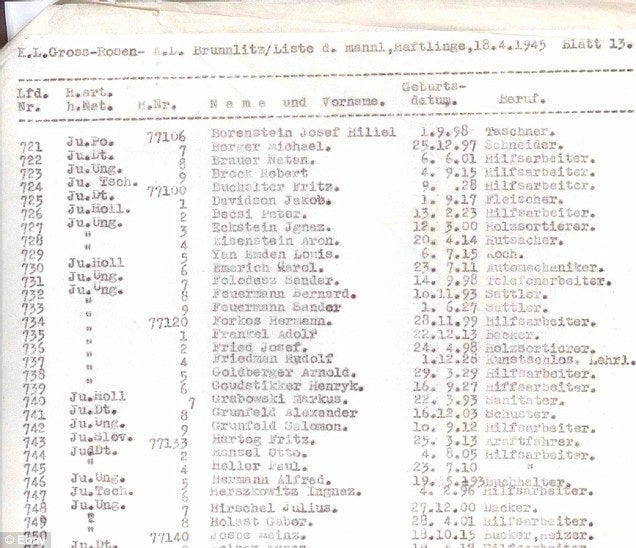 Currently, Gazin Auctions is taking bids on two other objects of historical interest: several pages of notes from Rosa Parks on the Montgomery Bus Boycott and a signed photo of Samuel Morse. They're priced at a more reasonable $35,000 and $54,000, respectively.
Aside from failing to attract a buyer, Gazin Auctions drew heat for its decision to sell a document that many believe belongs on public display. Two of the other three original lists are in Israeli institutions, and one is in the United States Holocaust Museum. 
If you're still wondering about the world you live in, the NYPost reports Schindler's list is being sold on e-bay. Say no more….

— Joe Kohut (@HerbLuscious) July 19, 2013Thsi
According to the New York Post, Gazin Auctions had somehow hoped the price would eventually top $5 million, with a required $10,000 deposit and the rest due within a week. 
They were also very clear about one thing: No returns.
Photo by Seetheholyland.net/Flickr