A report issued by Netflix earlier this week showed that the video streaming service's performance on broadband connections provided by  Comcast, Verizon and AT&T has decreased in recent months. This drop has led to some speculation about the Internet service providers (ISPs) deliberately throttling Netflix download; however, the speed slip may simply be the result of the networks' inability to handle the video streaming service's increasingly massive firehouse of data.
While accusations of throttling come only a few weeks after a federal judge struck down the FCC's rules on net neutrality, a requirement that ISPs not discriminate against certain types of Internet traffic, this slowdown began occurring well before the ruling was issued.
As the chart below indicates, Comcast, Verizon and AT&T all began showing a marked decline speeds starting in September of last year. Over the same period of time, the other ISPs monitored either stayed the same or showed improvements.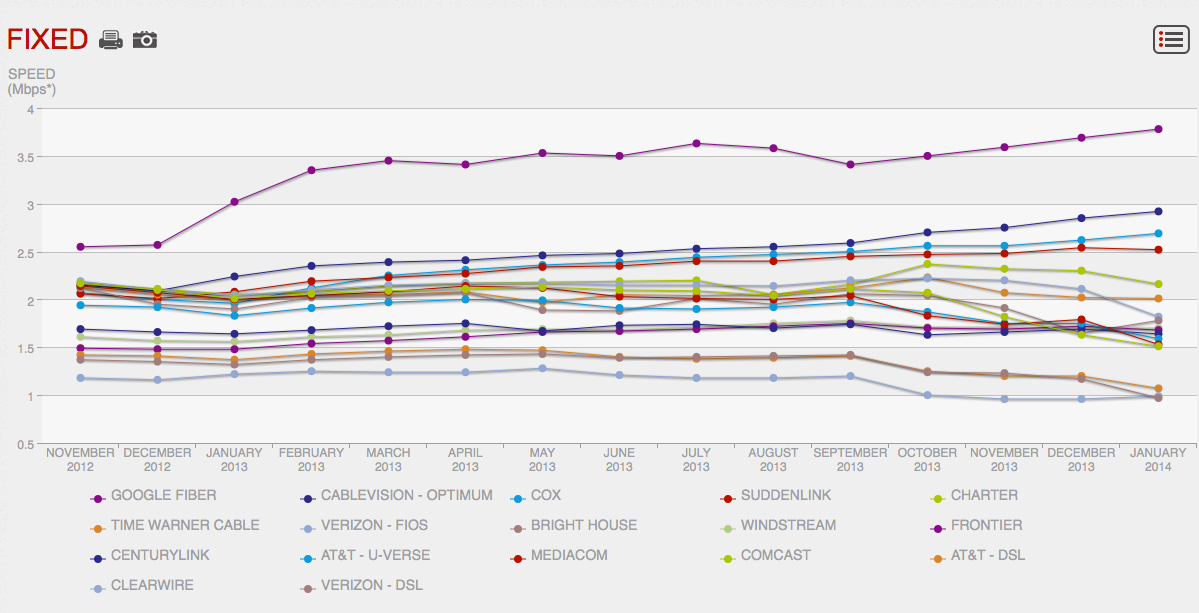 In a blog post that went viral earlier this month, one Verizon customer charged that a company representative had admitted to him that it was limiting bandwidth to cloud providers like Netflix. Although Ars Technica argued that the customer service rep in question was probably mistaken.

As Digital Trends notes, one possible reason for these ISPs showing slower connections is if they haven't joined Netflix's Open Connect program, which lets Netflix place a server packed with popular content near high-traffic hubs in an effort to shrink download times. As Netflix has started to offer more bandwidth-heavy, high definition programming, the company has been pushing this option to ISPs as a way to boost download speeds. Netflix insists that biggest performance increase coming as a result of Open Connect occurs during the evening peak usage hours. In recent months, Netflix has changed the way it monitors ISP speed, going from a 24-hour average to simply measuring speed during peak hours—a move that would punish ISPs that haven't signed up for the program.
This graph published on a Netflix blog entry shows how much better the performance is by an ISP using Open Connect than one not signed up for the service: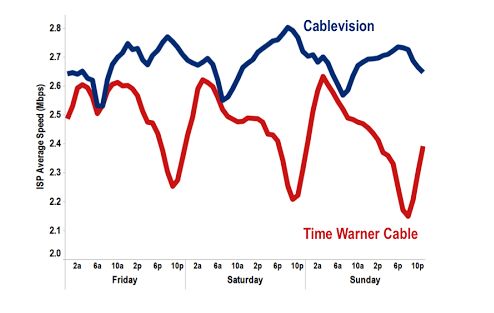 At peak hours, Netflix can account for nearly one-third of all North American Internet traffic.
Through a roundabout game of telephone, Netflix management attests it doesn't think its service is intentionally be throttled by ISPs. J.P. Morgan analyst Doug Anmuth told Re/code that he had spoken to Netflix CEO Reed Hastings and CFO David Wells about the issue. ?Netflix does not seem overly concerned regarding Net Neutrality, and continues to believe that violations would be escalated quickly," Anmuth said. ?Netflix also indicated that it has no evidence or belief that its service is being throttled."
Even so, in a January letter to shareholders, Hastings indicated that the company is willing to leverage the passion of its devoted user base to play hardball with any ISP that attempts to slow speed of its service. ?In principle, a domestic ISP now can legally impede the video streams that members request from Netflix, degrading the experience we jointly provide. The motivation could be to get Netflix to pay fees to stop this degradation," Hastings wrote. ?Were this draconian scenario to unfold with some ISP, we would vigorously protest and encourage our members to demand the open Internet they are paying their ISP to deliver."
H/T Ars Technica | Photo by Jorge Glez/Flickr