Environmental and progressive groups have finally given Facebook a dislike button—sort of. This week, a coalition of activists are boycotting paid Facebook advertising in response to a series of ads released by FWD.us, a new political advocacy group backed by Mark Zuckerberg.
But just because groups like the Sierra Club and MoveOn.org won't be spending any ad dollars with Facebook during the next two weeks, and maybe even longer according to Politico, it doesn't mean they'll be turning their back on the world's largest social media site. In fact, in some cases they are "fighting Facebook with Facebook," by launching pages attacking Zuckerberg and FWD.us. In early April, the Facebook founder joined a group of Silicon Valley executives to form the political advocacy group. Its first goal has been to take on immigration reform and has formed two sub-groups to support conservative and liberal politicians who have indicated they would back reform.
"FWD.us is committed to showing support for elected officials who promote policy changes needed to build the knowledge economy," FWD.us spokesperson Kate Hansen told Politico. That means supporting the likes of Alaska Democrat Sen. Mark Begich and South Carolina Sen. Lindsey Graham, even if the words "immigration" and "reform" are nowhere to be seen.
One ad touts Begich's work to open up the Arctic National Wildlife Refuge to oil exploration. The other talks of Graham's conservative stances on issues like healthcare and spending. But the television spots that ran for a week haven't sat well with groups like Progressives United and the Sierra Club. On Tuesday, the groups shared a photo of Zuckerberg with the caption "WTZuck" and a link to a new Facebook page called "Tell FWD.us and Mark Zuckerberg: Pull Your Dirty Ads." The page was created on Monday and as of Tuesday night, it had more than 9,400 likes.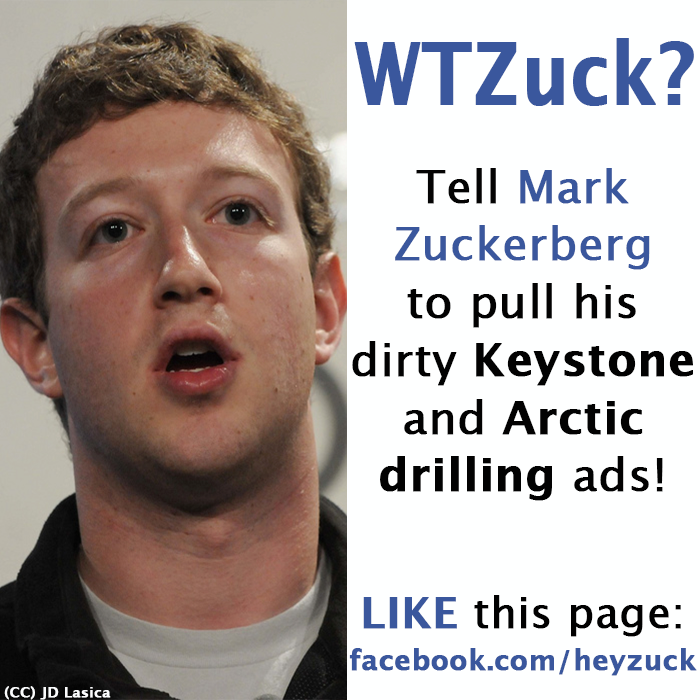 But even if the coalition is "boycotting" Facebook, it doesn't mean they're leaving their own pages sit in the dark. On Tuesday, MoveOn.org and others continued to post on Facebook, showing just how powerful the social media site is and how advocacy groups can't afford to let their pages grow stale.
What affect will the two week boycott have on Facebook? It's hard to say, but considering the fact that Facebook made $1.46 billion during the first quarter, a small boycott might not matter.
Photo via The Sierra Club/Facebook