For some, Internet fame is something earned. Take Jerome Jarre, who has carefully worked to build a Vine following of more than 5 million. For others, it is thrust upon them—like Catie Wayne, a.k.a. Boxxy, who was unexpectedly pulled into the limelight when 4chan found her old videos in 2009.
Jared Frank falls firmly into this latter category.
The Canadian was given his first taste of Internet fame last week after a surreal YouTube video of him being kicked in the head by a train driver went hugely viral.
While trying to take a video selfie close to some train tracks in Peru, Jared was booted in the dome by the conductor of a speeding train. Rumors quickly spread that the clip was faked. Many suggested that the conductor might have been trying to save Frank's life. As the discussion spread, the 11-second video netted more than 23 million views in just seven days.
The 22-year-old later revealed that he was approached by multiple management agencies looking to help monetize his content. He has yet to reveal how much he's made, but CBC News estimates that he could stand to gain as much as $250,000 in advertising revenues. 
The exact amount will not be known until YouTube releases its monthly view tallies. CBC News estimates a payout of $30,000 at the minimum.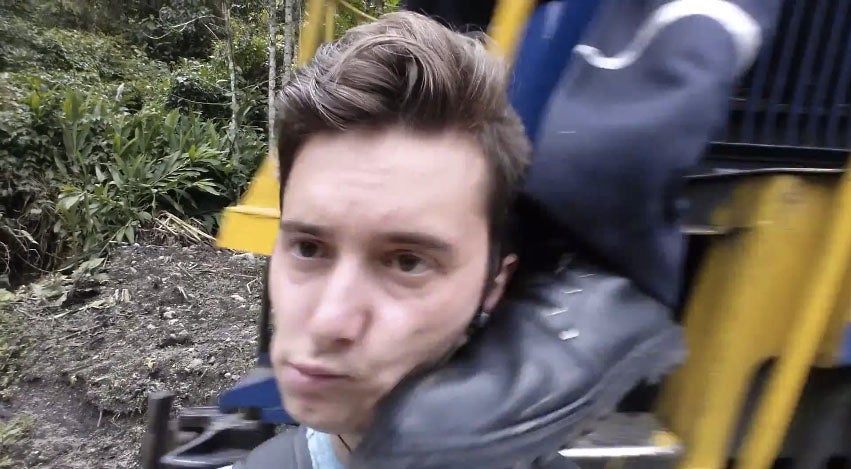 He's also laughed off some of the vitriolic comments directed his way as a result of his decision to stand so close to a railway. "It's so ridiculous that it's hilarious," Frank said to the Star Phoenix.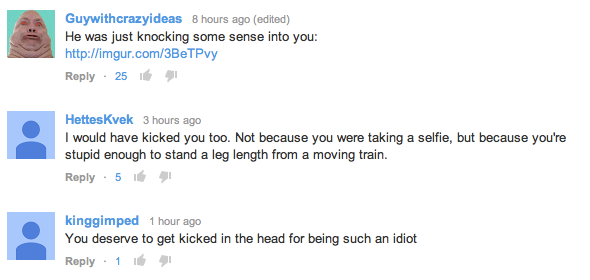 Some less-than-sympathetic YouTube comments.
Frank has since signed to the California-based agency Jukin Media, and says depending on the size of the windfall, he will use it to pay off his trip to Peru, and potentially fund his way through film school.
Not bad for a kick in the teeth.
Screengrab via YouTube