When we talk about tycoons of the Deep Web, most people probably picture grizzled, veteran hackers in dim rooms. If the claims of one former black market entrepreneur are true, however, maybe we should instead be thinking of 15-year-old high school students working out of their schools' computer labs.
Someone known only as "Flole" came onto the scene a month ago, seemingly out of nowhere. There were no friends or backers to vouch for him. But in the anonymous world of the Deep Web, that's very much par for the course. So even though running a market meant he'd obviously be handling big money with no oversight, lots of customers seemed to trust him enough to start buying and selling on his site, which he dubbed "FloMarket."
By early December, hundreds of people were registering for the site every day. As one of the smaller, lesser-known markets on the scene, FloMarket eventually grew to thousands of users and did about $5,000 in business total.
That's all over now. The market recently disappeared. Dozens of vendors saw thousands of dollars in bitcoins stolen. Flole himself, the proprietor behind the relatively quiet drug market, maintains that his website was hacked—that he was robbed, not that he committed the robbery.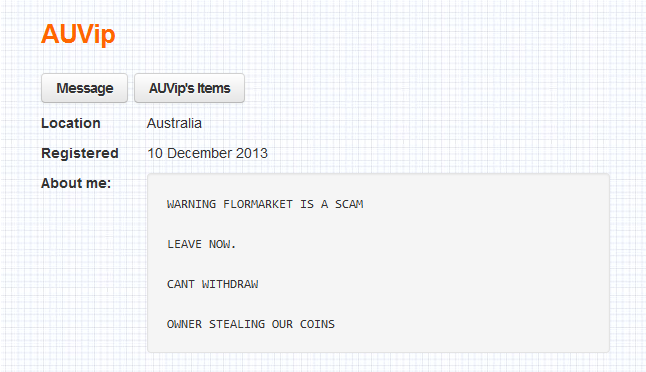 Screengrab via DeepDotWeb
A vendor warns customers to leave FloMarket
After FloMarket crashed, Flole decided to try to tell his side of the story in an interview with the DeepDotWeb blog. 
Flole described himself 15-year-old hobbyist programmer. He said he started he started the black market in a bid to make enough money to buy DJ equipment. His office was his high school.
"Normally it has been impossible installing Tor on the schools computers," Flole wrote to the DeepDotWeb. "But I resetted the admin password and used the workstation everytime since then, so I knew how to activate the Tor configuration. Also the schools firewall has been a problem, but since ports for email has been opened, I opened tunnel through them. So I was able to manage it also from school."
Flole, whose real identity is not known, says he even did the actual programming and maintenance of the site in school. He'd keep two screens open: one showing a text editor to distract the teachers, and second screen hidden from their view that was for his "real, useful work."
Of course, we can't independently confirm Flole's story. That's the nature with the majority of Deep Web users, who go to pains to protect their real identities.
The fall of FloMarket began on Dec. 28 when money was siphoned out of the site and withdrawals stopped working. Many people still blame Flole, while he points to a vendor named "turtlesh3ll" who sucked up $5,000 in bitcoins.
With his black market shattered, Flole says he's not going to try to rebuild.
H/T DeepDotWeb | Image by Jason Reed