YouTube's music subscription service is finally set to launch—and the problems have already begun.
Last week, we were thrown into a vague panic when headlines started warning of the impending disappearance of certain "indie" acts from the site, if they didn't agree to YouTube and parent company Google's terms. Even though it's known YouTube would be debuting this service, fans quickly cast Adele and Radiohead as two martyrs of this coming indie-cleanse. What would we do if we couldn't find "Someone Like You" at 3am?
There were also stories about how YouTube's widely reported bullying tactic might not be entirely accurate. YouTube is indeed launching a music-streaming service later this year, in hopes of competing with sites like Spotify and, more recently, Amazon, which debuted a streaming service for Prime customers earlier this month.
Spotify, Pandora, Beats Music, and Amazon are just a few of YouTube's competitors as the service enters the ever-growing marketplace, which was most recently joined by T-Mobile's questionable music-streaming program. If bands and labels don't join YouTube's premium service, clips could stay up, just without ads and monetization. Vevo allegedly won't be taking down any videos, either. YouTube revealed that labels representing 95 percent of the industry—labels like Sony and Universal—have signed up.
Last week, Billboard obtained an early version of the licensing contract being offered, which found that YouTube's "payment percentages are lower than the combined 70 percent in revenue (approximately) that the interactive, premium component of services like Spotify or Rdio pay to labels and publisher rights owners, according to label and digital service sources."
"The main beef with YouTube is the company's take-it-or-leave-it approach, which they say includes an onerous and negative most-favored-nation clause. If any major label or major music publisher agrees to any rates for the YouTube service that are lower than the rates set forth in the YouTube contract, Google will have the right to reduce the indie labels' analogous rate accordingly."
Yesterday, Digital Music News published the entire 32-page contract sent to indie labels, which illustrates some of the practices in question, and the rates going forward.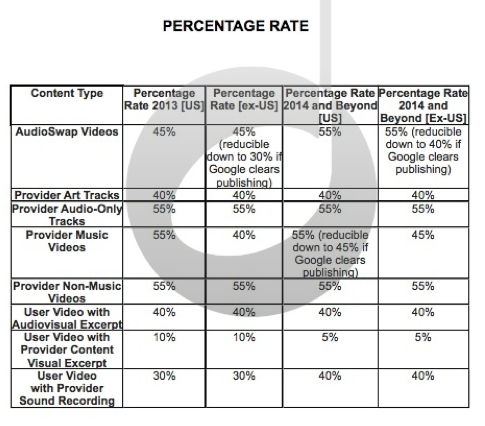 It also drops in a convenient "covenant not to sue" clause.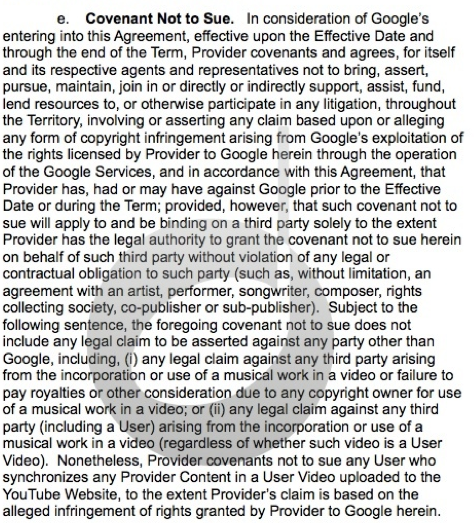 Understandably, this contract has angered some in industry. Last week, Alison Wenham, CEO of Worldwide Independent Network stated:
"Put simply, by refusing to engage with and listen to the concerns of the independent music sector YouTube is making a grave error of commercial judgment in misreading the market. We have tried and will continue to try to help YouTube understand just how important independent music is to any streaming service and why it should be valued accordingly."
When asked for comment or clarification on the matter, YouTube sent back a form letter:
"Our goal is to continue making YouTube an amazing music experience, both as a global platform for fans and artists to connect, and as a revenue source for the music industry. We're adding subscription-based features for music on YouTube with this in mind—to bring our music partners new revenue streams in addition to the hundreds of millions of dollars YouTube already generates for them each year. We are excited that hundreds of major and independent labels are already partnering with us."
Some have pointed out that labels like Beggars Group, and all its satellite labels (Matador, Rough Trade, XL, Young Turks, 4AD), could be part of this takedown. When reached for comment, Beggars declined to comment on the matter. Believe Digital, which is considered an indie distributor, claimed it signed a contract with YouTube back in February, after months of negotiations. So why are some contracts negotiable and some aren't? 
These are the growing pains of transitioning from one model to another, in an era of overwhelming choices in streaming music content. This transition is a unique one: Most streaming services offer a new home you've never seen, but YouTube is attempting to build around an existing platform, within the walls of Google. Is forcing labels to join going to be successful? Have we all forgotten the failed Google Plus integration?
It sounds like Google and YouTube haven't really thought this transition out too well, and that doesn't bode well for the service. Perhaps this early-stage uproar will serve as a catalyst for smaller labels to rethink their relationship with YouTube, and how they can thrive moving forward. Perhaps it will force YouTube to think about how it engages with its artists. Perhaps there's someone out there dreaming up a service that will do what YouTube's aims to, but better. 
Illustration by Jason Reed