There may be no better fight in MMA history than the 2015 UFC welterweight championship clash between Robbie Lawler and Rory MacDonald (who faces Douglas Lima Saturday night at Bellator 232 in a fight you can live stream on DAZN).
It was a war that saw both men take unimaginable damage for more than 20 minutes before Lawler broke MacDonald's nose in the fifth round and Macdonald crumpled sadly to the ground, unable to continue—his spirit willing but his flesh finally worn down. The fight was immediately hailed as a classic, and Lawler and MacDonald were celebrated by the MMA community. But like so many classic fights it took something significant out of both men. Lawler, arguably the most terrifying man in MMA history, slowed down considerably after that night, soon losing both his belt and four out of his next six fights. And MacDonald, who turned pro at the tender age of 16 and built a reputation as the coldest, most ruthless, and most calculating of killers, was never the same.
It's as if the fighting spirit was drained from him. He became more measured, more timid, more doubting in the cage. He followed his loss to Lawler with a strangely unengaged performance against Stephen Thompson and then left the UFC for Bellator, where people still beat each other up for a living, but not quite the same kind of people.
After nearly killing himself in the UFC, MacDonald (21-5-1) finally got his longed-for title in his new promotion, defeating Douglas Lima (31-7) for the welterweight belt in January 2018. But even with that victory and the two title defenses that followed it, it was hard not to feel that the killer instinct that drove Rory MacDonald in the pre-Lawler days had been snuffed out. MacDonald admitted as much after defending his belt for the first time in a listless fight against Jon Fitch in April. "It takes a certain spirit to come in here and put a man through pain," he said. "I don't know if I have that same drive to hurt people anymore."
Maybe brushing up against death gave MacDonald a new perspective on life, some sense of its value outside MMA. Plus, in the years after the Lawler fight, he got married and had a child and found God, and all of that can make a fighter contemplative. The problem is that perspective and contemplation and decreased motivation can be deadly for a professional fighter. Especially against a guy like Lima, a dangerous striker who is riding high after knocking out previously undefeated superstar Michael "Venom" Page earlier this year and who has all the motivation anyone could ever need to fight MacDonald: the desire to avenge a loss, the desire to reclaim a championship belt, and the desire for money. Lots of money.
If Lima can beat MacDonald he will not only be welterweight champion again, he will be the Bellator welterweight grand prix tournament winner, an honor that comes with a $1 million paycheck, far more money than he's ever seen as a fighter.
So Lima will be walking into the main event primed to fight. Let's hope MacDonald can match him there. Let's hope he decides that the prospect of such a huge payday is an adequate substitute for the violence that was beaten out of him by Lawler in 2015 and smoothed down by love and fatherhood in the years after.
Here's everything you need to know to watch MacDonald vs. Lima.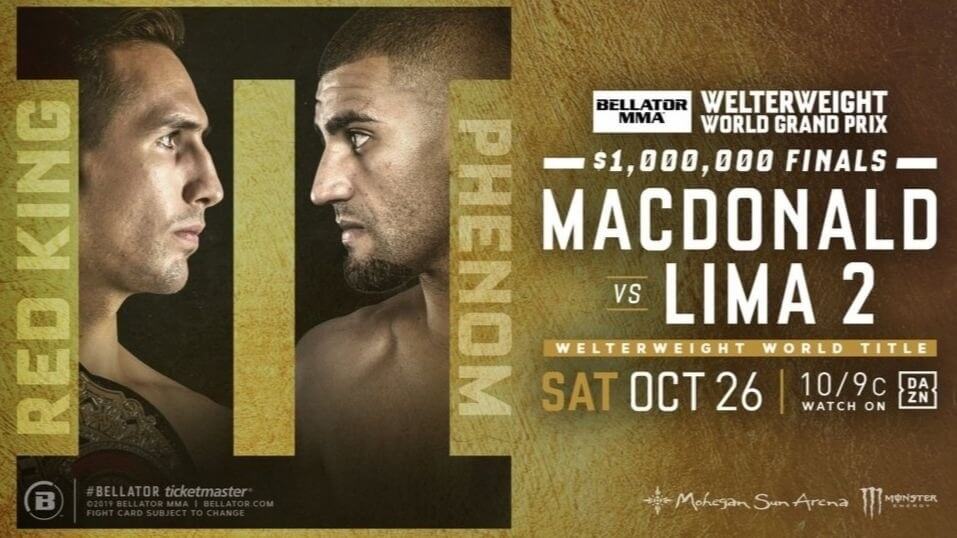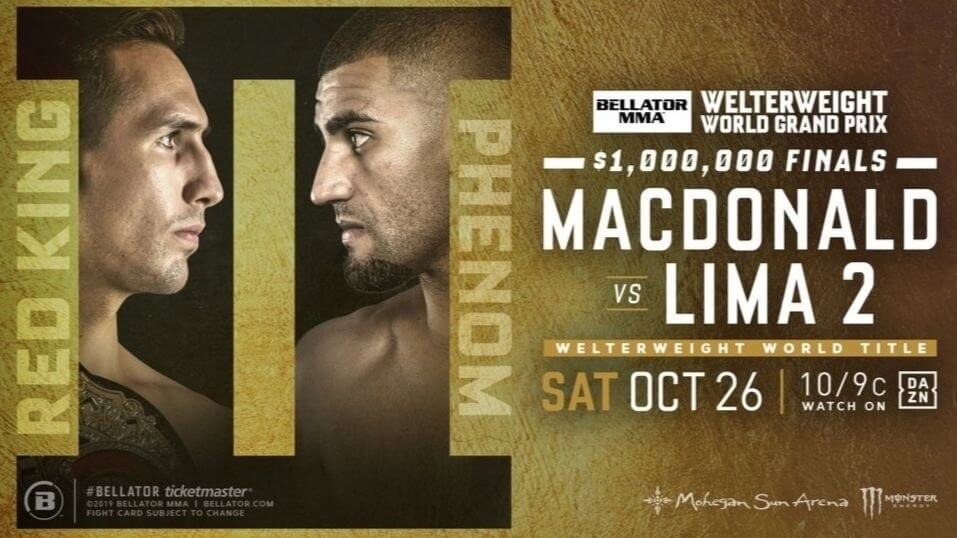 Bellator 232: Rory MacDonald vs. Douglas Lima
When: Saturday, October 26, at 10pm ET
Where: Mohegan Sun Arena in Uncasville, Connecticut
Streaming: DAZN
If you still have cable TV, you can watch many of the Bellator events on the Paramount Network. But for this card, that is not the case. The only way to watch MacDonald vs. Lima is through your DAZN app. A subscription to DAZN costs $19.99 per month or $99.99 for a year, and it's been a great resource for combat sports fans.
DAZN was introduced to the U.S. audience in September 2018, and since then, it's showcased Bellator's biggest events along with featuring some of the most popular boxers (Canelo Alvarez, Gennady Golovkin, and Anthony Joshua) and that sport's rising stars (Regis Prograis, Devin Haney, and Vergil Ortiz Jr.). With the two combat sports combined, DAZN shows more than 100 fight cards per year (including a pair of Bellator cards this weekend).
DAZN works with Roku, Apple TV, Amazon Fire Stick and Fire TV, Xbox One, PlayStation 4, and both iOS and Android phones. All you have to do is download the DAZN app and log in with your subscription credentials. You can also stream via computer browsers Chrome, Firefox, Safari, Edge, Internet Explorer, and Opera. (You can read our full DAZN review here.)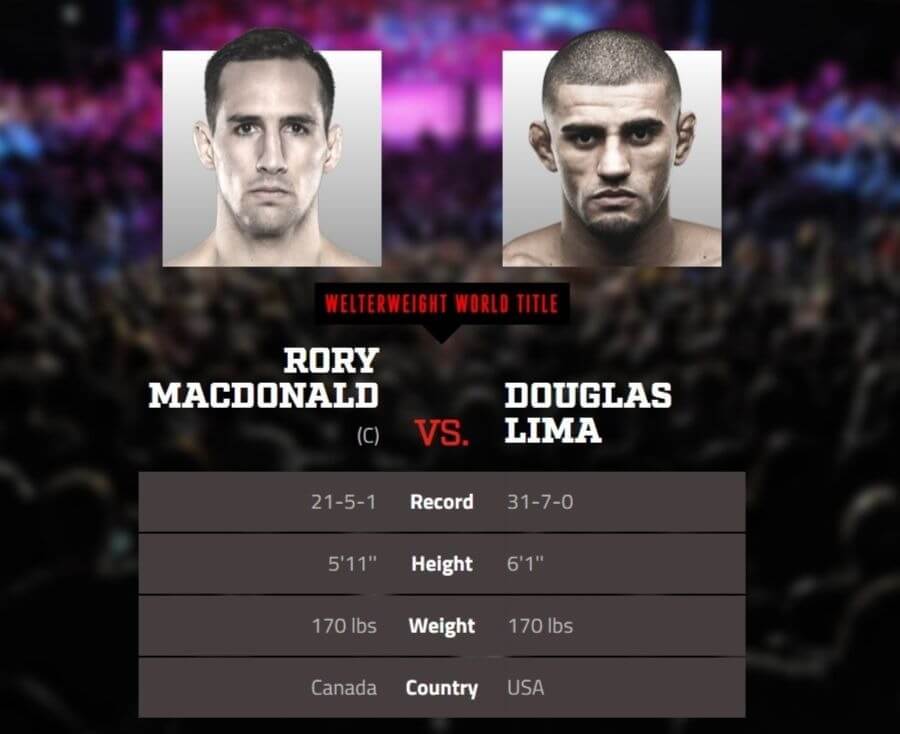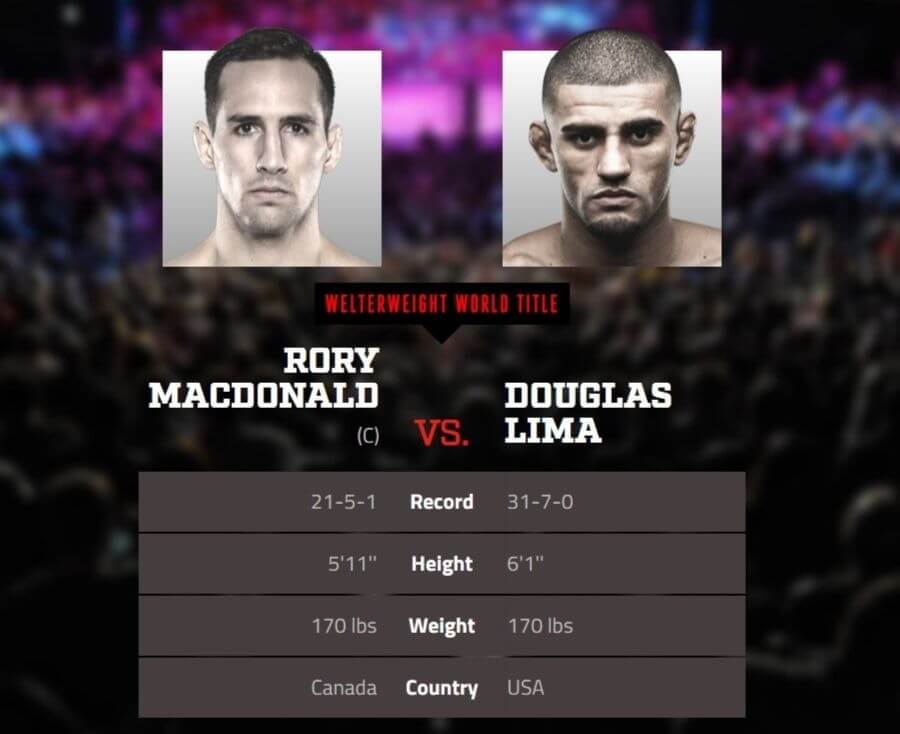 Bellator 232 live stream schedule
All times ET.
Main card | 10pm on DAZN
Rory MacDonald vs. Douglas Lima
Paul Daley vs. Saad Awad
Patrick Mix vs. Isaiah Chapman
Vitaly Minakov vs. Javy Ayala
Nick Newell vs. Manny Muro
Robin Van Roosmalen vs. Cris Lencioni
Prelims | 6:45pm on DAZN
Zarrukh Adashev vs. Tevin Dyce
John Douma vs. Jornel Lugo
John Lopez vs. Dan Cormier
Marcus Surin vs. Devin Powell
Lance Gibson Jr. vs. Dominic Jones
Baby Slice vs. Craig Campbell
Demetrios Plaza vs. Ryan Hardy Evans
For a year-round sports fix, sign up here and check the "sports" box to receive our weekly boxing newsletter. You'll hear about all the biggest fights and best knockouts from the Daily Dot's streaming sports guru Josh Katzowitz.
The Daily Dot may receive a payment in connection with purchases of products or services featured in this article. Click here to learn more.