Heavyweights Frank Mir (18-13) and Roy "Big Country" Nelson (23-17) are MMA legends with more than 70 fights and 40 wins between them. They've fought everyone and everywhere. They've won championship belts and reality television show tournaments and lost nearly as often as they've won. They've done it all. They're in the book.
But the duo, who will headline Bellator 231 in a fight you can live stream on DAZN, is also ancient by MMA standards and long past their primes. Nelson (43 years old ) has lost his last three fights and Mir (40) his last four. Still, the strongest indication that Mir and Nelson aren't the fighters they once were isn't the losses; it's how long it's been since either man won a fight doing what he used to do best. Mir, who made his reputation as the first great submission artist in UFC heavyweight history, hasn't submitted anyone since 2011, while Nelson—who used to carry inhuman power in his hands but who lost to Mir by unanimous decision in 2011 when they both fought in UFC—hasn't won by knockout since 2016. When you're over 40 and can't do the thing that made you feared as a fighter, it's time to give it up.
But mixed martial artists are a notoriously stubborn bunch, especially when it comes to retirement. To survive in their profession, they've had to convince themselves that they can take any kind of punishment, which means they're averse by nature to acknowledging their own mortality.
In a perfect world, this wouldn't be the case. Instead, Mir and Nelson would look at their fight at Bellator 231 on Friday night as a well-deserved curtain call: one last hurrah against a fellow veteran who probably can't cause them too much additional damage and with whom they can celebrate long, fruitful careers by knocking each other around one last time. Retirement announcements would make tonight's fight a thing of beauty rather than a cause for alarm. Even Bellator President Scott Coker has said as much, acknowledging that it may be time for two of his biggest stars to call it a day. Or at least one of them. Or something.
"This is the time they've got to deliver," Coker said recently. "And I think it might be the winner moves forward and the loser goes home, maybe." That "maybe" is a classic fight promoter's hedge: Maybe the loser of this fight should retire, but then again, if another profitable fight presents itself, maybe he shouldn't. In fight promotion, as in politics, the devil is always in the throwaway lines.
Maybe the best we can hope for from the fight is sudden enlightenment through violence, what the mystics call a Zen Slap: a moment when Mir and Nelson both realize that this is as good as things will ever be and that they won't ever be this good again, that all their best moments are in the past, that they have nothing left to prove, and that nostalgia is the most dangerous temptation of all for a professional fighter—worse than money, worse than fame, worse even than glory.
Here's everything you need to know to watch Mir vs. Nelson.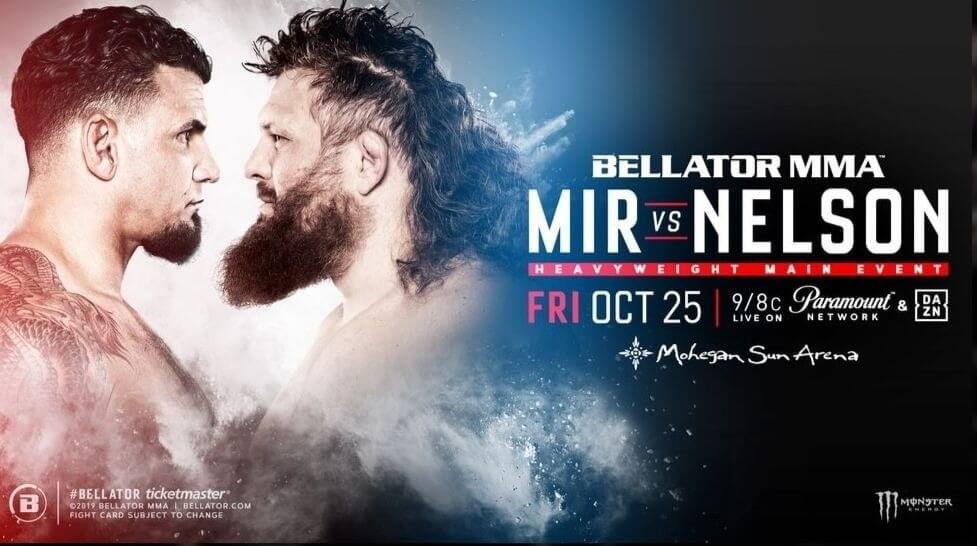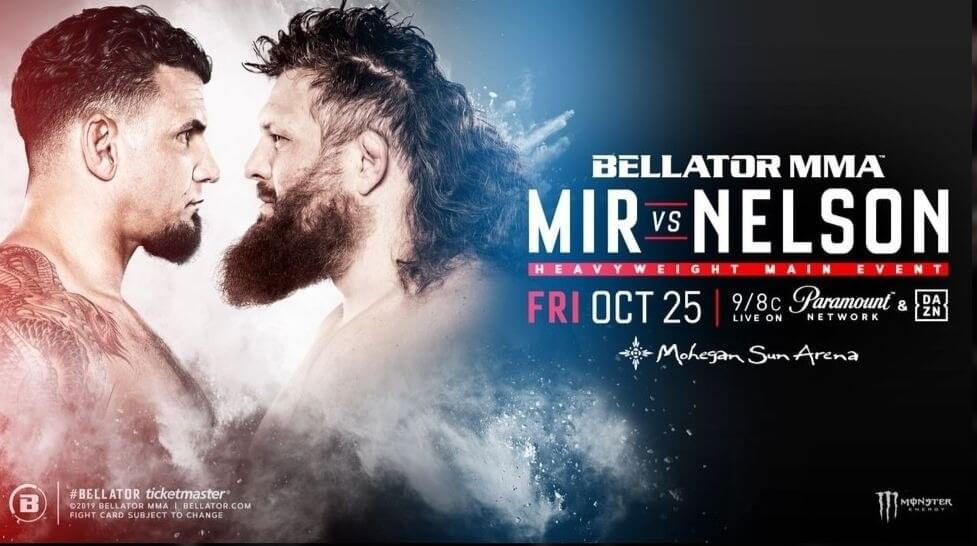 Bellator 231: Frank Mir vs. Roy Nelson
When: Friday, October 25, at 9pm EST
Where: Mohegan Sun Arena in Uncasville, Connecticut
Streaming: DAZN
If you still have cable TV, you can watch many of the Bellator events on the Paramount Network, and for this card, that is indeed the case. You can watch it on cable via Paramount, or if you just want to stream it, you can fire up your DAZN app. A subscription to DAZN costs $19.99 per month or $99.99 for a year, and it's been a great resource for combat sports fans.
DAZN was introduced to the U.S. audience in September 2018, and since then, it's showcased Bellator's biggest events along with featuring some of the most popular boxers (Canelo Alvarez, Gennady Golovkin, and Anthony Joshua) and that sport's rising stars (Regis Prograis, Devin Haney, and Vergil Ortiz Jr.). With the two combat sports combined, DAZN shows more than 100 fight cards per year (including a pair of Bellator cards this weekend).
DAZN works with Roku, Apple TV, Amazon Fire Stick and Fire TV, Xbox One, PlayStation 4, and both iOS and Android phones. All you have to do is download the DAZN app and log in with your subscription credentials. You can also stream via computer browsers Chrome, Firefox, Safari, Edge, Internet Explorer, and Opera. (You can read our full DAZN review here.)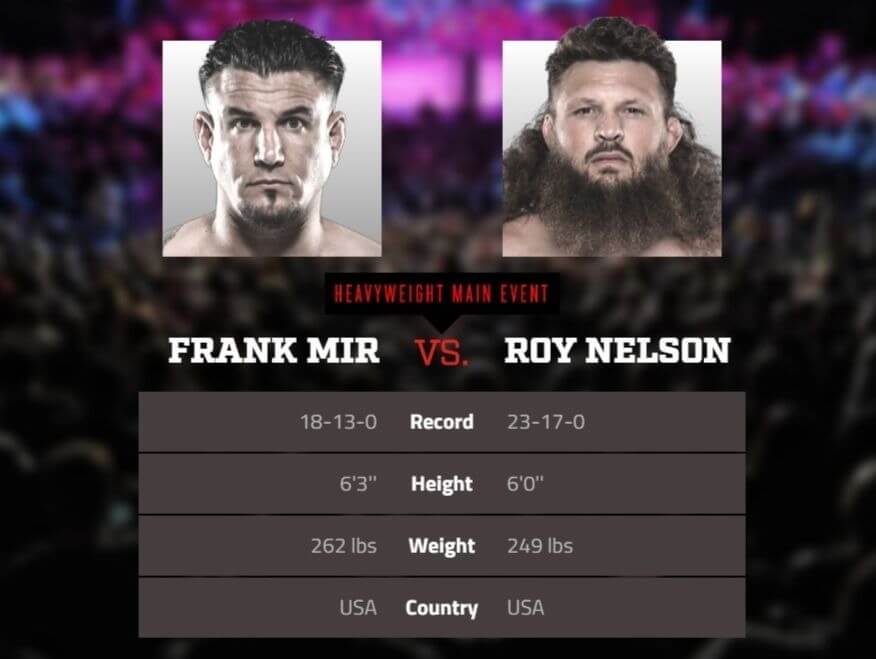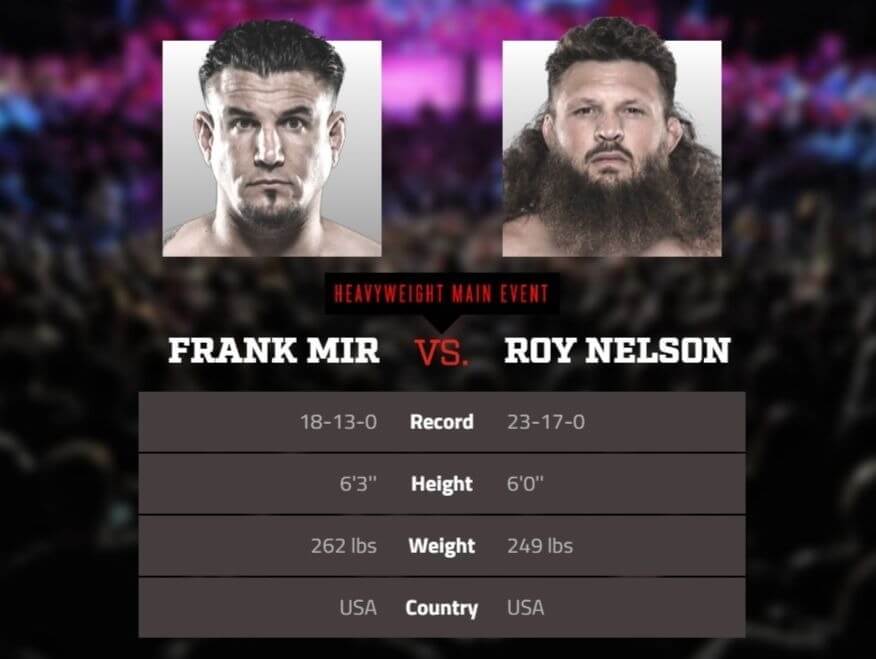 Bellator 231 live stream schedule
All times ET.
Main card | 9pm on DAZN
Frank Mir vs. Roy Nelson
Phil Davis vs. Karl Albrektsson
Ed Ruth vs. Jason Jackson
Bec Rawlings vs. Ilara Joanne
Jake Hager vs. Anthony Garrett
Prelims | 6pm on DAZN
Rebecca Bryggman vs. Elise Reed
Jon Manley vs. Thiago Oliveira
Tim Caron vs. Lucas Pimenta Borges
Dalton Rosta vs. Claude Wilcox
Steve Mowry vs. Gokhan Saricam
Talita Nogueira vs. Jessy Miele
Mandel Nallo vs. Killys Mota
Connor Dixon vs. Orkhan Ismatzade
Adrian Haley vs. Phumi Nkuta
For a year-round sports fix, sign up here and check the "sports" box to receive our weekly boxing newsletter. You'll hear about all the biggest fights and best knockouts from the Daily Dot's streaming sports guru Josh Katzowitz.
The Daily Dot may receive a payment in connection with purchases of products or services featured in this article. Click here to learn more.