The Conor McGregor vs Floyd Mayweather fight has taken over the sports world this week. Even though it'll cost most fans $99 to watch it on pay-per-view on Saturday night, and even though the event is seen by most as a blatant mismatch, the fight could break PPV records (and is already breaking the internet) while making both fighters more than $100 million.
But if $99 is too expensive for your wallet or you don't own a TV, there's good news if you still want to take in the event. You don't need a Showtime boxing subscription to watch the Showtime-produced PPV. You can watch the broadcast online or even in a movie theater. Here's everything you need to know.
How to watch Conor McGregor vs Floyd Mayweather online
1. ShowtimePPV.com or the Showtime app
The fight will be available to purchase through ShowtimePPV.com and the Showtime PPV app that's available on Apple mobile. It will still cost you $99.95 to purchase, but you don't need to be looked into a cable subscription or add Showtime to watch the fight.
To order, just visit the website and enter your payment info. You'll need a browser that's running either Chrome 53.0+, Firefox 47.0+, Safari 10.0+, IE 11.0+, or Microsoft Edge 15.0+. If you plan to watch on your phone, an Android 6.0+ device with Chrome 59.0+ is what you'll need.
READ MORE:
If, however, you use the Showtime app, which can be downloaded at the Apple mobile store, you'll need an iPhone or an iPod with iOS 9.0+ or an Apple TV 4th Gen with tvOS 10.0+. If you have an older generation Apple TV, you can connect via Airplay.
Be warned: Showtime will only let you stream the fight on one device, and the fight is not available live on the Showtime streaming service or Showtime Anytime. But Showtime is tossing in a special free trial of Showtime's standalone streaming service and CBS All Access to those who order through the Showtime PPV website.
2. UFC.tv
Since McGregor is a major UFC star, UFC.tv also will show the fight on its streaming service for $99.95. The best part? You'll also receive a free month of the UFC Fight Pass, which costs $9.99 a month. In the U.K., Sky Sports Box Office will offer its own streaming site for £19.95 or €24.95.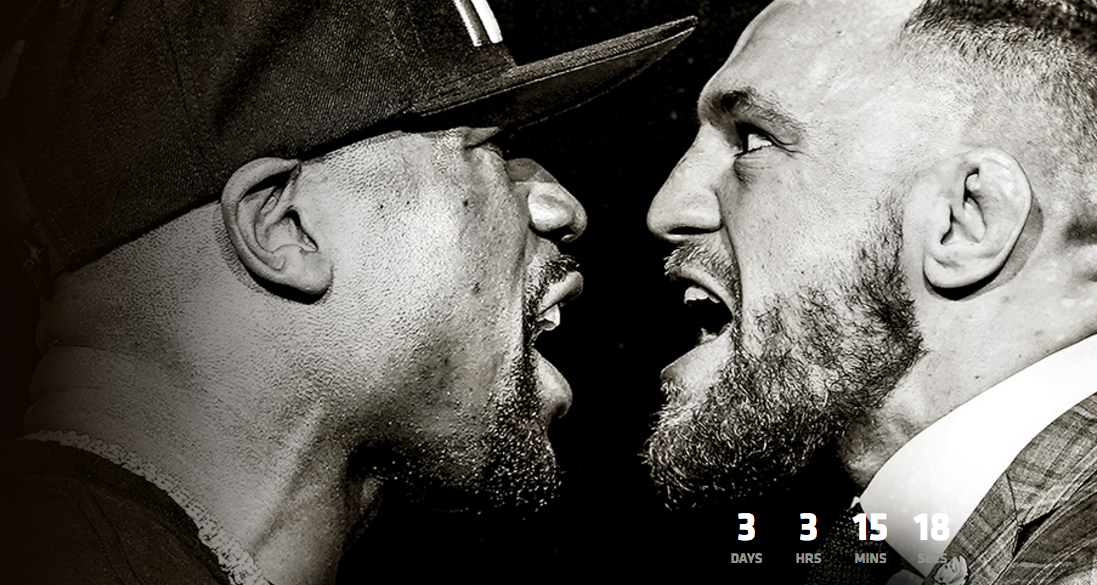 How to watch Conor McGregor vs Floyd Mayweather without a TV
1. Go to the movies
Fathom Events is offering the event at select movie theaters across the country. Ticket prices will vary from theater to theater, but Fathom Events told ESPN that it's expected to sell for about $40 a piece. To find a theater near you, log on to the Fathom Events website and enter your city or zip code.
If, for example, you live in Austin, Texas, these are the options you'll receive with tickets ranging from $40 to $43.30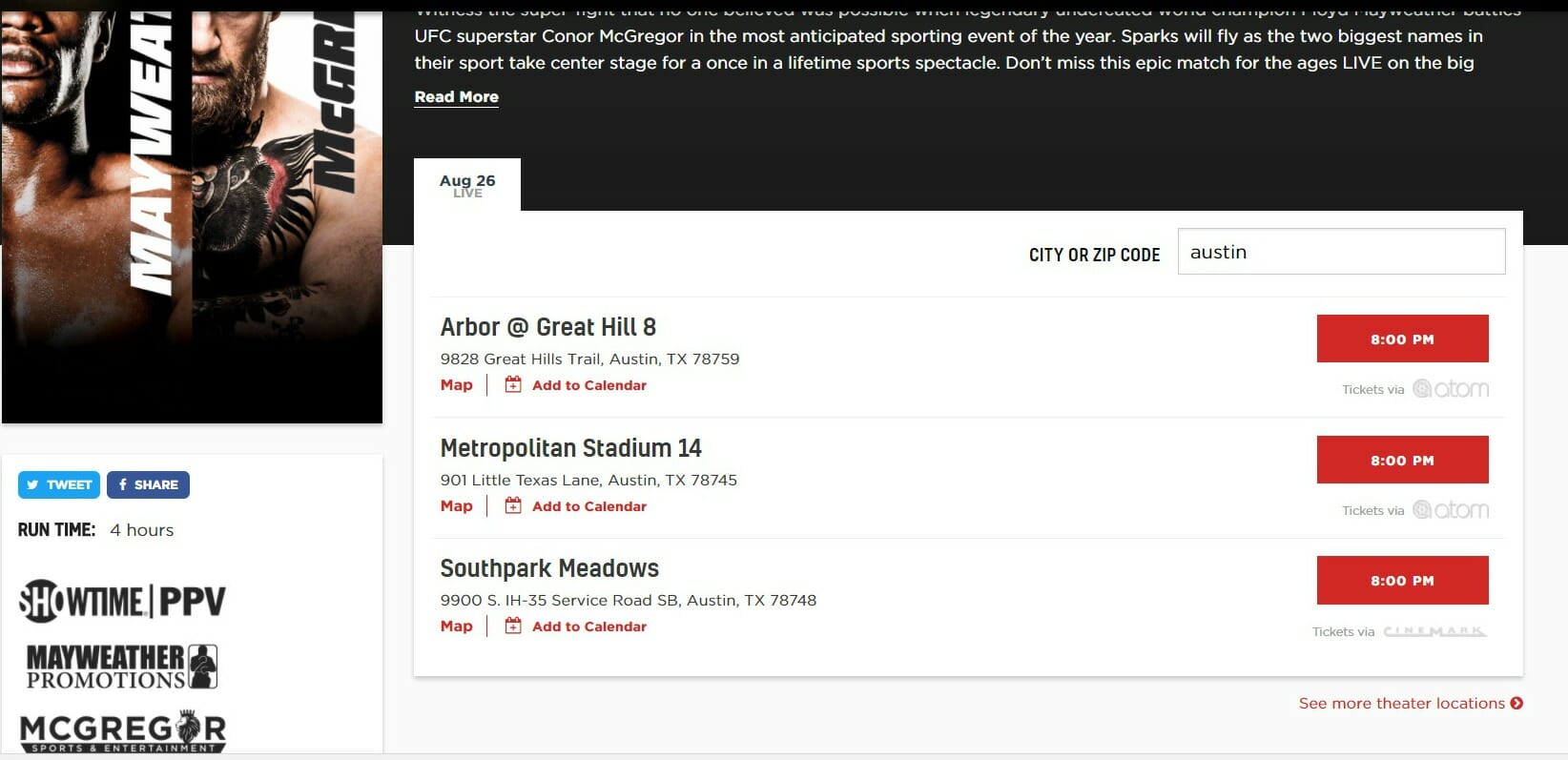 "The buzz that my fight against Conor McGregor is getting has been great already, so what better way to watch this larger-than-life event than on the big screen?" Mayweather said in a statement.
How to watch Conor McGregor vs Floyd Mayweather for free
Refer a friend to the Dish
If you want to watch the fight legally without having to pay anything for the fight, Dish customers are in a good spot.
Dish is offering customers the PPV for free if they refer a friend to the satellite company. "Even better," Dish said in a recent press release, "the referred can choose to get the $100 PPV price tag waived, too."
It's a part of the new Refer A Friend program, which allows Dish customers to refer up to 10 friends a year that could land them a free Echo Dot, the Mayweather-McGregor fight, or the Sept. 16 Canelo Alvarez-Gennady Golovkin fight (which is on HBO PPV and which actually should be a much better even than Mayweather-McGregor). If you're a Dish customer, here's how to get started.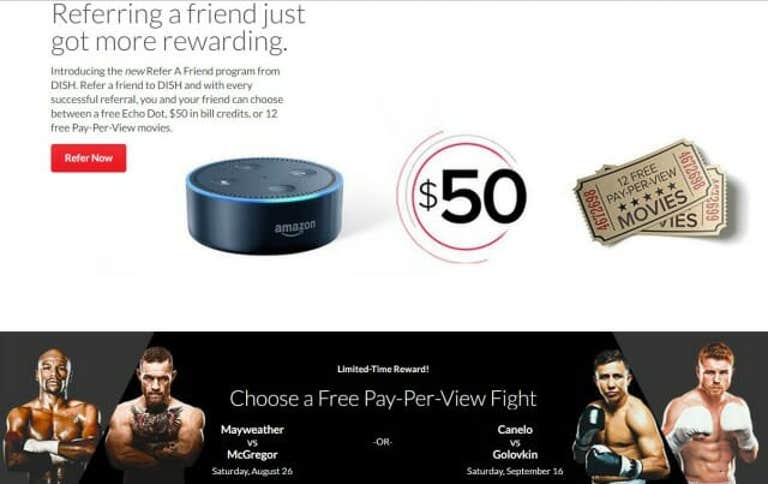 Now let's get this thing over with.