Mixed martial artists have all kinds of reasons for wanting to fight particular opponents: championship belts, big paydays, increased fame, enhanced legacies, personal challenges, personal animosity, even family honor. But every once in a while, the stars align and a fighter has the chance to check off all boxes in a single fight. This past May, that scenario presented itself to Patrício "Pitbull" Freire, who faces Juan Archuletta at Bellator 227 on Saturday night in a fight that can be live streamed.
Already the Bellator featherweight champion, Pitbull knocked out Michael Chandler for the lightweight belt that night in Chicago, in a moment making himself one of the rare two-division champions in the world, a considerably wealthier man, a promotional legend, and the avenger of his beloved older brother Patricky—who had been knocked out with a single punch by Chandler three years earlier. That knockout and the man who delivered it had been haunting, and mocking, the Freire brothers for years.
On Saturday night, in his first fight since putting to bed the ghost of Michael Chandler, Pitbull (29-4) returns to the featherweight division as a conquering hero. The problem is, conquering heroes are often at risk of complacency. Too much success can drain a fighter of his motivation or, worse, convince him of his own indestructibility. After redeeming the family name and claiming two belts, Pitbull needs to keep himself interested. More than bad weight cuts or repeated blows to the head, the most dangerous thing for a fighter is boredom.
Luckily for Pitbull, Saturday will be no ordinary fight. He will be facing Juan Archuleta as part of the Bellator 16-man featherweight grand prix tournament, the winner of which will walk away with both $1 million and the featherweight belt. Pitbull's featherweight belt. Just the thought of all that money and those 15 other men lining up to take away what took him years to earn should be motivation enough to shake Pitbull out of any post-redemption ennui.
For this clever piece of matchmaking for which we can thank the second-tier status of Bellator, which is always looking for ways to differentiate itself from the UFC. Not only does this set of tournament matches offer enormous incentives and keep complacent champions on their toes; they democratize the matchmaking process.
If it weren't for the featherweight grand prix, who knows how long a relative unknown like Archuleta (23-1) would have to wait for a shot at Bellator royalty like Pitbull Freire. Unlike the UFC, which happily ignores its rankings in favor of big-money matchups, Bellator likes to scoop up all its highest-rated fighters and give them an equal shot at championship glory and an enormous payday. That's great news for Archuleta, who has all the the skills to beat Pitbull but little of the name recognition that would justify putting him into a championship fight.
And it's good news for Pitbull as well. Without such creative matchmaking, the newly crowned double champion and defender of the Freire family name would be in danger of sinking into apathy.
Here's everything you need to know to watch Bellator 227 and the Pitbull vs. Archuleta live stream on DAZN.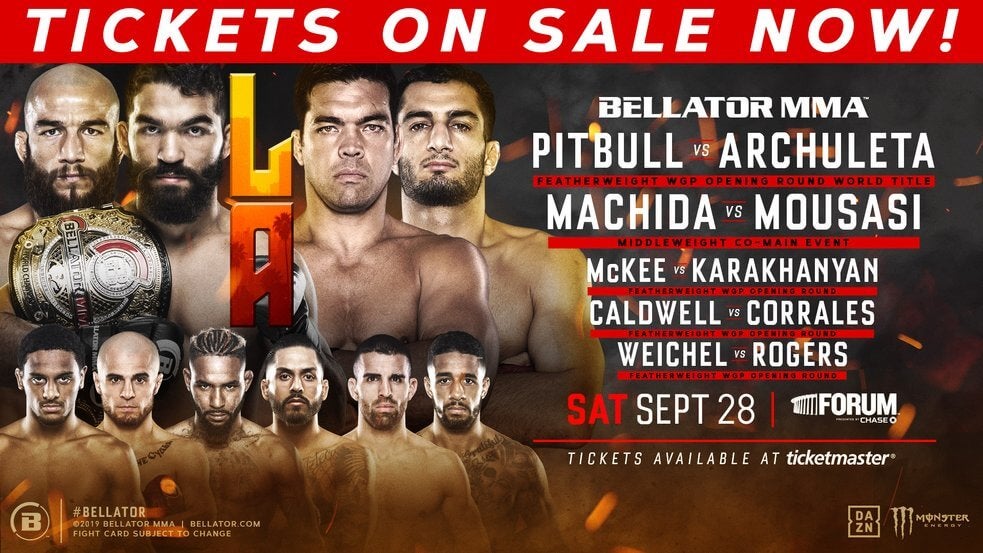 Bellator 227: Patricio "Pitbull" Freire vs. Juan Archuleta
When: Saturday, Sept. 28 at 10pm ET
Where: The Forum in Inglewood, California
Streaming: DAZN
If you have cable TV, you can watch many of the Bellator events on the Paramount Network, but that isn't the case on Saturday. Instead, the only way to watch Pitbull vs. Archuleta is on DAZN. A subscription to DAZN costs $19.99 per month or $99.99 for a year, and it's been a great resource for combat sports fans.
DAZN was introduced to the U.S. audience in September 2018, and since then, it's showcased Bellator's biggest events along with featuring some of the most popular boxers (Canelo Alvarez, Gennady Golovkin, and Anthony Joshua) and that sport's rising stars (Regis Prograis, Devin Haney, and Vergil Ortiz Jr.). With the two combat sports combined, DAZN shows more than 100 fight cards per year.
DAZN works with Roku, Apple TV, Amazon Fire Stick and Fire TV, Xbox One, PlayStation 4, and both iOS and Android phones. All you have to do is download the DAZN app and log in with your subscription credentials. You can also stream via computer browsers Chrome, Firefox, Safari, Edge, Internet Explorer, and Opera. (You can read our full DAZN review here.)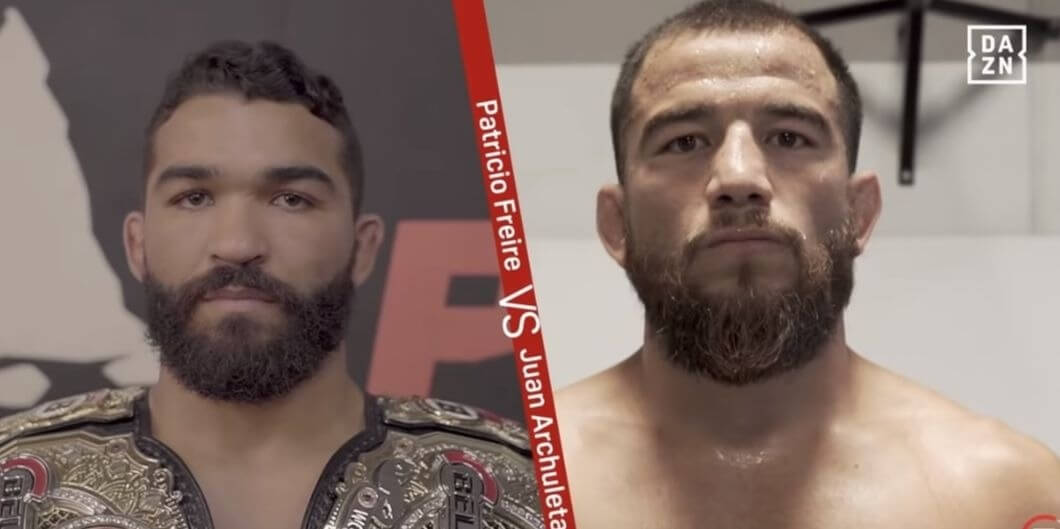 Bellator 227 live stream schedule
All times ET.
Main card | 10pm on DAZN
Patricio Pitbull vs. Juan Archuleta
Lyoto Machida vs. Gegard Mousasi
Darrion Caldwell vs. Henry Corrales
Daniel Weichel vs. Saul Rogers
AJ McKee vs. Georgi Karakhanyan
Prelims | 7:30pm on DAZN
Shawn Bunch vs. Leandro Higo
Jonathan Santa Maria vs. Benji Gomez
Joshua Jones vs. Dominic Clark
Weber Almeida vs. Castle Williams
Jason Edwards vs. Adrian Najera
Antonio McKee vs. William Sriyapai
Emilio Williams vs. Ian Butler
AJ Agazarm vs. Jonathan Quiroz
Andre Walker vs. Osman Diaz
Ava Knight vs. Shannon Goughary
Mike Jasper vs. Johnny Cisneros
James Barnes vs. David Duran
For a year-round sports fix, sign up here to receive our weekly boxing newsletter. You'll hear about all the biggest fights and best knockouts from the Daily Dot's streaming sports guru Josh Katzowitz.
The Daily Dot may receive a payment in connection with purchases of products or services featured in this article. Click here to learn more.