Unlike other sports, where a certain number of wins add up to an athlete or a team earning a championship, there are far more nebulous factors at work when determining a mixed martial artist's fate: things like charisma and timing and marketability and contract negotiations and promotional whims—each a world away from the fair, black-and-white calculations of a win-loss record.
For a case study in inconstant MMA momentum, look no further than Lorenz Larkin (20-7-1), who takes on Andrey Koreshkov (22-3) in the main event of Bellator 229 on Friday night in a match you can live stream on DAZN.
Just three years ago, the former undefeated boxer was on his way to becoming a real contender in the UFC welterweight division, where he'd found a home after struggling for years as an undersized middleweight. In May 2016, he'd improved his record in the division to 3-1 with a victory over MMA mainstay Jorge Masvidal, and it looked like great things might lie ahead. But soon destiny, disguised as business, took a hand.
Larkin became a free agent and for the next seven months, he was stuck in contract negotiation purgatory, going round and round with the promotion that had been his home for three years before finally giving up and signing with its main competitor, Bellator. Despite coming off two marquee wins and triumphing in four of his last five fights, Larkin was essentially demoted to the minor leagues.
Meanwhile, the biggest name Larkin beat during his UFC run, Masvidal, became a surprise late-blooming superstar, parlaying his five-second flying-knee knockout of Ben Askren last July into a fight with Nate Diaz at Madison Square Garden and a sure multimillion-dollar payday. As Larkin was toiling away in his new promotional home, the man he'd beaten just three years earlier was becoming a cultural phenomenon. Such is the cruel reality of the mixed martial artist.
Of course, even toiling is a dangerous activity for a professional fighter, so here's hoping Larkin can either put the ascension of Masvidal out of his mind or use it as fuel during his fight vs. Koreshkov. He's a bruising former champion whose only losses in nine years have come at the hands of former two-time promotional champion Douglas Lima and—to complete the circle—Ben Askren, whose near decapitation opened the door to Masvidal's meteoric rise.
Here's everything you need to know to stream Koreshkov vs. Larkin.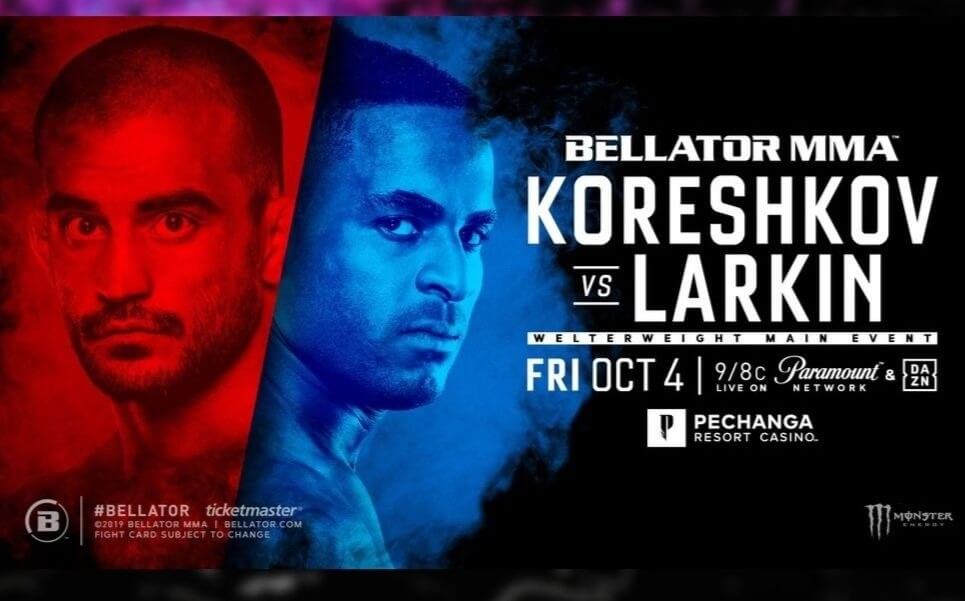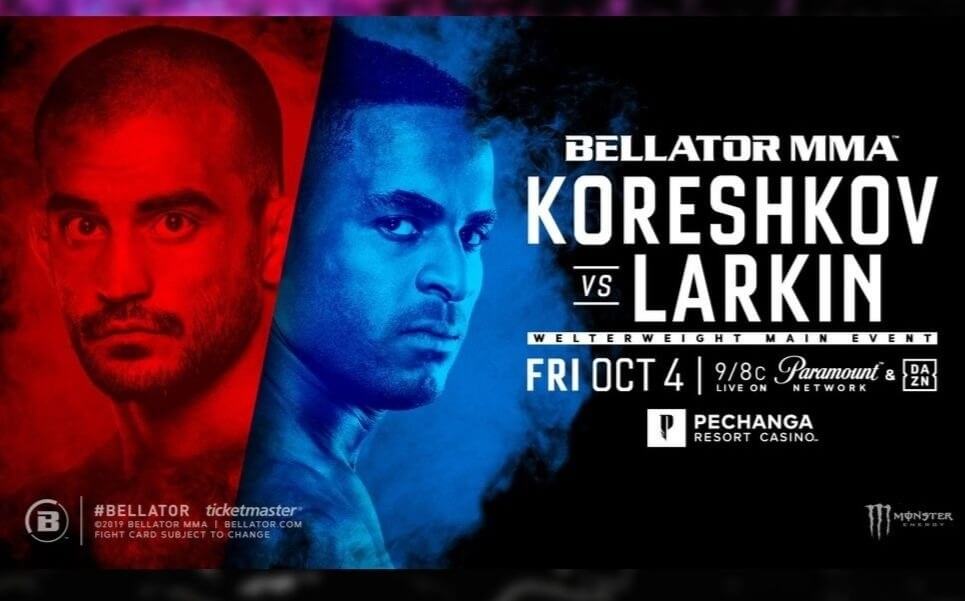 Bellator 229: Andrey Koreshkov vs. Lorenz Larkin
When: Friday, Oct. 4 at 9pm ET
Where: Pechanga Resort & Casino in Temecula, California
Streaming: DAZN
If you have cable TV, you can watch many of the Bellator events on the Paramount Network, and for this card, that is indeed the case. You can watch it on cable via Paramount, or if you just want to stream it, you can fire up your DAZN app. A subscription to DAZN costs $19.99 per month or $99.99 for a year, and it's been a great resource for combat sports fans.
DAZN was introduced to the U.S. audience in September 2018, and since then, it's showcased Bellator's biggest events along with featuring some of the most popular boxers (Canelo Alvarez, Gennady Golovkin, and Anthony Joshua) and that sport's rising stars (Regis Prograis, Devin Haney, and Vergil Ortiz Jr.). With the two combat sports combined, DAZN shows more than 100 fight cards per year (including three Bellator cards this weekend).
DAZN works with Roku, Apple TV, Amazon Fire Stick and Fire TV, Xbox One, PlayStation 4, and both iOS and Android phones. All you have to do is download the DAZN app and log in with your subscription credentials. You can also stream via computer browsers Chrome, Firefox, Safari, Edge, Internet Explorer, and Opera. (You can read our full DAZN review here.)
Bellator 229 live stream schedule
All times ET.
Main card | 9pm on DAZN
Andrey Koreshkov vs. Lorenz Larkin
Saad Awad vs. Goiti Yamauchi
Keri Taylor Melendez vs. Mandy Polk
Joe Schilling vs. Tony Johnson
Prelims | 8pm on DAZN
Adel Altamimi vs. Salim Mukhidinov
Anatoly Tokov vs. Hracho Darpinyan
Derek Anderson vs. Guilherme Bomba
Joey Davis vs. Jeff Peterson
Johnny Eblen vs. Mauricio Alonso
Vladimir Tokov vs. Brandon Hastings
Jordan Newman vs. Riley Miller
Sunni Imhotep vs. Kelvin Gentapanan
Jay Jay Wilson vs. Jorge Juarez
For a year-round sports fix, sign up here to receive our weekly boxing newsletter. You'll hear about all the biggest fights and best knockouts from the Daily Dot's streaming sports guru Josh Katzowitz.
The Daily Dot may receive a payment in connection with purchases of products or services featured in this article. Click here to learn more.