When Stipe Miocic knocked out Daniel Cormier last month at UFC 241, it felt like we finally had the answer to the most important question in combat sports: Who is the best heavyweight in the world? Miocic had reclaimed his spot on top of the UFC's marquee division, a division he could now legitimately claim he'd cleared out, so who would dare argue that he wasn't the greatest?
The answer is Scott Coker. Not even 24 hours after Miocic's win, Coker—president of UFC's main competition, Bellator—declared on Twitter that the best heavyweight in the world was actually the Bellator champion. That'd be Ryan Bader, who will face Cheick Kongo on Saturday in a fight you can stream on DAZN. Coker's claim was so brazen and bizarre only a veteran fight impresario would have thought to make it.
After all, Bader is the heavyweight champion of a promotion that, while selling itself as the UFC's chief competitor, is really more like its masters league. Bellator may provide a platform for up-and-coming mixed martial artists, but it's made its name as a second home for onetime UFC stars who've parted ways with the promotion—the fighters who've aged out of their primes, whose skills have deteriorated, or who went looking elsewhere to make their money.
A list of Bellator's biggest names reads like a who's who of former UFC fighters on the downslope of venerable careers: "Rampage" Jackson, Benson Henderson, Lyoto Machida, Frank Mir, Roy Nelson, Matt Mitrione, Tito Ortiz, Gegard Mousasi, Rory MacDonald, and now "Cyborg" Santos. All of them were former UFC champions or contenders disgruntled with their former bosses, dissatisfied with the UFC's Reebok endorsement deal, or in the twilights of their careers.
Bader (27-5) is right at the top of that list. The former collegiate wrestling standout had a distinguished career as a UFC light heavyweight, winning 15 fights in eight years, but he never quite became a championship-level fighter (for that, he can partly blame the Fates for making him a light heavyweight mixed martial artist at the same time as Jon Jones). So when his UFC contract expired in 2017, he went looking for greener pastures and found them in Bellator—which offered him more money, more endorsement opportunities, and the chance to fight for multiple belts. Bader beat UFC veteran beat Phil Davis for the light heavyweight championship in his first fight in the promotion and then knocked out MMA legend Fedor Emelianenko just two years later to win the heavyweight title, becoming the first fighter in the promotion's history to hold belts in two divisions at the same time.
Bader had clearly made a wise decision.
But still: the best heavyweight in the world? Miocic defended his belt a UFC-record three times before stumbling against Daniel Cormier, and then he won it back in his very next fight. Bader, meanwhile, is a brand-new heavyweight champion who's never defended his belt, which is a requirement for anyone hoping to be declared the greatest. He'll get his first chance this Saturday night when he fights fellow former UFC veteran Cheick Kongo, who is huge and strong and skilled and experienced and game but who is also 44 years old. He's another old-timer who's found a late-career home in Bellator.
Beating Kongo (30-10-2) would be a feather in Bader's cap and a necessary step toward legitimizing his new run as a heavyweight, but it's going to take a lot more than that to put him in the conversation with a man like Miocic.
Here's everything you need to know to watch Bellator 226 and the Bader vs. Kongo live stream on DAZN.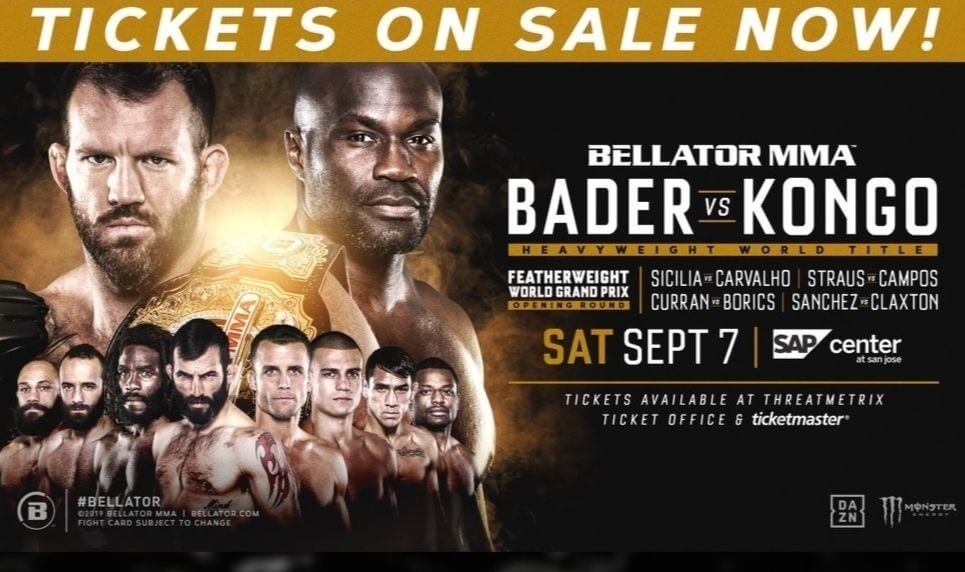 Bellator 226: Ryan Bader vs. Cheick Kongo
When: Saturday, Sept. 7 at 10pm ET
Where: SAP Center, San Jose, California
Streaming: DAZN
If you have cable TV, you can also watch many of the Bellator events on the Paramount Network, but that isn't the case on Saturday. Instead, the only way to watch Bader vs. Congo is on DAZN. A subscription to DAZN costs $19.99 per month or $99.99 for a year, and it's been a great resource for combat sports fans.
DAZN was introduced to U.S. audiences in September 2018, and since then, it's showcased Bellator's biggest events along with featuring some of the most popular boxers (Canelo Alvarez, Gennady Golovkin, and Anthony Joshua) and that sport's rising stars (Regis Prograis, Devin Haney, and Vergil Ortiz Jr.). With the two combat sports combined, DAZN shows more than 100 fight cards per year.
DAZN works with Roku, Apple TV, Amazon Fire Stick and Fire TV, Xbox One, PlayStation 4, and both iOS and Android phones. All you have to do is download the DAZN app and log in with your subscription credentials. You can also stream via computer browsers Chrome, Firefox, Safari, Edge, Internet Explorer, and Opera. (You can read our full DAZN review here.)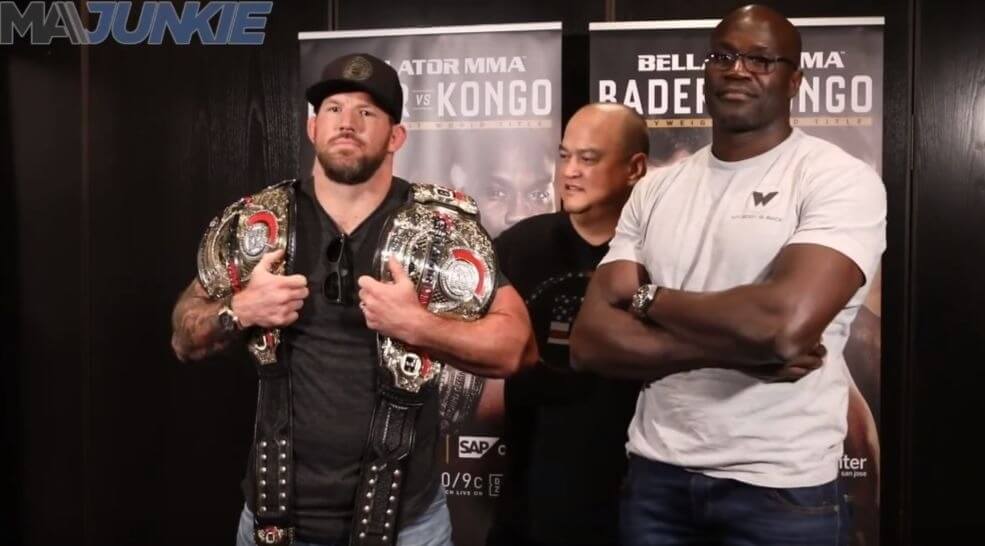 Bellator 226 live stream schedule
All times ET.
Main card | 10pm on DAZN
Ryan Bader vs. Cheick Kongo
Daniel Straus vs. Derek Campos
Pat Curran vs. Adam Borics
Tywan Claxton vs. Emmanuel Sanchez
Sam Sicilia vs. Pedro Carvalho
Gaston Bolanos vs. Daniel Carey
Prelims | 7:30pm on DAZN
Chris Gonzalez vs. Luis Vargas
Hyder Amil vs. Ignacio Ortiz
Abraham Vaesau vs. Renato Alves
James Terry vs. Batsumberel Dagvadorj
Cass Bell vs. Isaiah Rocha
Amber Leibrock vs. Jessica Borga
Adam Piccolotti vs. Jake Smith
John Macapa vs. Ashleigh Grimshaw
Cornelius Savage vs. Evan Gubera
Daniel Gonzalez vs. Jonathan Adams
Peter Ishiguro vs. Elias Anderson
Favian Gutierrez vs. Alan Benson
Albert Gonzalez vs. Tyson Miller
Ivan Batinich vs. Daniel Compton
For a year-round sports fix, sign up here to receive our weekly boxing newsletter. You'll hear about all the biggest fights and best knockouts from the Daily Dot's streaming sports guru Josh Katzowitz.