A YouTuber who has more than 350,000 subscribers has been using pedophilia- and incest-laden headlines as clickbait for his vlogs. Now, Carmie Sellitto, who runs the touchdalight channel, said he's sorry for the controversy and that he's learned his lesson about being a YouTube troll.
Sellitto has used headlines like "TRUTH OR DARE WITH MY LITTLE SISTER!!" and "I Watched Him Rape Her (Storytime)"to propel people to his channel, which has earned nearly 30 million pageviews since he started posting videos in January 2012.
But the reason Sellitto is facing a major backlash this week was for a Fortnite video he titled "1 KILL = REMOVE 1 CLOTHING WITH MY LITTLE SISTER!!"
The movie has been deleted, but via the DramaAlert YouTube channel, here's a screenshot of the thumbnail.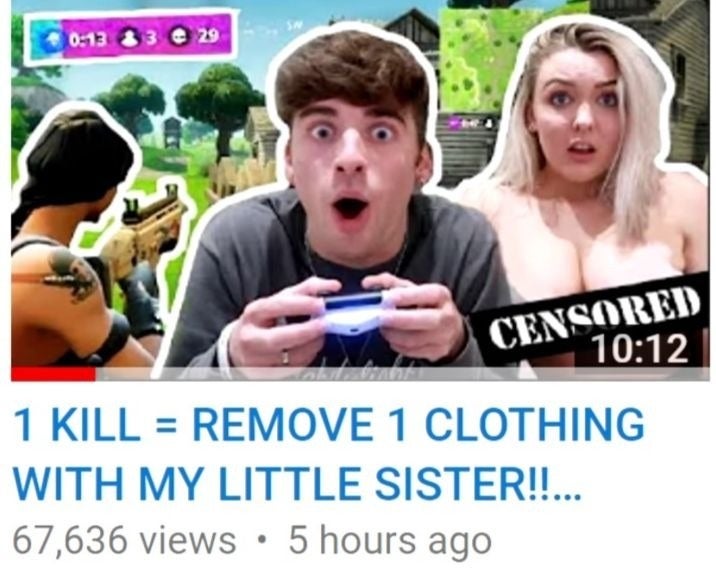 The outrage on social media was immediate.
do you actually desire to have an audience of people who would click on a title like this

big fuckin wew

— june (@shoe0nhead) April 12, 2018
https://twitter.com/BionicPIGtv/status/984503717331431426
https://twitter.com/Colto3_/status/984802307861868546
So some guy actually recorded himself playing Fortnite, AND for EVERY KILL he got. HIS OWN 13 YEAR OLD SISTER! Had to take off an article of clothing. I get 10 kills a game. So it's not hard. This is literally child porn with his own sister… HIS F*CKING 13 YEAR OLD SISTER.

— JJkingzgaming (@JJkingzgaming) April 13, 2018
https://twitter.com/NetNobody/status/984171968172666880
Sellitto deleted the video and posted an apology in a vlog titled "I'm the biggest meme of 2018."
"I'm basically going through some shit right now. … I'm getting a lot of hate," he said. "I want to apologize for everything I've done. I'm not this weird person that everyone thinks I am. I'm literally just a boy talking to my camera trying to get a few clickbait views, trying to get my name out there. My name is kind of out there right now, but probably not for a good reason."
In the past, he's used headlines like "My Dad Touched Me In My Sleep" in a video in which he gives relatively terrible advice to his followers while roller skating and another called "EXPLORING ABANDONED CONCENTRATION CAMP!!"
As Babe.net points out, one of his most wretched headlines was from a December 2017 video originally titled "TRUTH OR DARE WITH MY LITTLE SISTER!!" with a thumbnail of him kissing a girl, who he claimed was his sister. Now, the title is "TRUTH OR DARE WITH MY GIRLFRIEND!!"
But the description still refers to the incest clickbait, and in the video, he still refers to the woman as his sister.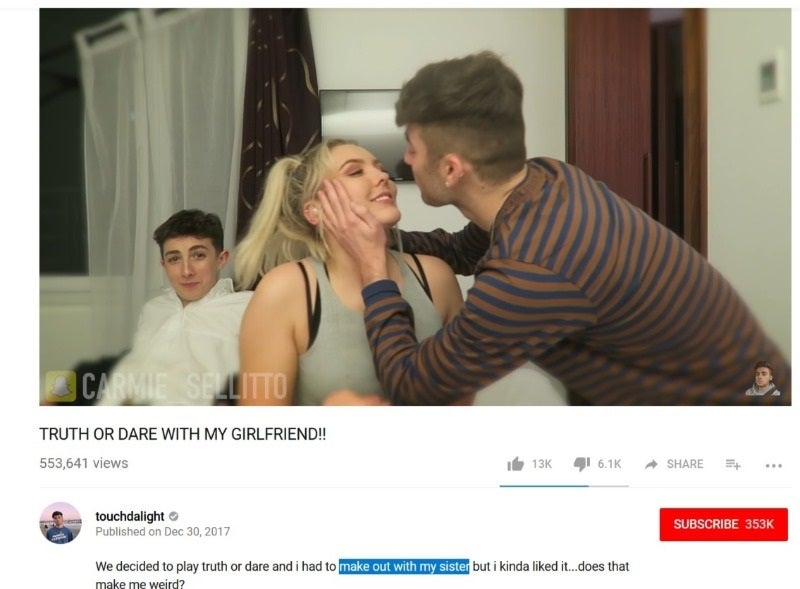 But his latest video on Wednesday caused so much controversy that now he said he's going to take a break from YouTube.
In his description of the now-deleted vlog, via DramaAlert, Sellitto wrote, "Mum and dad is going to kill us for this but its worth it! Please don't screenshot my LITTLE SISTER as thats kinda weird and disrespectful as shes only just turned 13."
Said Sellitto: "I deleted it now because I don't want to get a bad name for myself, even though I've basically done that already."
The woman who Sellitto claims is his sister is not, in fact, his sister.
Her name is Millie T on YouTube, and she has more than 1 million subscribers. In February, she posted a video in which she refers to Sellitto as a close guy friend.
Sellitto said he's a YouTube troll but that he "took it too far." He also claimed he was visited by police, and he made it clear in his apology video that he's not a pedophile. Sellitto didn't immediately reply to a Daily Dot request for additional comment.
Said Sellitto in his apology video: "I'm not a bad person. I honestly don't know what to say. … My humor is so messed up to the point where I didn't know when to stop. I literally don't have any limits to clickbait clearly."