Taylor Swift has been keeping secrets lately (and dousing herself with ice water), building up anticipation for… something. Everyone wanted to know: Could she drop a Beyoncé?
On Monday afternoon, ABC News and Yahoo livestreamed her big announcement, as she met us at the top of the Empire State building. She asked if we wanted to go inside (yes, I'm afraid of heights), then the 24-year-old singer sat down in her Oprah-esque set to give us three surprises, like a beautiful genie. 
The first was a new song, "Shake It Off," which she explained is a song of positivity in the face of haters. She then danced around with audience members, and fans across the country joined in.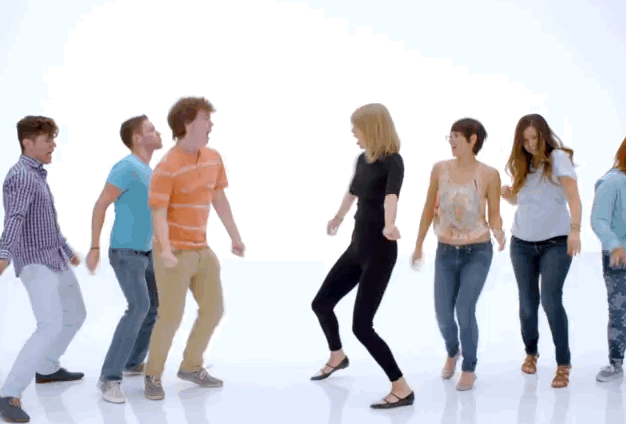 GIF by Greg Seals
Next up, she revealed she's been working on a new album for two years, and it's given her time to change and evolve. She was listening to a lot of late '80s pop and getting inspired. She was born in 1989, and the new album is called 1989!
It's her first "documented, official pop album," and all the album art is Polaroids, because '80s! It will be in stores Oct. 27. Bonus tracks were recorded as voice memos on her phone. So mod! She then told a fan on Skype: "You have the shiniest hair!"
Surprise No. 3: Swift collaborated with Mark Romanek for the music video for "Shake It Off." Then my livestream crashed. 
Twitter weighed in:
taylor surrendered to the least complicated narrative of who she is — she buried herself and gave us her brand in its place. goodbye~

— Jessica Roy (@JessicaKRoy) August 18, 2014
Don't know what it says that a noticeable # of ppl in my Twitter feed just pivoted from President Obama to Taylor Swift.

— Jeff Chu (@jeffchu) August 18, 2014
Taylor Swift should do the Yahoo earnings calls.

— Josh Ong (@beijingdou) August 18, 2014
Why is she always surprised so many people are around her? YOU ARE TAYLOR SWIFT YOU ARE SO IMPORTANT

— granger. (@xlovegood) August 18, 2014
is taylor swift still a thing

— D (@crownsbieber) August 18, 2014
T-Swift celebrating 25 years since Radio Raheem pic.twitter.com/KdX0aoY5dk

— Anne Helen Petersen (@annehelen) August 18, 2014
this will not help america begin the healing pic.twitter.com/MmihmzeU5l

— Sam Faulkner Biddle (@samfbiddle) August 18, 2014
Just give Tay her own talk show; she is clearly ready. 
Screengrab via Taylor Swift VEVO/YouTube