Though her penchant for wearing 1950s bathing suits might suggest otherwise, Taylor Swift does communicate using modern technology. In an interview with Buzzfeed, the high priestess of the Diet Coke tribe revealed several interesting tidbits about her digital life, including the fact that her last Google search was for "Pictures of two eagles flying together/being friends."
After dispensing with the kitschy semantics, Buzzfeed began their barrage of hard-hitting questions. They sought the answers that fans were dying to know—namely, what emojis does she text BFFs Lorde and Lena Dunham on the regular?
We're sad to report that Swift keeps it clean, steering clear of the eggplant emoji or anything nefarious. Instead, her top three picks are the thumbs-up, "the wide-eyed surprised-face emoji" (go figure), and Santa.
Why Santa? "Because he's always watching."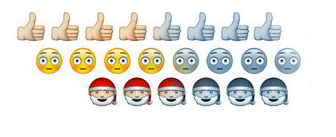 Honestly, we expected more Emoji flavor and excitement from the young woman who proclaimed herself a dead ringer for Girls star Shoshanna Shapiro. At least Shosh had the bravado to text Ray a panda next to a gun next to a wrapped gift. Maybe Taylor's lackluster emoji game is what caused the rift between her and Harry Styles in the first place.
H/T Vulture | Photo via TaylorSwiftVEVO/YouTube