Binge-watching shows might take up a huge chunk of viewers' free time and cause their productivity to plummet, but how does it actually affect their wallets?
A new study by Crescent Electric shows what kind of fees viewers can rack up on their power bill by binging on popular TV shows, movies, and sporting events. The company considered the cost of streaming movies and TV shows or watching them on Blu-ray, as well as the cost of watching sports live on cable. Crescent Electric estimated the average kilowatt-hour (kWh) consumption for each method of viewing and multiplied it by the total runtime of each program, as well as the consumption rate and average kWh cost in the United States, which is $0.12.
Game of Thrones topped the list of popular TV shows, costing viewers a whopping $2.16 to watch the whole series. Stranger Things was a distant second, clocking in at $0.46, followed by This Is Us, Westworld, and The Handmaid's Tale.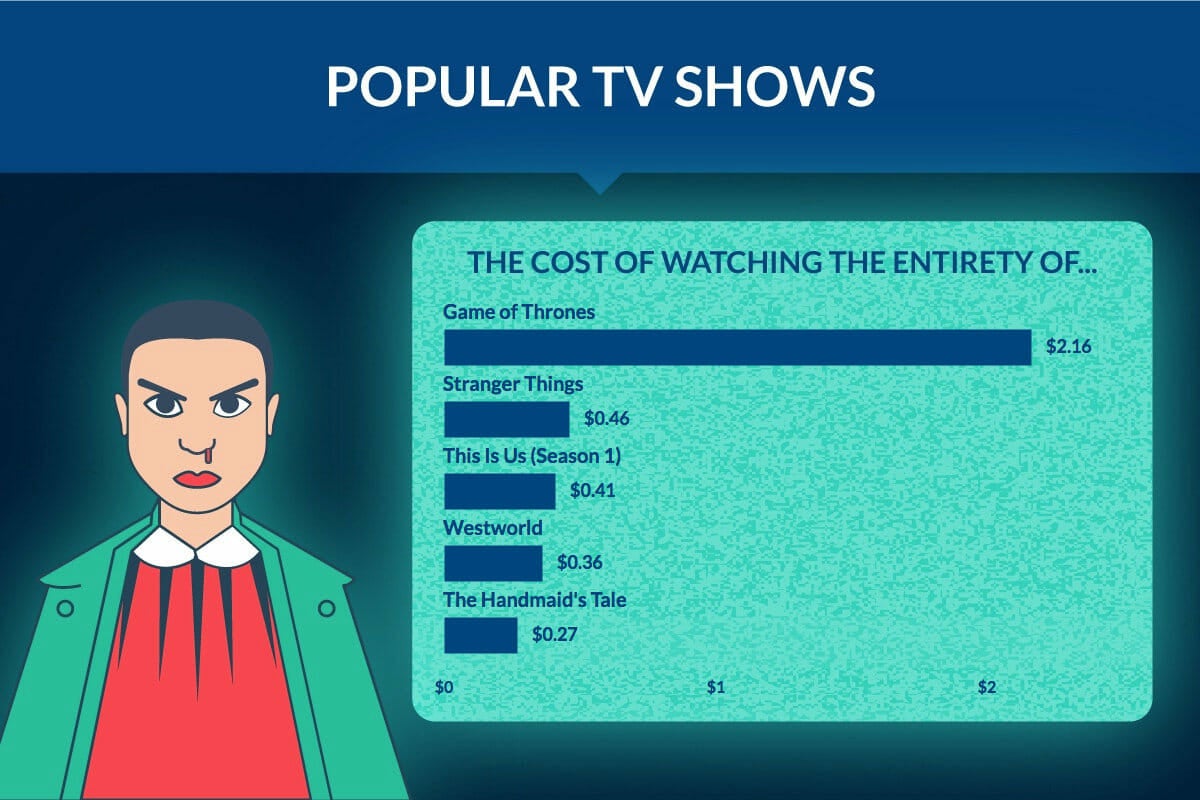 Things got predictably pricier in the sitcom, cartoon, and reality TV categories, considering the huge amount of episodes some classic shows have. Cheers topped the sitcoms list, costing $3.55 for a whole series, followed by Friends at $2.79. The Simpsons racked up $8.11, putting a huge margin between itself and the second most expensive cartoon on the list, South Park, which would cost viewers $3.76 to watch in its entirety. But even Homer Simpson's 30 years of shenanigans paled in comparison to The Real World, which, with 32 episodes and 602 seasons, would cost viewers $20.01 to watch from start to finish.
Meanwhile, popular movie series and sporting events barely made a dent in power bills. All 24 James Bond movies would only cost $0.94, while the entire Marvel Cinematic Universe would leave a $0.67 charge. The World Series would cost a measly $0.26, while the 2017 NBA Finals only would've left viewers $0.13 poorer.
The moral of the story? Stick to sports, movies, and modern prestige TV—and whatever you do, don't binge on The Real World.
See the full results of the study here.