Tech

Tech

The gadgets, platforms, and software that make your digital life possible. If it bleeps, clicks or blinks, you'll find it here.

Internet Culture

Internet Culture

There's a community for everyone online.

Streaming

Streaming

News, reviews, and guides for the world of online entertainment.
Skyrim Rap
British "geeky rapper" takes on Skyrim. What's not to love?
Want to get famous on YouTube? Follow Dan Bull's example and make your video about a topic that's already famous on YouTube.
Bull rose to YouTube prominence this week with his latest video: Skyrim Epic Rap (by Dan Bull). The rap capitalizes on Elder Scrolls sequel Skyrim, a video game that's already overwhelmed Reddit with hype.
The video features Dovahkiin, the dragon-slaying protagonist of Skyrim, rapping about his prowess in battle.
"And they didn't use this in the official trailer why?" wrote BurgessGaming in one of 6,000 primarily positive comments on the video.
"I fricking couldn't wait for Skyrim to come out and I had to channel that energy somehow," Bull told the Daily Dot in an email. "A few people had asked me to make the track too so I kind of knew it was going to be a success."
A self-described geeky rapper from Bromsgrove, England, Bull has been making music on his computer since age 12. But he's never had a video get more popular than this one, with 786,000 hits and counting. Bull attributes this to people's excitement for its subject. His last video that got close to this amount of attention focused on an attractive celebrity.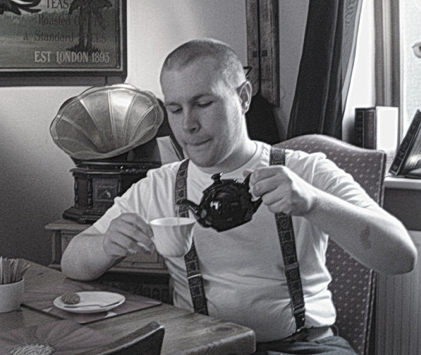 "So far this is the video that's had the most YouTube views and that's only after a week," Bull said. "My second most popular one is the letter to Lily Allen about file sharing that I released in 2009."
That was the same year Bull began making a living full-time off of his music. Bull said that thanks to YouTube ads and album sales, he was able to quit his day job. The now 25-year-old focuses on songs about video games, which resonate as strongly with him as with his audience.
"I don't get to play as much now but I still get just as excited by new trailers and demos. I don't think gaming is something you ever grow out of," he said.
So far, Bull said that the video's success has scored him some invitations to perform in Sweden, but he's hoping his increased YouTube fame will lead to an even bigger impact.
"As far as the video opening new doors for my career, I bloody hope so, I guess it depends how hard I work and whether my words keep resonating with the online community," he said. "With that in mind if anyone has any suggestions for further videos I'd love to hear them."
Lauren Rae Orsini is a web culture reporter who specializes in anime and the business of fandom. Her work has been published by Forbes and Business Insider.
© The Daily Dot, all rights reserved.
Represented by Complex Media, Inc. for advertising sales.