Sir Patrick Stewart is slowly but surely winning the Internet over—one selfie at a time.
The esteemed actor joined Twitter in June 2012, and he's been tweeting visual gold ever since. Whether he was eating pizza with his hands for the first time after a night of drinking or traveling around New York City with his best friend, more than 828,000 followers were watching and living vicariously through him.
He's also had that day job of his to keep him busy.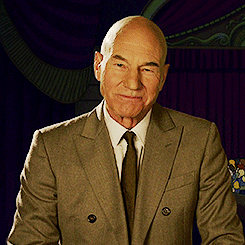 But not only is Stewart a master tweeter, he's also passionate about the causes he supports, and frequently gives back to his fans.
Much of his social media genius might be in the name of self-promotion—he's currently starring in No Man's Land and Waiting For Godot on Broadway with X-Men costar and BFF Ian McKellen—but we're already sold.
Here's why 2013 was the Year of Sir Pat Stew:
1) He knows the proper way to eat a pizza.
Pizza is such a vital part of everyday life that many of us couldn't tell you when we had our first slice or what was even on it. Stewart has photo proof of his, though.
It was his fiancée, jazz singer Sunny Ozell, who decided to grab that early morning slice to soothe the hangover they both had from the night before. Since Stewart was in New York, he even held it like the locals.
My first ever pizza "slice". Please note: the authentic NY fold. pic.twitter.com/X7nWRbftyh

— Patrick Stewart (@SirPatStew) May 29, 2013
He later corrected the news stories that claimed he had just eaten his first pizza ever. What Stewart really meant was that he'd never eaten a slice before. 
"I would go in [a pizza place] and order a pizza and eat a whole pizza. It was the concept of the slice that I had never encountered before," he said. 
But, as Daily Show host Jon Stewart found out the hard way, people are really passionate about their pizza. Stewart had to post photos of previous pizzas he'd consumed to set the record straight.
2) His epic, documented friendship with Ian McKellen
Today might have dubbed James Franco the "selfie king," but Stewart easily gives him a run for his money. And Franco certainly doesn't have his best friend with him.
Stewart and McKellen are on Broadway together until March, but you don't have to go to New York just to see their antics. They've all over Twitter, and they've even been parodied to perfection by another set of best friends: Matt Renton and John Wybar.
Stewart and McKellen marked many of the year's highlights together, whether it was Thanksgiving dinner, visiting the Christmas tree at Rockefeller Center, or ringing in the New Year.
Thanksgiving! #gogodididonyc @TwoPlaysInRep pic.twitter.com/50TT14FAGZ

— Patrick Stewart (@SirPatStew) November 28, 2013
Christmas Tree! #gogodididonyc @TwoPlaysInRep pic.twitter.com/xgaaU6m6kq

— Patrick Stewart (@SirPatStew) December 11, 2013
And the parade of selfies isn't just limited to calendar holidays. It seems like the two are photographing themselves almost any chance they get, and we're certainly not complaining.
And with X-Men: Days of Future Past coming out in May, there's plenty of photo ops to come.
Ale! #gogodididonyc @TwoPlaysInRep pic.twitter.com/qghQ1frQLc

— Patrick Stewart (@SirPatStew) October 16, 2013
Nathan's! #gogodididonyc @TwoPlaysInRep pic.twitter.com/1w0qay8Q19

— Patrick Stewart (@SirPatStew) September 25, 2013
3) He's an advocate against domestic violence
In recent years, Stewart has opened up about his childhood, where he felt powerless to stop his father from regularly abusing his mother. He became a patron for Refuge, a U.K. charity that aims to help women and children affected by domestic violence, in 2007, but some of his fans didn't know how passionate he was about it until it came out during a Q&A session at Comicpalooza that went viral.
Heather Skye, an attendee at the convention, asked Stewart what he was most proud of in his life, aside from acting, and Stewart talked about his charity work against domestic violence.
But when Skye revealed that she was a victim herself, and that Stewart's story had helped her accept that everything that happened to her wasn't her fault, Stewart hopped off the stage and hugged her, telling her that she was safe. 
4) He took over Twitter HQ
Stewart visited Twitter headquarters in August to talk with employees, but what everyone remembered was the Vine that came out of it. For six seconds, he was the captain of that ship.
5) He finally revealed his secret weapon
You could take a master acting class from Stewart and still not learn everything he has to offer. Thanks to Ozell, we have a sneak peek into the method behind the madness.
In the world of hammy acting, a single take or a double take won't do it for Stewart. He manages the actor's ultimate weapon, the quadruple take, and even manages to show off a sillier side of himself.
Normally, we would cringe at the vertical video, but this time it frames Stewart perfectly.
6) He announced his marriage in the best way possible
Some celebrities use a giant magazine photo shoot. Others reveal it in a press release months later. Stewart did one better.
When it came to announcing his marriage to Ozell, he used a parody of his Twitter avatar, which has always been a photo of his head poking out of a ball pit. With just two words and a photograph, he sent Twitter into a frenzy:
Yes, married. pic.twitter.com/ZSMnpluSeL

— Patrick Stewart (@SirPatStew) September 8, 2013
Even better: McKellen officiated the ceremony.
7) He's an expert on cow dialects—and delivers
When NPR's How To Do Everything was given a question about different cow accents, Stewart had the answer.
It's all due to environmental and cultural conditioning, and Stewart was able to demonstrate the various "moo's" of cows from West Oxfordshire, Nevada, and even with a priceless Cockney accent.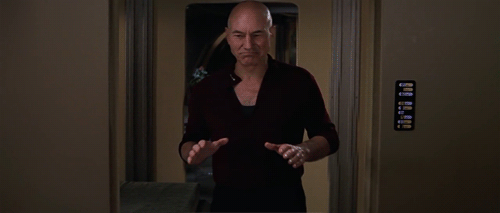 8) He rang in the New Year in style
Another year of entertaining social media is at an end, so what better way to celebrate it a bit early then having your best friend with you?
Stewart and McKellen are together again, but this time they have streamers and noisemakers.
Here's to an even better 2014! Make it so!
Photo via @SirPatStew/Twitter