In this era of music marketing—Boards of Canada teasing fans over months, Kanye West dispensing with pre-orders and cover art altogether—it's harder and harder to find a promotional angle that's novel and rewarding. 
Yesterday, the PR release for Icelandic post-rock royalty Sigur Rós' latest album, Kveikur, posed an interesting twist: The new material would be streaming at kveikur.sigur-ros.co.uk, which is not so unusual in itself. The hook? The site is now geared to display real-time online reactions from fans all around the world.
The official call for input:
listen to our new album kveikur and let us know what it makes you feel, see and imagine. take photos, make videos, or write your thoughts down. just use the hashtag #kveikur on twitter, vine and instagram and we'll collect the things you make here.
The result is a wonderful melting pot of effusive opinions and images relating to Sigur Rós's distinctive music, constantly updated and shifting as more users log on for the immersive experience. Kveikur's release is officially June 17 or 18, depending where you live.  
In a dozen languages, fans are thanking the band, naming their favorite songs, and relating the unique circumstances of their first listen. Others are taking a practical approach: One German notes that the video for the title track is not available on YouTube in that country, asking for a Vimeo version.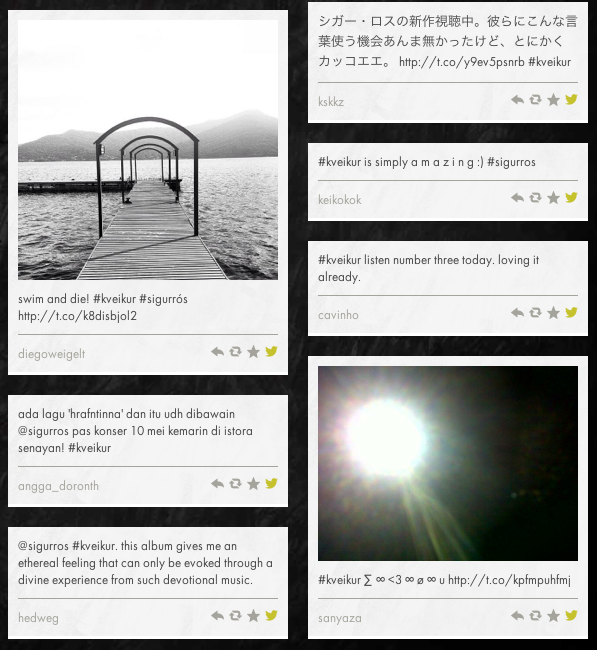 Across the board, people are already saying it might be the group's best effort to date, and they're absolutely right. It's an added thrill to see that consensus emerge like this.
Photo by cinzie bertodatto/Flickr