It might be tempting to call Bridgerton, the first Shondaland series to debut on Netflix as part of Shonda Rhimes' historic deal with the streaming platform, a guilty pleasure. Based on Julia Quinn's eight-book series, Bridgerton is a grand and lavish Regency romance set amid London high society's "season," a time of the year when well-off families schemed and played the game to achieve advantageous matches with like-minded people in the "ton." Each interaction can make or break someone's chances of marriage as the sexual tension sizzles, especially when the lightest of touches or a single kiss can lead to scandal and ruin, and even before the Bridgerton's gloves come off to embrace its more outright horny inclinations, the camerawork is wholly attuned to the female gaze.
Bridgerton

RELEASE DATE:
Dec. 25, 2020
CREATOR:
Chris Van Dusen
STREAMING:
Netflix
Shondaland's first Netflix series is a lavish and subversive adaptation of Julia Quinn's 'Bridgerton' romance novels that often doubles as commentary on the Regency era it's depicting. Full of interpersonal family drama and scandal, it takes viewers through the ins and outs of London high society's social season, which is partially fueled by a gossip pamphlet penned by an anonymous author with a quill whose words can make or break its players.
It ticks off many of the boxes the likes of Grey's Anatomy, Scandal, and How to Get Away with Murder all achieved to critical and commercial success. The characters of Bridgerton might not be vying for the throne itself, but there's just as much of a political long game (along with possible lies and deceit) in the marriage market as there is in Westeros. And at the center of Bridgerton is Lady Whistledown, the anonymous author whose pamphlets (which are narrated by Julie Andrews) uncover the kinds of scandals that can elevate a family one day and doom them the next. Lady Whistledown's words in her Society Papers are gospel in 1813 Grosvenor Square as each family obsessively pours over each issue; even Queen Charlotte (Golda Rosheuvel), who lives for the drama that comes with each new issue and becomes frustrated when lulls of boredom come along, is a voracious reader of Lady Whistledown's prose.
But by no means is Bridgerton, which is created by Scandal alum Chris Van Dusen (Rhimes serves as an executive producer) and features female writers on most of the episodes, a guilty pleasure. Leaning into the tendencies of a Regency romance, Bridgerton is a flat-out pleasure that both leans into romance's biggest tropes while offering a more critical lens of the genre and the power dynamics that come with it. And there's no need to feel guilty about watching it.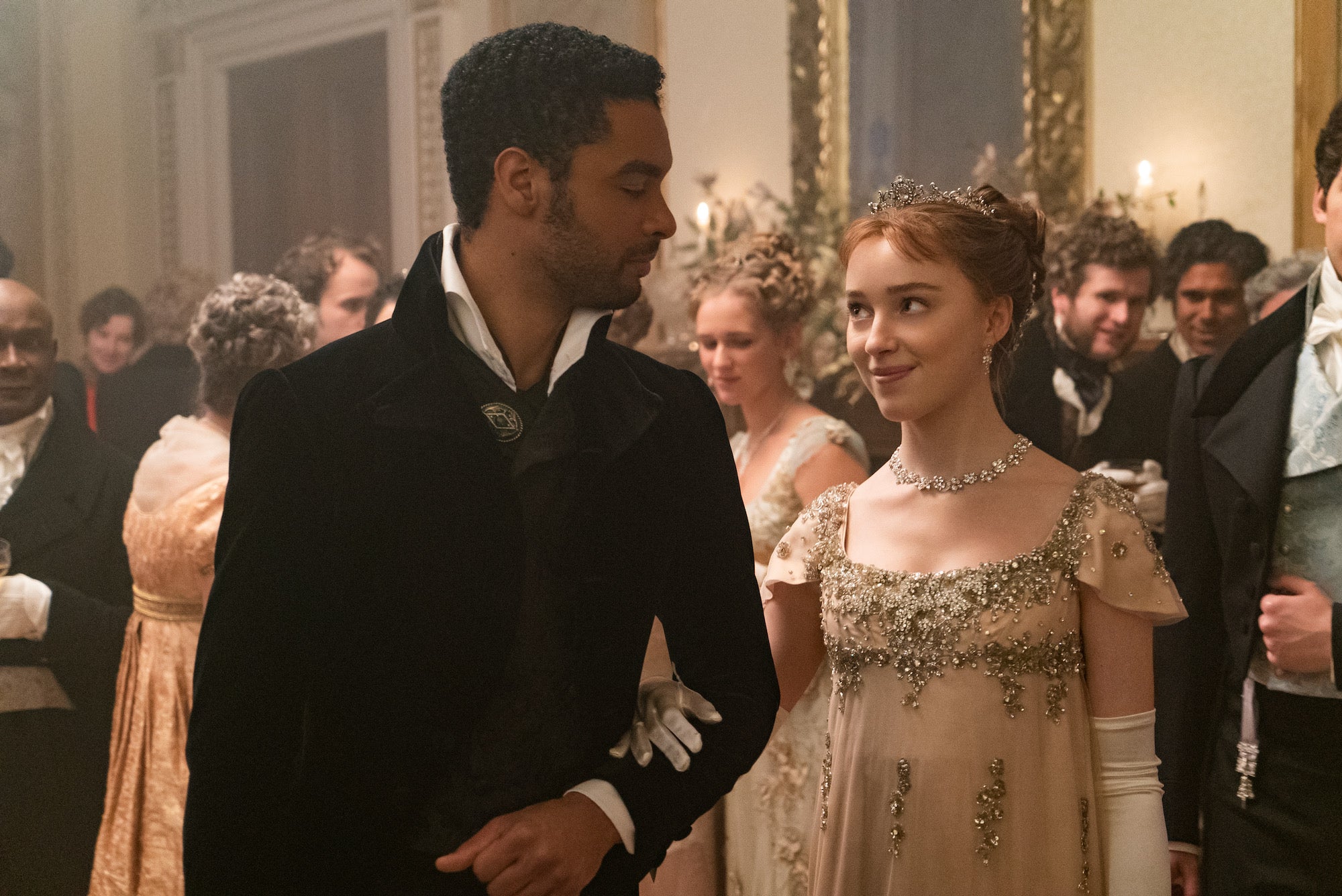 Bridgerton's first season is mainly based on The Duke and I (the first book in Quinn's series), which follows Daphne Bridgerton (Phoebe Dynevor), the fourth of eight children, and the firstborn daughter, as she enters society. She's been singled out by Queen Charlotte as the debutante to look out for. But just as easily as the queen and Lady Whistledown praise Daphne, her prospects soon dry up after her eldest brother Anthony (Jonathan Bailey), who inherited the Viscount title from his father and has little interest in those responsibilities before becoming shortsighted and overbearing, scares every prospective suitor away.
Daphne, who's essentially been preparing her entire life to become a nobleman's wife (and whose marriage will not only reflect upon her but also her three younger sisters when they come out to society), doesn't give up easily. After starting off on the wrong foot with the otherwise charming Simon Basset (Regé-Jean Page), the new Duke of Hastings and London's most eligible bachelor, they come to an agreement. They'll pretend to be interested in one another, a pretend courtship that will be mutually beneficial for them.
The logic is simple: Simon's interest in Daphne will elevate her status, making her more desirable to other suitors while Daphne's interest in Simon will force the mothers of London to stop pushing their daughters on Simon, who has his own secretive reasons for not wanting to marry. And it's got to be convincing enough to fool both the ton and Lady Whistledown's all-seeing eyes.
If you've ever watched a fake-dating story play out, you can imagine how well that works; it's even got its own version of 2005 Pride & Prejudice's sexual tension-amplifying hand flex. Van Dusen and his writers know how to build up a slow burn—a lingering shot on forearms, longing gazes—but also when to set it aflame.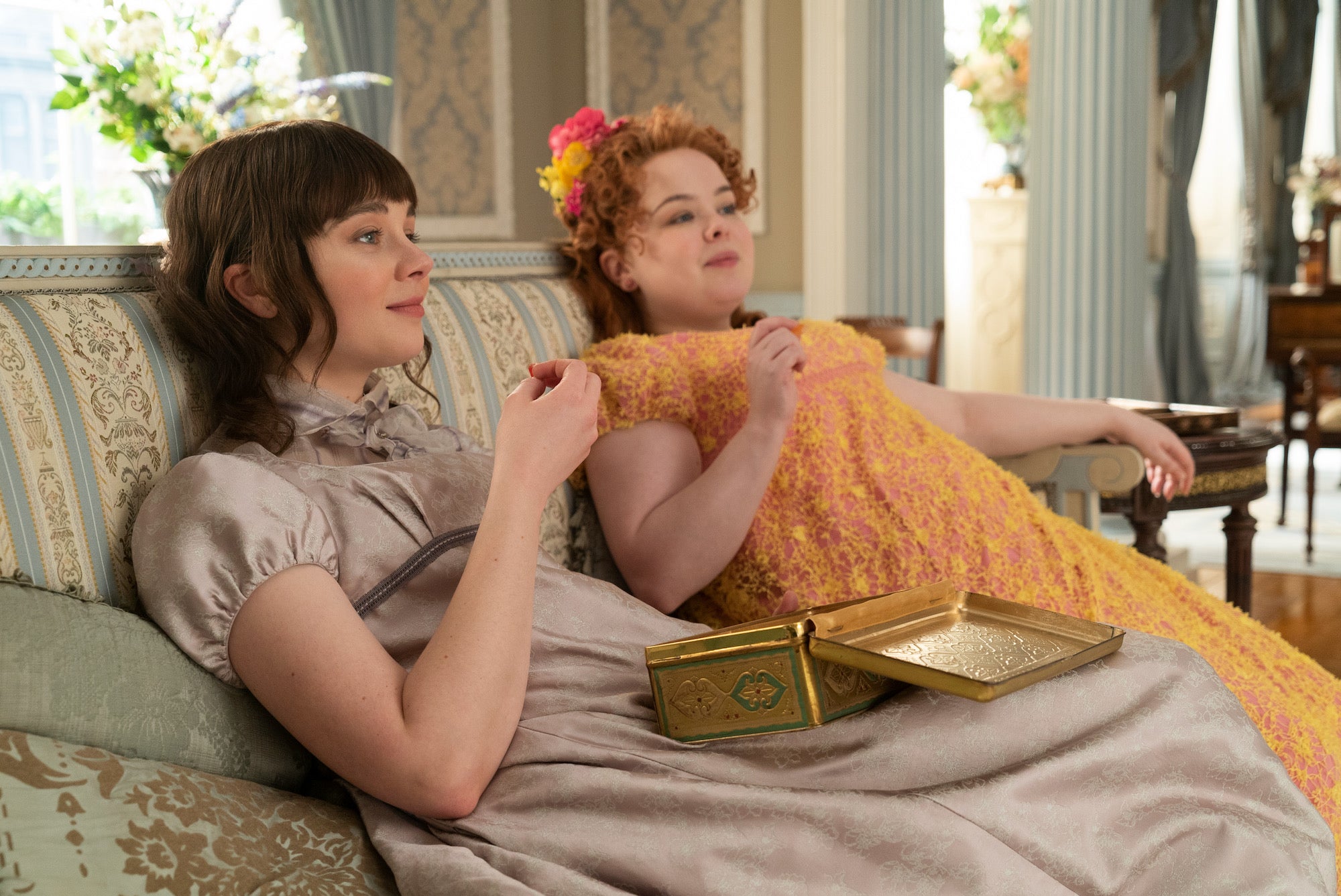 Daphne's attitude toward marriage is a common one. The Regency era that Bridgerton depicts is a society that politely turns its head away when a man's relationship with a mistress is an open secret. But the double-standard is so steep for a woman that merely being with a man unchaperoned for a few minutes or sharing a single kiss—not even a full-on tryst—leaves women with two choices: Enter into a hastily arranged marriage, or ruin for you and your entire family. Men are encouraged to visit brothels to prevent them from making a hasty match too soon for lust's sake. Meanwhile, women may be kept so in the dark about sex that they might end up going to their marriage bed completely ignorant about how they could become pregnant.
Men of a certain status can seemingly do whatever they want, but women in the aristocracy tend to have one path to take, something that Daphne's younger sister Eloise (Claudia Jessie), who has no interest in entering society or marrying, points out. "Why must our only options be to squawk and settle or to never leave the nest?" Eloise bemoans to her best friend Penelope Featherington (Nicola Coughlan).
"What if I want to fly?" While Eloise, who eventually starts an investigation into Lady Whistledown's identity, is probably one of the more outspoken characters about that double-standard, the women of Bridgerton still have their fair selection of weapons at their arsenal such as gossip.
But Bridgerton's more modern approach to Regency doesn't just come with a more feminist approach to its flaws. We encounter ball after ball that pairs stunning gowns and suits with Vitamin String Quartet arrangements of artists such as Ariana Grande, Maroon 5, and Taylor Swift. The cast is much more inclusive than your average Regency-era story as it depicts a world filled with non-white lords, ladies, dukes, and a Black queen—none of which leads anyone to blink an eye.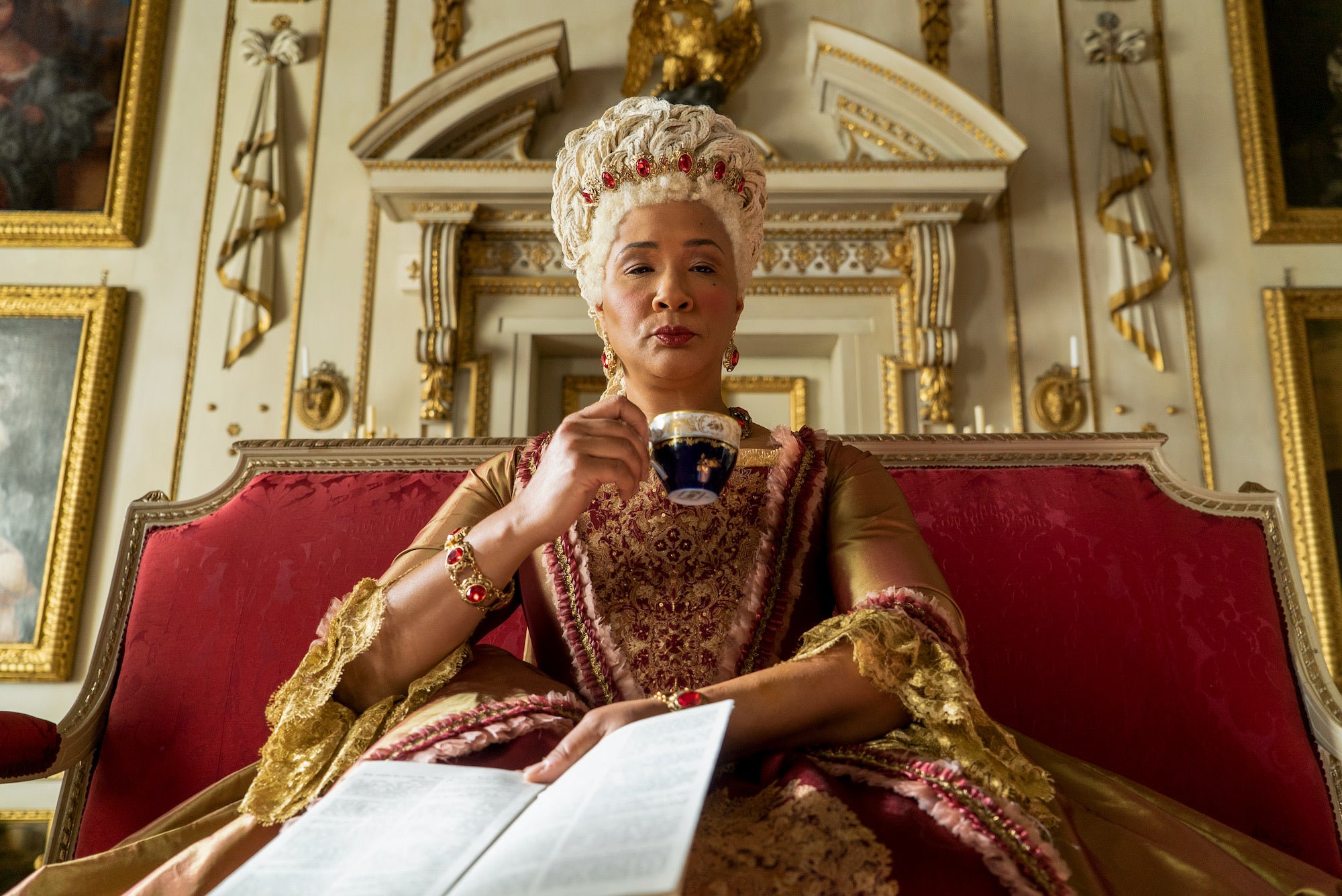 It's not colorblind casting, though. Nearly midway through the season, Simon's aunt, the Lady Danbury (Adjoa Andoh), offers something of an explanation: King George (yes, that George) fell in love with Charlotte, which resulted in families like Simon's becoming much more prominent in London society and obtaining dukedoms. Lady Danberry attributed that change to love, but Simon's far more dubious about their hold in the long-term; he fears their fortuitous situation could vanish at a moment's notice. Racism isn't explicitly referenced within the show, but it can also shape the subtext on how some relationships are viewed, such as the cruelty that Lady Featherington (Polly Walker) inflicts upon her husband's distant cousin Marina Thompson (Ruby Barker), who's come to stay with them for the season.
Bridgerton is highly addictive. But that's not without its own bouts of messy and complicated drama, sometimes brought on unnecessarily by the characters it most affects, and at least one controversial plot point from the books. It takes some time to get fully immersed in the world contained within Grosvenor Square, and with so many characters, some of the show's ensemble cast end up with the short end of the stick. It's so easy to get sucked into the escapist fantasy of Bridgerton, a world where the highest stakes don't seem all that high to us in the present-day and most characters will eventually get their happily ever after.
It's also a hell of a gateway to the larger world of romance, a highly lucrative genre with authors and a fanbase that both carry plenty of political power. If nothing else, let Bridgerton be the opening we need to bring other sweeping romances (and not just Regency romances) to the small screen. Hell, after the year that was 2020, we could all use some more escapist fantasy in our television.
All eight episodes of Bridgerton's first season debut on Netflix on Dec. 25.