What if real life collided with the world of video games?
What if instead of hunting fowl, the young man featured in two monochromatic Life magazine photos was actually hunting the 8-bit villains from the legendary video game Space Invaders?
That's the scene seamlessly depicted in illustrator Ryan Snieder's "Hunting Space Invaders."
"I was thinking about how people played and entertained themselves before video entertainment," Snieder, 31, told the Daily Dot. "That lead me to the idea of people entertaining themselves with real-life video games, or the idea that video games were exactly copying things that people already were doing for entertainment."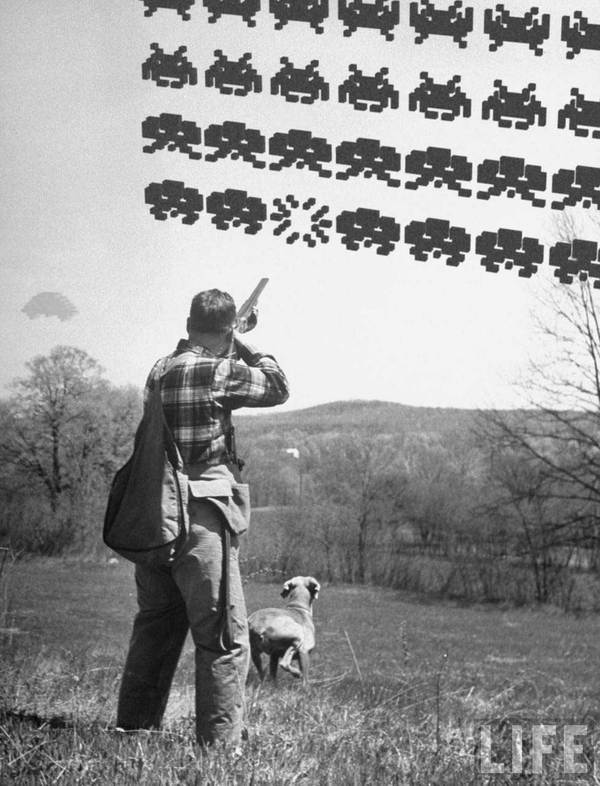 Snieder found the Life photos about three years using Google and added the iconic 8-bit aliens to them in about three hours.
The illustrations reflect an unshakable love of video games Snieder has had since he was a child.
"I had a lot of fun on the Nintendo. Like most kids my age, Super Mario Brothers was my first game. From that standpoint Mario's pretty memorable. I'm no avid gamer though, my playing now is restricted to the occasional Wii co-op game with my wife, though I might find some time here and there to play something new."
After creating "Hunting Space Invaders," Snieder found time to create "Mario at the flower shop," another monochromatic Life photograph featuring the plump plumber standing on a sidewalk. In three years, the three works have collected more than 137,000 views on Behance, an online portfolio network. "Hunting Space Invaders" has also collected more than 4,000 notes on Tumblr.
"I didn't really make those for anyone other than myself and my friends," Snieder said. "I put them on Behance as a lark, and a little while later the blogs started to point people to them. I still get a comment on them every once and awhile. It's a nice ego boost, I suppose."
Photos by Ryan Snieder