Here's a sentence that isn't from 2004: Ryan Adams has beef with the Strokes and he doesn't care who knows it.
In a string of now-deleted tweets from Monday evening, the singer let loose on the aughts rock group for everything from their songwriting to singer Julian Casablancas' body. It's not clear what exactly spurred the tweetstorm, but it comes not long after the release of Lizzy Goodman's new book Meet Me in the Bathroom, an oral history of the New York music scene that made Adams sound like—for lack of a better word—a dweeb. He's characterized as the kind of guy who would show up to grungy music scene parties with John Mayer as his plus one. One passage in particular includes quotes from the Strokes' Albert Hammond Jr. saying that Adams was a "bad influence" who supplied him with heroin. Adams denied those claims in the same chapter: "I would never ever have given him a bag of heroin."
Something tells us between the "he's uncool" talk and the "he got people hooked on opiates" comments, there's enough material for a beef in the book alone.
So for about three hours Monday evening, Adams cracked his knuckles and laid into the band online.
"Last Impressions of Actual Songs," he tweeted, riffing off the title of The Strokes' third album, First Impressions of Earth. "I should've forced them to get addicted to writing better songs. Too bad The Killers did it for them ;)"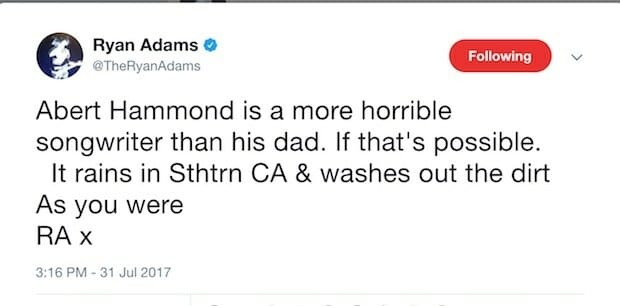 As Pitchfork points out, Adams' first tweet in the thread is most likely inspired by verbose Oasis frontman Liam Gallagher. "Adams' initial 'as you were' sign off is almost definitely a nod to… Gallagher's insult-laden Twitter presence. He may not like the Strokes, but Adams loves Oasis."
A rep for the Strokes declined to comment on the situation, but something tells us we might hear more from Adams on this issue at some point.