Fans of bad movies and cult classics, your moment on YouTube has arrived, brought to you by the godfather of independent B-movies, Roger Corman.
Long known as an Ed Wood-style director, Corman won Hollywood's grudging respect—and an honorary Oscar in 2009—for a body of work that spans six decades and includes such vintage gems as The Undead and the original Little Shop of Horrors. Now, he's launching Corman's Drive-In, a new paid YouTube channel featuring 30 films at a time for a $3.99 monthly fee.
With over 50 films to his name as a director and hundreds more as a producer, Corman should have plenty of material for the channel. "We'll screen the best pictures from all six decades," Corman said of his film selections. The channel will also feature sneak peeks, extended trailers, and a segment called "Corman's Take."
Movie buffs will note that some of the films being billed as "Corman films," like the upcoming releases of Piranha and Sorority House Massacre, are actually films Corman produced rather than directed. Piranha, for instance, is a cult hit directed by Joe Dante. Other notable Corman productions include The Dunwitch Horror, and the early Francis Ford Coppola film Dementia 13.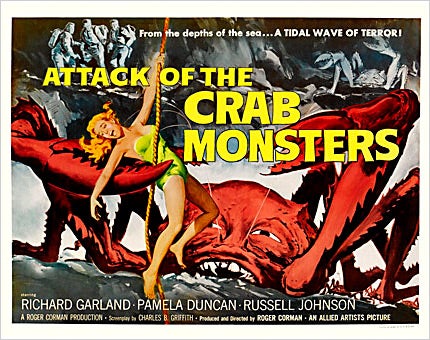 Photo via willardswormholes.com
Don't worry, though; there are still plenty of Corman-minted films for you to enjoy, like 1957's Attack of the Crab Monsters, as well as The Undead and others famously immortalized through Mystery Science Theatre 3000. Seven Corman films made it into the MST canon, along with four more that he produced. 
Keeping the cost low is a smart choice, considering that the MST films are already floating around YouTube for free, but given the dozens more unavailable to fans through the MST3K framework, $3.99 is a steal—especially considering that many of his films have yet to make it to another online-streaming site: Netflix.
Corman's Drive-In is one of the more interesting channels to come out of YouTube's recent paid channels launch. Since its debut last month, the subscription-based fee structure hasn't made many waves; its most popular paid channel, Sesame Street, has 650,000 subscribers. Most don't appear to be garnering that much attention.
Roger Corman, however, shares a nostalgic vibe with Sesame Street that many of the other channels lack. Many YouTube viewers weren't old enough to see Corman's films when they originally appeared in theatres, but Roger and Julie Corman see YouTube as the perfect tool to reach out to that audience.
"This is a brave new world," Julie Corman said in a press release. "Roger has always been on the cutting-edge and now he's paving the way for independent filmmakers by testing a new distribution platform. Streaming our films opens them up to future generations of fans."
Set to launch to the public today, Corman's kicking it off by featuring one of his best-known collaborators, Jack Nicholson, in The Crybaby Killer and Little Shop of Horrors.
If the $3.99 monthly access is too rich for your blood, you can always sample Corman's selection for yourself with YouTube's 14-day free trial subscription.
All you're missing now is the popcorn.
Photo via GlobeNewswire