Every day, the Daily Dot finds something that people on Facebook are sharing and, in turn, shares it with you—with a little explanation. Here's today's share.
If you're looking to get rid of your Korn, K.D. Lang, or Eagles records, don't expect to unload them at Laurie's Planet of Sound.
The Chicago record store made its tastes public by posting its "The Do Not Never Ever Buy List" of used albums on its Facebook page.
"It's a legit list," Nick Myers, Laurie's manager, told the Daily Dot. "That was stuff that had been here for a year or two, titles or artists we can't sell. It's not our own personal taste."
Myers acknowledged that despite the list's functionality, it's also a great compilation of music acts to snarkily thumb one's nose at. "It was put up [online] as kind of a lark," he said.
The photo reportedly made it to Facebook after being Instagrammed by an employee. Unsurprisingly, it's garnered plenty of debate from Facebook's amateur music critics.
"no journey?" asked Nikolai Nikitenko. "disturbed and korn? someone has bad taste."
But other users were on board.
"I totally agree with The Eagles being on there twice," Eric Allen wrote.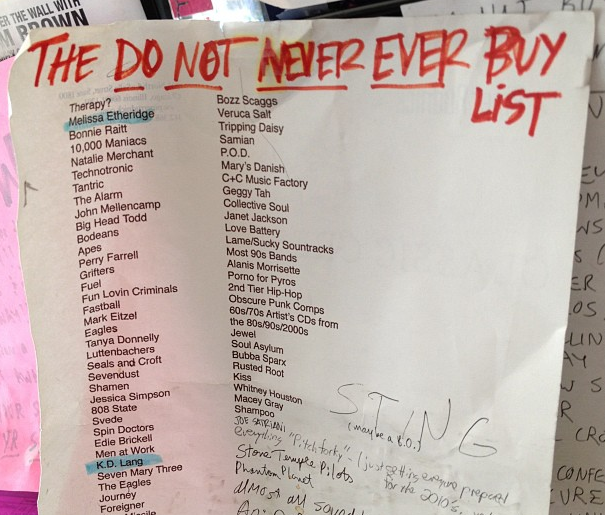 Photo via Instagram