Denver Broncos quarterback Peyton Manning made headlines in December 2013 when he broke the record for the most touchdown passes thrown in a single season, a feat previously held by Tom Brady. Manning made the achievement in a matchup against the Houston Texans with his 51st pass. He will begin Super Bowl XLVII next week with an impressive 55 such passes under his belt.
And all 55 passes have been recorded in one glorious GIF that is making quite the splash itself on Reddit. Posted by redditor horse_you_rode_in_on, it currently has over 1,700 karma points in the r/gifs subreddit.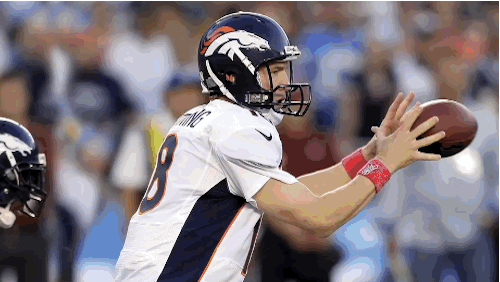 GIF via horse_you_rode_in_on/Imgur
The GIF is almost as impressive than Manning's record. The flipbook-style animation and wildly changing uniform colors are dazzling to fans and non-fans alike.
The only question that remains is: How many more frames will be added on to this GIF after Super Bowl Sunday?
Photo via Jeffrey Beall/Flickr