With hits like Queer Eye under its belt, it makes sense that Netflix would try to expand the ol' reality TV library. Having already tackled the "serious" food show with titles like the Emmy-nominated Chef's Table, its latest venture, Nailed It!, falls under the "lighthearted baking competition" subgenre.

Again, this is another savvy move for Netflix, given how popular this little subgenre is. People love shows like Cake Wars, Kids Baking Championship, and The Great British Bake Off (that last one especially.) Nailed It! combines the baking obsession of those series with the gimmicks of other food competitions like Worst Cooks in America and Cutthroat Kitchen.
The premise is pretty simple. In each of the six episodes, three home bakers compete for a cash prize of $10,000 by trying to recreate different dessert creations. There are two rounds, after the first of which, the baker who did the best is given a special prize, and the baker who did the worst is given a handicap they can use over the other players in the next round. The second round also involves a "panic" button, which bakers can press to get help from one of the judges making the requisite cake they have to bake to win.
The show is hosted by comedian Nicole Byer, who also serves as co-judge with pastry chef Jacques Torres, often referred to in the culinary world as "Mr. Chocolate." Each episode also features a guest judge like iconic cake designer Sylvia Weinstock, inventor of the PieCaken Zak Young, renowned chocolatier Valerie Gordon, founder and president of the Museum of Food and Drink Dave Arnold, star of the YouTube Channel How to Cake It Yolanda Gampp, and filmmaker/amateur food critic Jay Chandrasekhar.
The hook of Nailed It! is the disparity between the inspirations the home bakers are drawing from and the confections they end up with. As the show's meme-inspired title suggests, more often than not there's a pretty big gap there. All of these people have baked before, so it's not like they're completely unskilled, but none of them, by design, are quite up to the task of replicating the fancy desserts they're trying to mimic.
That said, you definitely do not need to know anything about the internet meme that Nailed It! is based on to enjoy the show. Chances are, your enjoyment is mostly going to depend on how much you like baking and/or food shows in general. The contestants are all pretty charming, the format goes down easy, and some of the dessert creations are memorable. (The last episode involves an edible bust of President Donald Trump that will haunt you.)  
The best part of the show is Byer, who succeeds as a host and a judge not because she reads as an authority on food but because she's great at being her natural, hilarious self. I've been following Byer's career for a couple years now, having first seen her on MTV's Girl Code, where she was a regular commentator. After that, MTV gave Byer her own show with Loosely Exactly Nicole, which was canceled after one season and then picked up again by Facebook. She's also had small roles in TV shows like Transparent and movies like Mike and Dave Need Wedding Dates, and consistently performs comedy in Los Angeles.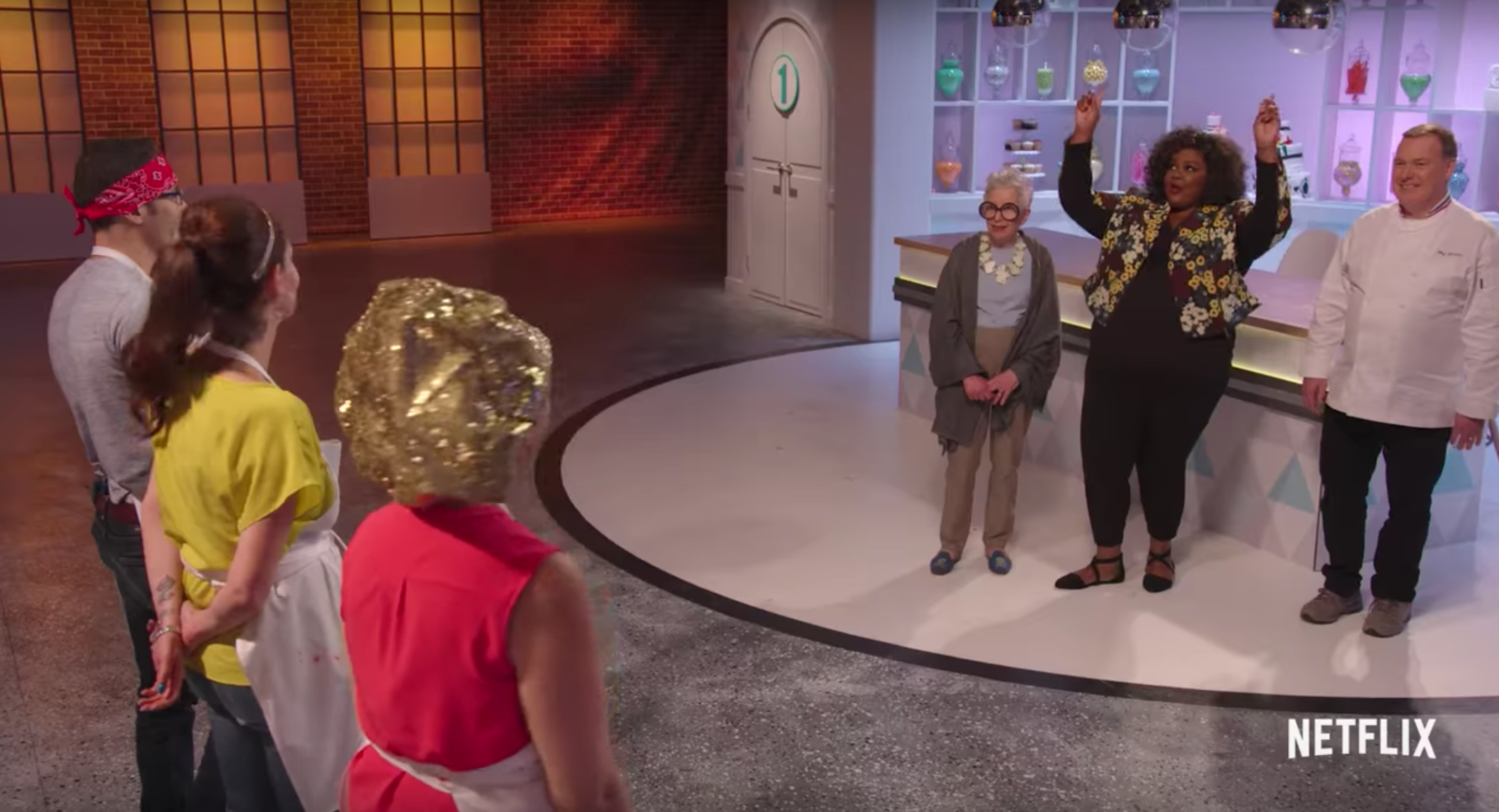 Despite always working, Byer has yet to become a household name, and there's definitely a part of me that wishes there was another show besides Nailed It! that could help her get there. However, Byer is perennially funny and vibrant and adds something to whatever she's in, and although Nailed It! isn't the ideal venue for her talents, she makes it a worthwhile watch.
Yet I couldn't help but think of Clash of the Cupcakes, the fictional show Aziz Ansari's Dev hosts in the second season of Master of None, as I watched much of Nailed It! And not only because of the wasted potential of the host, either. It's surreal watching the type of show on Netflix that another Netflix show recently made fun of. In this way, Nailed It! is just more proof that in Netflix's quest to be all things entertainment to all people, it's willing to put anything on TV if the audience is out there.
But hey, who doesn't like silly baking shows? Nailed It! isn't a cut above what you'd normally get on the Food Network, but it's a fun enough diversion in a format which is supposed to be exactly that.
Still not sure what to watch on Netflix? Here are our guides for the absolute best movies on Netflix, must-see Netflix original series and movies, and the comedy specials guaranteed to make you laugh.