There's a lot to love about Netflix: their extensive catalogue, their low—for now—subscription fee, their byzantine yet unfailingly accurate recommendation algorithms (for the record, Netflix, just because I gave Jiro Dreams of Sushi five stars doesn't mean I'm interested in watching every Japanese cooking doc ever made… OK, I'm lying, yes, it totally does).
One group of Netflix subscribers, however, has a bone to pick with the website. Deaf and hearing impaired viewers have called out Netflix for their subpar captioning system, arguing that the streaming service's subtitles are often inaccurate, heavily censored, or just plain ridiculous.
One of the first people to bring Netflix's shoddy captions to light was Sam Wildman, a blogger for the website Nerdophiles who penned an open letter to Netflix last August. Wildman, who is half-deaf, was watching Footloose with captions on when she noticed the captions were noticeably different than the original dialogue in the movie: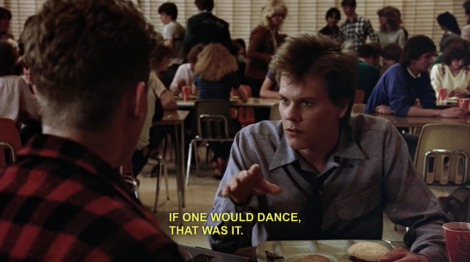 Photo: Screengrab via Nerdophiles
The original line, Wildman notes, is: "If we could get one of them to dance—just one of them—then that was it. We'd get out on the floor and we'd really start to smoke."
She also noticed that Netflix was unnecessarily censoring some of its subtitles, including the captions in Breaking Bad. A cable show about ruthless, violent meth dealers, Breaking Bad, as you might imagine, features a fair amount of profanity: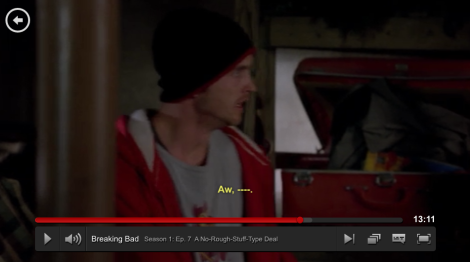 Photo: Screengrab via Nerdophiles
Any Breaking Bad fan knows that the profane dialogue is crucial to the viewer's understanding of the show and its characters. Wildman (understandably) wondered why Netflix would censor the language for hearing-impaired viewers. "If someone is watching a show with subtitles they ought to have the same sort of experience," she wrote. "Or they ought to at least have as close to the same experience as possible."
Netflix has historically had a contentious relationship with hard-of-hearing viewers: in 2011, the company was sued by the National Association of the Deaf for failing to include subtitles on most of their content (as part of the settlement, all of Netflix's new content will be captioned as of this year).
It's also important to note that Netflix obtains their captions the same way traditional broadcast TV channels do, and a spokesperson for the channel told the Week that even if a viewer complains to Netflix about an inaccurate caption or transcription error, they may not even have the rights to fix them. Moreover, Netflix is far from the only streaming entertainment platform to offer subpar captions: compared to Amazon, Hulu, and YouTube (whose notoriously bad automatic captions have inspired many a parody Tumblr), Netflix's subtitling system is practically a shining paragon of accuracy.
Still, it's hard to believe that a company that purports to value consumer data as much as Netflix does would be so cavalier about fixing their captions—and about the thousands of Netflix subscribers like Wildman, who rely on captioning to watch their content.
H/T The Week | Photo: Flickr, via spike55151