Mideast Tunes was founded in 2010 to give a platform for middle eastern musicians to reach global listeners. The brainchild of Mideast Youth, an extravagantly ambitious activist organization, Mideast Tunes ties largely indie bands of every genre—metal, punk, folk, EDM, traditional—with listeners in the label-poor region and with a global fanbase.
This project has proven demanding, Mideast Youth director Esra'a Al Shafei told the Daily Dot. Especially given the plethora of other projects the group is engaged in, including Ahwaa, a gay social network; CrowdVoice, a crowd-sourced tracker of global protest; and Migrant Rights, an organization devoted to the safety and dignity of foreign workers in middle eastern countries.
The exquisitely designed Mideast Tunes consists of a searchable high-quality audio site with band information, cross-referenced by genre, artist and country, and a "MyCollection" function for creating playlists, as well as an iPhone app, with an Android app in development.
It's an eye-opener to those who think the region is mostly the musical home to saccharine crooners and Folkways-style "ethnic" musicians. It is a concrete expression of our shared musical patrimony and proof of the wonderful things that happen when we cross-pollinate.
Noteworthy artists include the Palestinian trance collective Electrowavez, Iranian electro-folk trio Niyaz, the intense Algerian-French punk-rai singer Rachid Taha, the Yemeni-Polish folk-trance band SooMood, Beirut's Roots-y hip hop team FareeQ el Atrash, and Boston taqwacore band The Kominas.
Growing a lush musical industry is also important to the musicians and this is one step toward that. For these reasons, Al Shafei calls it, "a necessary platform that has huge potential in the long-term."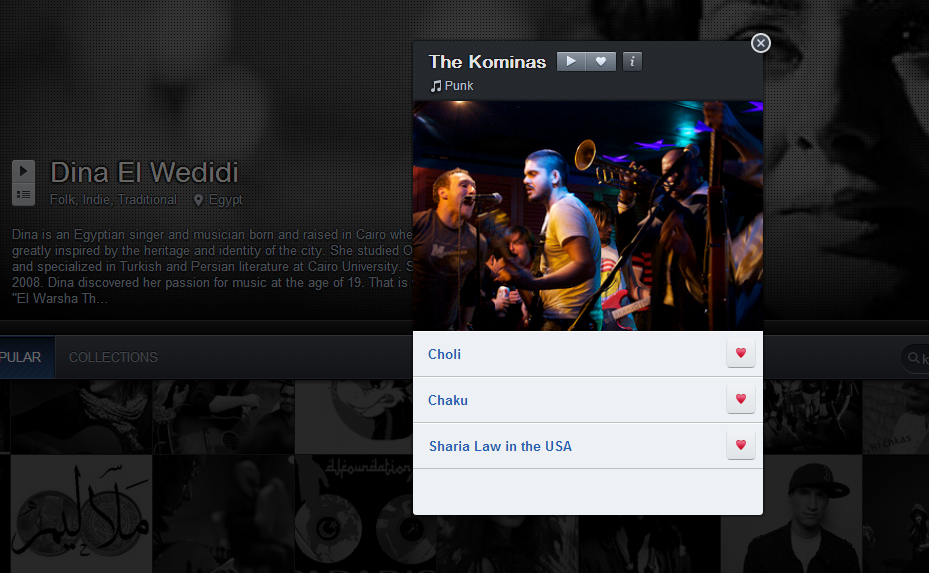 But Mideast Youth, which has been going at a high pitch since its debut in 2006, needs more. So, in a moment of invention, characteristic of the group, they have launched a contest—not for musicians, for business-savvy music fans. If you come up with a business plan that can sustain and grow Mideast Tunes, you will be rewarded with cofounder status.
"I got this idea out of frustration that the platform wasn't growing fast enough due to lack of support, both financial and otherwise," Al Shafei told the Daily Dot. "It was just getting to the point where we need a rock-solid team to assist. The only problem is that we have no funds to pay for things like marketing or business consultancy, so I figured why not just recruit the talent and reward them in other ways?"
A cofounder will be responsible for "the execution of the model they present." As a cofounder, they will not just have bragging rights. They will also earn a percentage of the site's income for their work.
"We didn't want people to just throw ideas at us that were difficult to execute," said Al Shafei," we wanted someone passionate enough about the project to stay on board and ensure that the idea gets executed in the right way, and that it could actually turn a profit, or if it doesn't, they'd be willing to iterate on that model until it does. It seems like a lot to ask for, but typically this is the kind of commitment that a co-founder has to make once they become a part of a struggling yet growing startup like ours."
Like most of Mideast Youth's undertakings, Mideast Tunes is as political as it is inclusive. The Arab Spring protests and revolutions that have convulsed the region in recent years have been reflected in its musicians.
"Most of the musicians on Mideast Tunes have been doing what they do long before the Arab Spring," said Al Shafei, but a lot of songs were written as a result of the Arab Spring, bringing more prominence to some of the musicians."
The region's hip hop artists in particular have given voice to the hope and grief the people of the Middle East have felt as they've tried to negotiate an inspiring but difficult transition. The first hip hop group to release an "Arab Spring" track was Egypt's Arabian Knightz. Others of note include Ibn Thabit and Khaled M, amongst others."
Whoever steps up to this challenge has an opportunity to become a change agent. The difference? Whoever powers up Mideast Tunes for its next stage is going do so to the accompaniment of a ridiculous soundtrack.
Photo via Mideast Tunes