Irish animation studio Cartoon Saloon (The Secret of Kells; Song of the Sea) returns with another gorgeous all-ages movie inspired by Irish history and folklore. Set during England's conquest of Ireland in the 17th century, Wolfwalkers explores a clash between cultures, as Oliver Cromwell's forces attempt to control a bustling Irish town. Along with stationing soldiers around the settlement, this plan involves destroying the nearby forest and upsetting the balance between supernatural life and human civilization. Our heroine is a young English girl called Robyn (Honor Kneafsey), who moves to the town of Kilkenny with her father (Sean Bean), a hunter tasked with eliminating the local wolves.
Wolfwalkers
RELEASE DATE:
Nov. 13, 2020
DIRECTORS:
Tomm Moore and Ross Stewart
STREAMING:
Apple TV+
Set in 17th century Ireland, this is the latest animated film from acclaimed Irish studio Cartoon Saloon, a fantastical tale about a young English girl who befriends a wolf shapeshifter in the forest near her new home in Ireland.
Written by Will Collins and directed by Ross Stewart and Tomm Moore (who helmed two of Cartoon Saloon's four Oscar-nominated films), Wolfwalkers offers a beautifully distinctive 2D aesthetic. Moore's animation style initially drew inspiration from medieval art and manuscripts (The Secret of Kells), blended with the simple character design of Cartoon Network shows like Powerpuff Girls and Dexter's Laboratory to create something wholly original—and wonderfully expressive, with a messy, hand-drawn edge that we rarely see in contemporary Hollywood animation.
Keen to become a hunter like her father, Robyn is determined to escape Kilkenny's tight security and explore the forest. Armed with a crossbow, her pet falcon, and the naive confidence of a child with zero self-preservation instincts, she succeeds. But once she's in the forest—a warm, children's-book-illustration woodland full of cute animals and sunbeams—she soon realizes she's no match for the wolves she wants to hunt. In fact, the wolves are actually led by a pair of shapeshifting humans known as wolfwalkers: Mebh Óg MacTíre (Eva Whittaker) and her mother.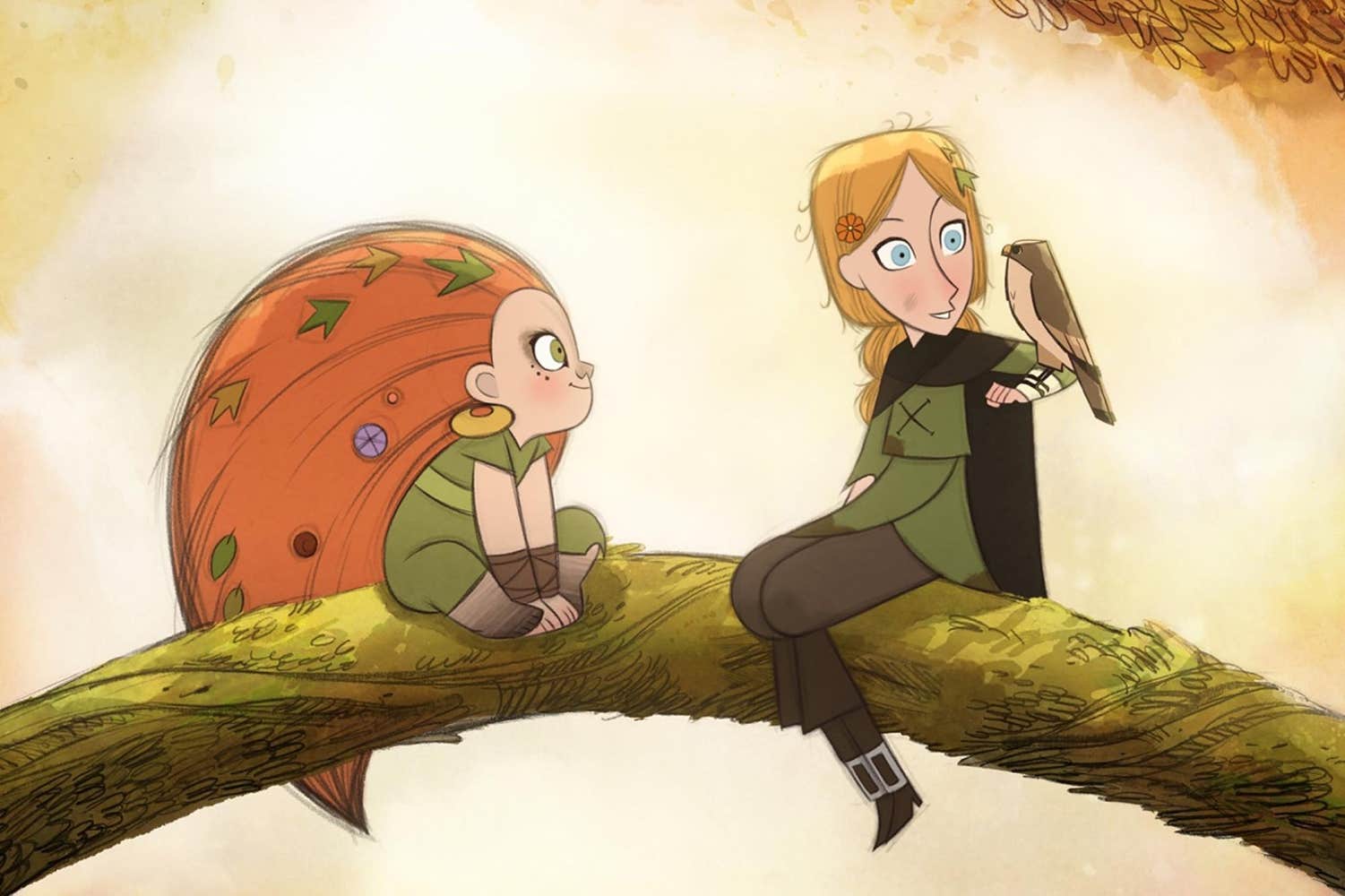 After a tumultuous introduction (Robyn was trying to invade the forest and kill the wolves, after all), Mebh and Robyn become fast friends, with Mebh as a wild, carefree counterpoint to Robyn's restrictive English upbringing. But their friendship is destined to be strained by circumstance. Ireland's Lord Protector Oliver Cromwell (cast here as a classic authoritarian villain) wants the wolves gone, ASAP. Meanwhile, Robyn's pleas for a peaceful solution fall on deaf ears because, well, she's a little girl. Her father just wants to keep her safe, and none of the English colonizers believe that wolfwalkers exist.
Like the work of Hiyao Miyazaki, Wolfwalkers combines ecological themes with magical imagery, with the wolfwalkers' spirits tumbling through the air in bursts of colorful light. Featuring a couple of songs from the folk group Kíla, it's an invigorating, kid-friendly adventure with a thoughtful balance between humor, political themes and a moving emotional tale, stopping short of schmaltzy sentimentality. Rooted firmly in Irish history, it's a familiar kind of fairytale with an undeniably fresh twist.
Wolfwalkers will be available on Apple TV+ on Dec. 11.