For decades, Pixar has pushed the boundaries of what its audience can imagine by grounding the fantastical in delightful ways, whether we look at toys on the ground, a universe of cars, robots on an unsustainable planet, the afterlife, or the mind of a child. Soul is no exception to that plight. Partly taking place on another plane of existence, Soul is perhaps one of Pixar's more ambitious stories to date, a thoughtful and often experimental exploration of dreams, humanity, and appreciating what life has to offer that's bolstered by inventive animation and the music.
Soul

RELEASE DATE:
Dec. 25, 2020
DIRECTOR:
Pete Docter
STREAMING:
Disney+
A musician on the verge of achieving his life's dream is separated from his body in the aftermath of an accident and tasked with mentoring a fellow soul to help her find her spark.
Light fodder, right? The existential nature of Soul, which is built into the very fabric of the film, isn't entirely new territory for Pixar; the closest we've gotten to that from Pixar to date is Inside Out. Soul, which is directed by Pete Docter (who also directed Inside Out) and co-directed by Kemp Powers, covers similar areas to a fault, managing to do so in ways that can feel both fresh and a bit stale. Instead of an 11-year-old girl and the inner-workings of the emotions contained in one's mind, we're thrown right into the middle of a middle-aged man's midlife crisis driven in part by a brush with death.
When we meet Joe Gardner (Jamie Foxx), he's in a hell of a rut that's on the verge of turning around. He's a middle school teacher by day, and while he's finally given a full-time position, he wishes to be a professional jazz pianist instead. It's a dream that his mother Libba (Phylicia Rashad) doesn't support; whenever a sliver of good news comes up, she bursts his bubble by asking about what kind of benefits (like health insurance or a 401K) that being a musician on the road can offer him.
He's finally given the chance to play alongside one of his musical heroes, the no-nonsense jazz legend Dorothea Williams (Angela Bassett). But as he walks home to get ready for that all-important gig—the city a blur to him as he walks down the street and avoiding an array of potential death traps—he falls down a manhole. As a result of attempting to escape his one-way trip to the Great Beyond, his soul ends up in an entirely different plane known as the Great Before.
The Great Before, which is where souls are shaped and tweaked before someone is born, is the kind of place where pretty much anything is possible, even in the animation; while most of the souls are in 3D, the Counselors (who are voiced by the likes of Richard Ayoade, Alice Braga, Wes Studi, Fortune Feimster, and Zenobia Shroff and all answer to the name Jerry) appear as a more flattened, wire-like shape that can shapeshift to whatever form they desire. None of the souls can experience the senses or feel pain, and the very imagining of the Great Before is suggested to be constructed in a way that humans can comprehend.
"This is all an illusion," one character explains. "This whole place is a hypothetical."
Upon Joe's arrival, he's paired with 22 (Tina Fey), who, despite having famous mentors such as Abraham Lincoln, Gandhi, Mother Theresa, and Muhammad Ali, hasn't been able to find her spark that will allow her to live a life on Earth. (And considering that fact that a fellow soul who's assigned to another mentor has a number starting with "108 billion," you know that 22 has been there for a while.) The Jerrys are hopeful that Joe might be the one to finally help her find that thing that will help her move on, but 22 is content existing the way she does. "You can't crush a soul here, she tells Joe. "That's what life on Earth is for."
But 22 does get glimpses of Earth, and more specifically, Joe's New York, which is a stark contrast with the more uniform and almost futuristic Great Before set to the cool tones of Trent Reznor and Atticus Ross' score. The Great Before is full of experimental animation and potential that makes Soul one of the more visually dazzling Pixar films in quite some time, even if the worldbuilding doesn't always quite work and some of the finer (albeit important) points are swept under the rug for the sake of the plot. But whenever the film cuts to New York, Soul comes alive.
Soul's depiction of New York—which might be the most fully realized rendition of an existing city yet—is a loud and boisterous love letter to the city, one that feels particularly nostalgic in the middle of a pandemic that essentially shut down New York. It's a New York that showcases the good, the bad, and the bizarre while lightly chiding it; Soul includes a pizza rat cameo and a perfectly valid explanation for why the New York Knicks are terrible.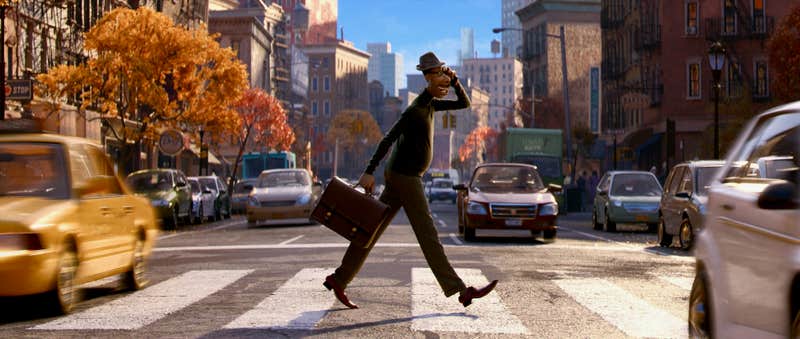 In a script by Docter, Powers, and Mike Jones, it doesn't shy away from acknowledging Joe's own experiences, who is Pixar's first Black protagonist, something that's still incredibly rare in animation), or some of the discrimination he's faced; at one point, he mentions off-hand to 22 that even in circumstances outside of their own unusual situation, he has trouble hailing a cab.
As Soul demonstrates in both blatant and more subtle ways, it's a New York, as well as a life, that Joe has stopped fully appreciating until he sees it from another perspective. Soul's message is more complex than the one that Inside Out conveyed in how it shows we're often our own worst enemy, but its execution is sometimes messy and it might be wrapped up a little too neatly by the end of the film. But it validates not only following your dreams but also not becoming so consumed in your dreams that you become so singularly obsessed with them you ignore every other facet of your life: There's so much just outside your door if you just stop to look.
Soul will be available to stream on Disney+ on Dec. 25.