The FOX series The Mindy Project follows a pretty predictable formula with its episodes: The main character, Mindy Lahiri, played by Mindy Kaling, attempts to find love, fails awkwardly, and then we're reminded how adorable she is. It gets pretty insufferable, and often her supporting cast is the only thing that saves the show from rom-com squee-i-ness.
Back in November, it was reported that there would be a Tinder-themed episode in January. If you really wanted to like the show but were a bit put off by Kaling's LOL/OMG depiction of a professional woman, then you're really going to love their latest marketing attempt: fake Tinder profiles.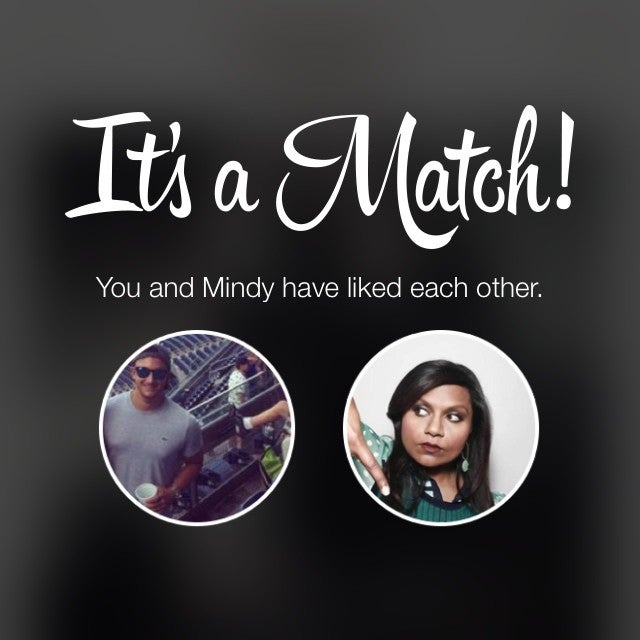 Valleywag reports that the show is advertising on the "dating" app by matching users with characters. And users have reported being matched with Mindy Lahiri. A Tinder rep did not respond about their involvement, but her "profile" reads like a Mindy Project script:
Tiny doctor in a big city looking for love, friendship, or a donut that's so good it's spiritual. I've got a Reese Witherspoon personality, a Nicki Minaj body, and Frnak Sinatra eyes (they turn blue in the summer, I swear). Looking for the Channing Tatum to my "girl from Step Up." Swipe right if you like a high-powered firecracker of a woman who has it all but only recently figured out her DVR. To see more about me, tune-in to THE MINDY PROJECT this Tuesday at 9:30/8:30c on FOX.
Tinder's had some security issues in the past, and late last year it was revealed you can "fake" matches between people, and potentially leave them open to harassment. So in that respect, this marketing stunt sort of make sense.
This isn't the first time Tinder's merged with a TV show. Last summer, USA advertised virtual hookups with the stars of Suits.
If Tinder's going to let television characters slip into the mix, why stop at The Mindy Project? They should just filter in as many fictional people as possible until fantasy and reality are indistinguishable. That's the fun part of hooking up, right? LOL.
Screengrab via FOX/YouTube