In Stranger Things, we know her as Eleven, the mysterious psychokinetic girl who escapes from a sketchy laboratory and lands herself in a group of misfit boys searching for their lost friend. Although her role as Eleven has few speaking lines, young actress Millie Bobby Brown instantly stepped into the spotlight when Stranger Things became an overwhelming hit on Netflix. When she's not playing El, battling evil forces in the Upside Down, or hanging out with her fellow castmates, Brown lives a pretty remarkable life for a teen in showbiz. 
15 fabulous facts about Stranger Things star Millie Bobby Brown
1) She's only 14 years old
Brown was born February 19, 2004 in Spain. At 14-years-old, she is already an icon for her role in Stranger Things.
2) She's a Pisces
Born on the first day of the water zodiac sign, Pisces are known for being kind, compassionate, and caring. But in an interview for her Variety cover shoot, Brown revealed that she always thought she was an Aquarius.
"I'm right on the cusp," Brown told Variety. "So I thought I was an Aquarius and got a temporary tattoo that lasted for three weeks of the Aquarius sign, but really I found out I was Pisces. Fun fact."
3) She shaved her head just for Stranger Things
In order to play the role of Eleven, Brown had to get her head shaved and she took it like a champ. After the first season took off on Netflix, she posted a video of the day she got her buzzcut look, which was a significant change from long locks. "I wanted to bring Eleven to life, so I embraced it," Brown tweeted. 
4) She's partially deaf in one ear
Brown was born with partial hearing loss in one ear. In an interview on Studio 10 Australia, she said during the filming of Stranger Things assistant directors or production assistants would have to say "action" very loudly for her to be able to hear or hold a sign that she could see.
The wonderful @milliebbrown joins us to chat about #StrangerThings, female empowerment, rapping & more. https://t.co/6yguB9UILi #Studio10 pic.twitter.com/xoIUNVXfFE

— Studio 10 (@Studio10au) November 16, 2017
READ MORE:
5) She's a professional model
At the beginning of 2017, Brown signed with IMG Models, an international professional modeling agency, and became the new face of Calvin Klein for its by Appointment campaign. Brown has also appeared in cover shoots, including Interview, Elle, Dazed, and Vogue. 
6) Stranger Things was her breakthrough role–and it won her several awards
Brown was nominated for seven awards and won five for her role as Eleven in Stranger Things, including a Screen Actors Guild Award and an MTV Movie and TV Award. In 2017 alone, Brown won "Outstanding Performance by an Ensemble in a Drama Series," "Best TV Actress," "Best Younger Actor in a Television Series," "Best Actor in a Show," and "Breakthrough Performer of the Year."
7) She's making her feature film debut in Godzilla: King of Monsters (2019)
Brown will star in her first film in 2019 in this Sci-Fi thriller. She has played a few TV roles during her career, but this will be her first time in a film.
READ MORE:
8) She can rap
Brown showed us she can do more than just act. In a Tonight Show taping with Jimmy Fallon, Brown performed a rap song to recap the entire first season of Stranger Things and finished the killer performance with a mic drop. 
9) She learned how to do an American accent by watching the Disney Channel
In a November interview with Studio 10 Australia, Brown said she learned how to do an Americana accent from watching shows on the Disney Channel when she was younger. "I watched Disney Channel for a really long time," Brown said. "I feel like an American accent is really easy."
10) She had her first kiss on set
In the first and second season of Stranger Things, Eleven and Mike share a kiss. Brown told Studio 10 Australia that it was her first kiss ever. "It was weird," Brown said on the show. "But it was fine." She said kissing actor Finn Wolfhard was easy because they are such close friends and it was better than kissing a stranger.
11) She's friends with Drake
After attending one of his concerts, Hawkins' very own Eleven posed with October's very own champagne papi. The pair posted photos on each of their Instagram pages, proving that the love is mutual. 
https://www.instagram.com/p/BbWQXKEjylr/?taken-by=champagnepapi
https://www.instagram.com/p/BbWSh4An-Bl/?taken-by=milliebobbybrown
12) She loves to keep up with the Kardashians
On The Tonight Show with Jimmy Fallon, Brown said she loves to watch the Kardashians. "I'm obsessed with them," Brown said. "I follow them on social media. I think they are just really great. They're so entertaining." Khloe and Kim Kardashian and Kris Jenner tweeted a clip of the interview saying they were happy that Brown is a fan.
It's a mutual love fest!! I LOVE you @milliebbrown! #Okurrrrttt this video made me smile from ear to ear BIBLE pic.twitter.com/to97oKOODR

— Khloé (@khloekardashian) November 2, 2017
OMG @milliebbrown we love you bible!!!! https://t.co/2jFV1CfmRv

— Kim Kardashian West (@KimKardashian) November 2, 2017
I love you @milliebbrown, you are so adorable! Thanks for watching #KUWTK! We are huge fans of yours also!! @jimmyfallon #Okurrr pic.twitter.com/cYmw9ZMs3T

— Kris Jenner (@KrisJenner) November 2, 2017
13) She's producing and starring in her own Sherlock Holmes franchise
Brown signed a deal in early 2017 to play Enola Holmes, the legendary detectives' mystery-solving teenage sister in a series of movies. The Enola Holmes Mysteries novels by Nancy Springer feature classic Sherlock characters with all new storylines and a twist for younger audiences. There are no dates or directors named for the project just yet, but it looks like Brown's debut as a producer is on the horizon.
14) She had small roles in Grey's Anatomy, Modern Family, and NCIS
In 2014, Brown played Rachel Barnes in a season 12 episode of NCIS; in 2015 she played Lizzie in a season 6 episode of Modern Family and Ruby in a season 11 episode of Grey's Anatomy. In 2013, Brown was also in two episodes of ABC's Once Upon a Time in Wonderland as young
Alice.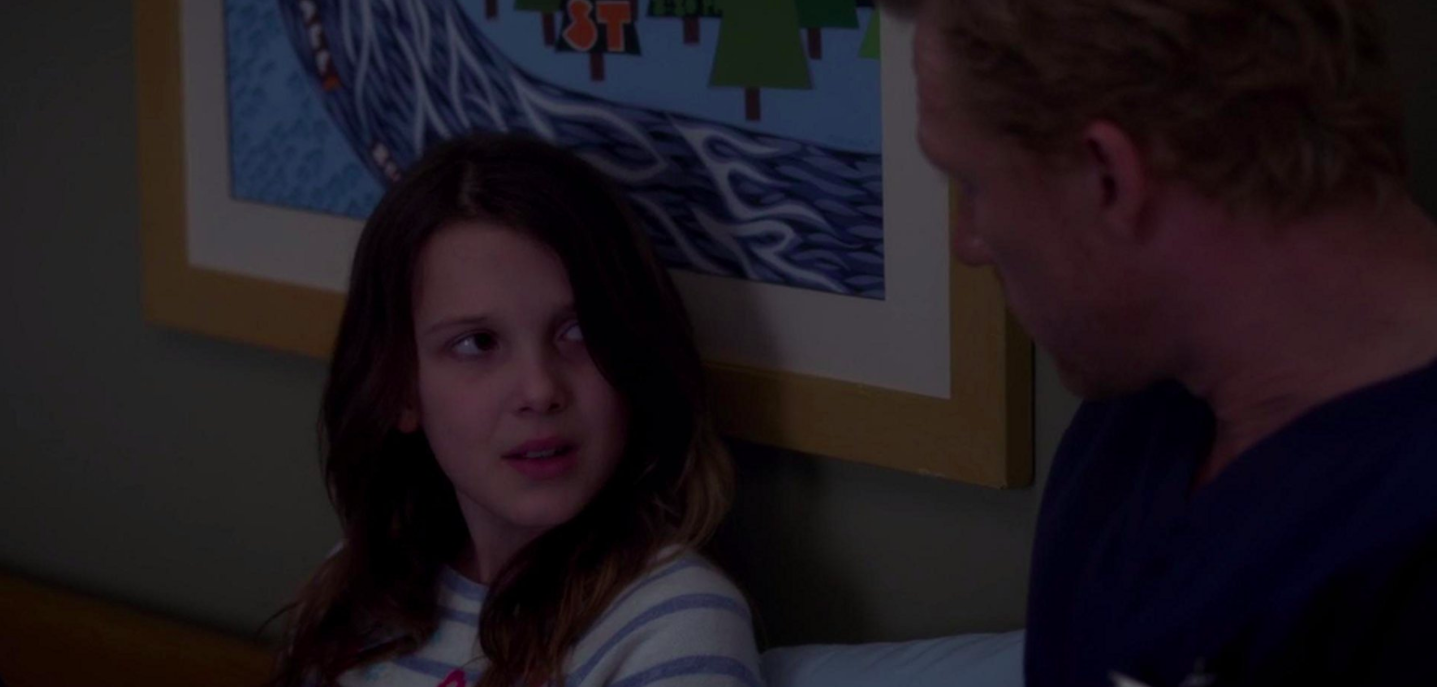 15) She's dating teen Music.ly star Jacob Sartorius
In January 2018, Brown confirmed via Instagram that she and Jacob Sartorius, of YouTube and Music.ly fame, are dating. With both teens' massive fandoms following along closely, their relationship has been thrust into the spotlight, especially on social media.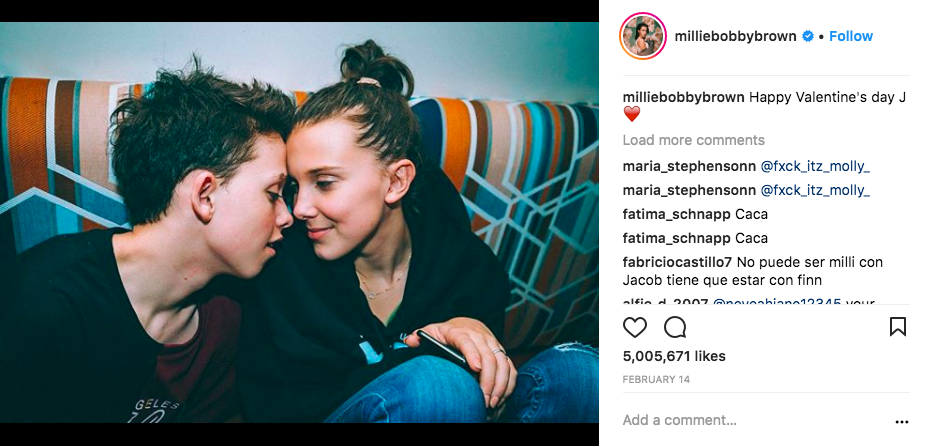 Editor's note: This article is regularly updated for relevance.