Lil Xan's stage name might make him sound small, but the 21-year-old rapper has managed to make a big splash in the hip-hop community in a short amount of time. His debut album Total Xanarchy just hit shelves this month, and between selling out a North American tour and getting to collaborate with some of his heroes, the California native's career is set to get even bigger in 2018.
In a lot of ways, he's a typical millennial: he loves McDonald's, cars, and playing Xbox with his friends. He started out uploading songs to Soundcloud and YouTube in 2016 and quickly skyrocketed to success, but it hasn't been an easy road for the rapper. Xan has a lot of skeptics in the hip-hop establishment who question his credentials and recently had a self-admitted "wake-up call" when his friend Lil Peep passed away from a fentanyl overdose. He has since quit opiates cold turkey and is hoping to start a new chapter in his career as a role model for positive, drug-free living.
From his rise to hip-hop fame to talking sobriety, here's everything you need to know about rising star Lil Xan.
16 fascinating facts about Lil Xan
1) He used to be an aspiring hip-hop photographer until his camera got stolen
In an interview with XXL, the rapper explained that his Soundcloud and YouTube accounts only got started after his photography career was unexpectedly put on hold.
"I used to be a photographer and a bunch of my friends started rapping. I went to a show with my camera and it got stolen and I was devastated because I was trying to be this next upcoming photographer," he said. "Someone swiped my camera behind the DJ booth. I took my loss and said, 'Screw it.' I thought, 'The camera was $1,200 but it's only $20 dollars to make music, to record.' So I just went with recording [music]. All my friends were rappers so I just thought I might as well take a shot at it."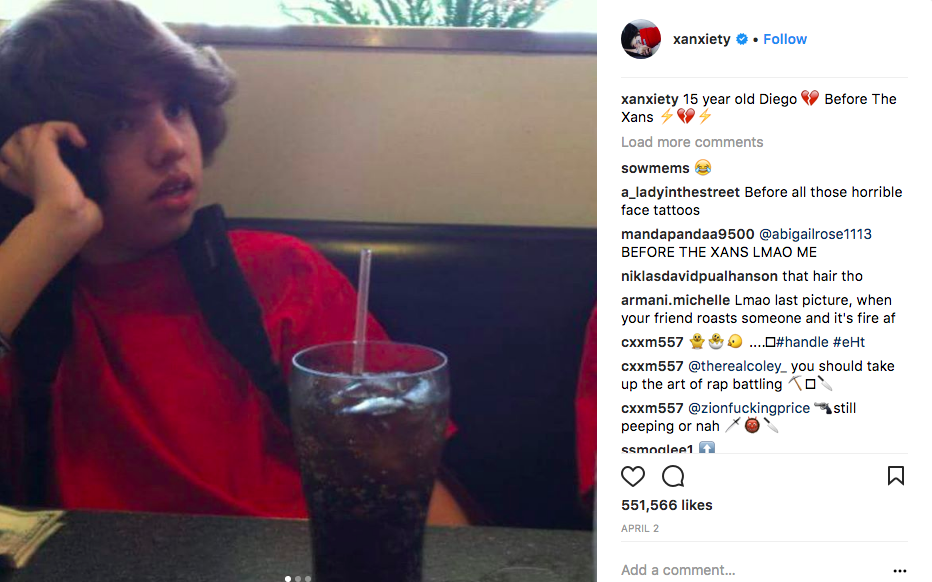 2) His mom and dad are cool with his face tattoos
In an interview with Lyrical Lemonade, Xan explained the meaning behind a few of his facial tattoos. "Candy, because that's my mom's name. The Z's because I was faded and I thought that was cool, and the low for obviously Low Gang," he said. Low Gang is his former hip-hop duo.
When he was asked what his mom thought of the homage, Xan said both his parents "loved them."
"I have super supportive parents and they f*ck with [the tattoos]," he said.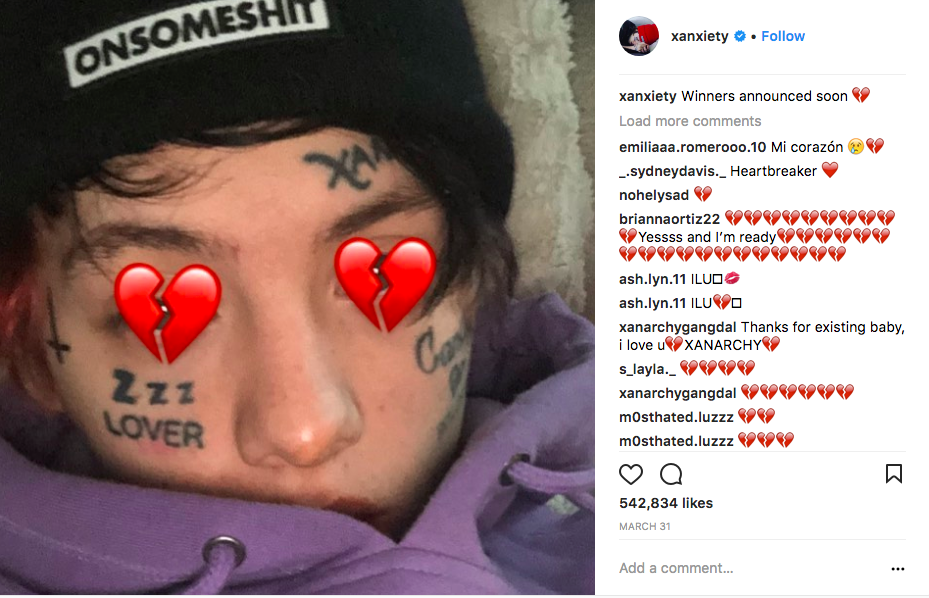 3) He's spearheading an anti-opiate movement called Xanarchy
After the death of his friend Lil Peep in 2017 from a fentanyl overdose, Lil Xan—whose stage name is a reference to the anti-anxiety medication Xanax—told TRL he'd had "a wake-up call" and decided to quit all recreational drugs cold turkey. He also launched a movement called Xanarchy, "about just nothing but anti-Xan use."
"In the beginning of 2017 I had my own demons with the drug Xanax. It got out of hand so I wanted to make a movement," he said. "I really don't agree with glorifying the drug at this point… You'd be stupid to keep glorifying it. You gotta get off that stuff, it's not good for you… Me as a person and my brand, we're not promoting Xanax at all. We're promoting stopping."  
His breakout single "Betrayed" hit no. 65 on the Billboard Hot 100 after it was released in Aug. 2017, and warns against the dangers of Xanax abuse. In the song, he raps: "Xans don't make you, Xans gon' take you, Xans gon' fake you and Xans gon' betray you."
4) He's changing his stage name to Diego for his next album
The rapper, whose real name is Diego Leanos, has said in interviews and on Twitter that he'll be dropping the Lil Xan moniker going forward, and his future records will be released under the name Diego.
On April 6 he tweeted that Total Xanarchy would be his "last project dropping under the name Lil Xan."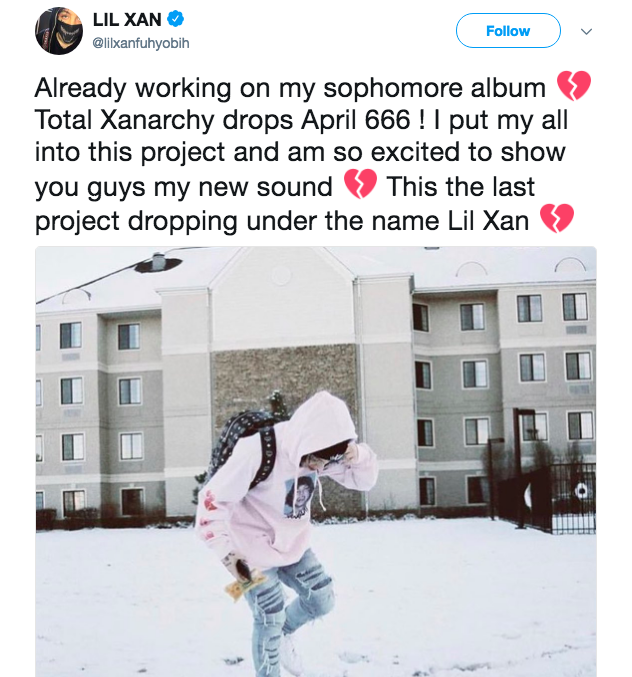 READ MORE:
5) He usually starts his day off with McDonald's
Sober life on the road can be frustrating for Xan, who says he still gets offered weed "multiple times" a day even though he no longer smokes. One indulgence he does allow himself is fast food, though.
"I wake up, usually start my day off with some very unhealthy McDonald's," he told the Phoenix New Times.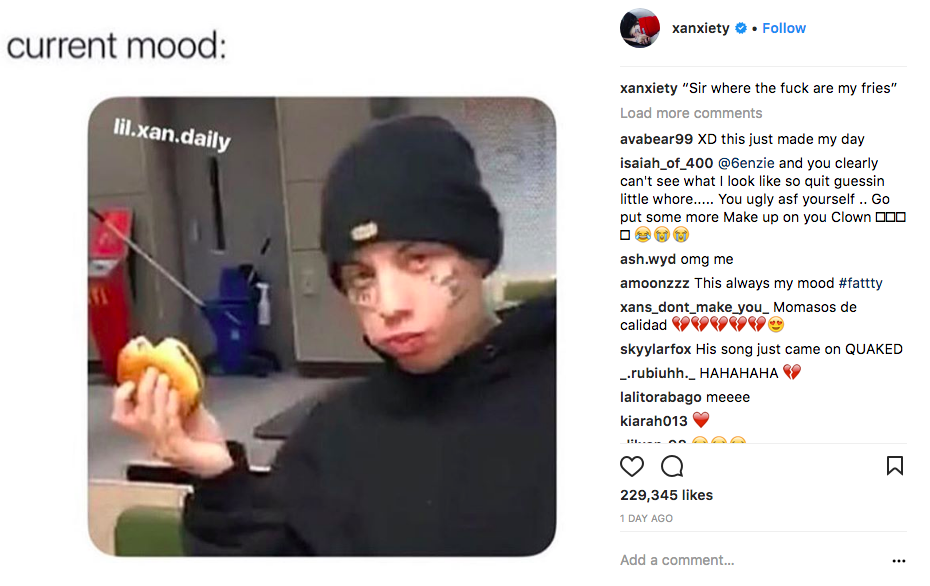 6) His musical influences are all over the map
Xan has said he "grew up listening to a lot of grunge and alternative rock," citing groups like the Arctic Monkeys, Queens of the Stone Age, Black Flag, and Smashing Pumpkins as some of his major influences. He looked up to artists like N.E.R.D. and Pharrell in particular as a kid, but he says it wasn't until A$AP Rocky hit the scene in his teens that he started paying attention to rap more seriously.
"I thought it was the dopest shit I ever seen," he told XXL. "Then I kept watching videos that came after on MTV and was wowed by how hip-hop was in a cool space."
He's also cited fellow SoundCloud alum Playboi Carti as a big influence.
7) His Total Xanarchy North American tour sold out in five hours
In December 2017, Lil Xan announced he was hitting the road for his first headlining tour—the Total Xanarchy Tour—featuring special guests $teven Cannon and Hippe Sabotage. The 25-date tour reportedly sold out in just five hours, and kicked off Jan. 25 in Vancouver, British Columbia.
https://www.instagram.com/p/BhnRVylnTO2/?hl=en&taken-by=xanxiety
8) He's proud of his Latino heritage
Being from Southern California, Xan catches a lot of flack from haters for being "white trash," but he's actually of Mexican heritage.
"I'm full Hispanic," he said to No Jumper. "I look white as f*ck, but if you're a true Latino you understand that a lot of Mexicans are pale as f*ck and very white. So shoutout to South America, shoutout Mexico, shoutout all my Mexican fans."
i'm mexican https://t.co/P7QHq1b09f

— LIL XAN AKA DIEGO (@lilxanfuhyobih) July 25, 2017
I love how people call me white trash when im full Hispanic haha

— LIL XAN AKA DIEGO (@lilxanfuhyobih) March 15, 2017
9) He took a break from social media following a series of harsh comments earlier this year
Back in February, Xan announced he'd be going "M.I.A from Twitter" for a while. Earlier that evening, the rapper had retweeted a screengrab of cruel tweets directed at him, including one that told Xan to "Od and die." Another one read, "Just looks like [Xan] trying too hard to fit in and you like a baby easter bird that needs to grow more and suckle breast milk."
He ended up clearing his slate on Instagram, deleting his archives and starting fresh, and has since returned to both platforms.
I'm so done with social media like is it that hard to be a kind person ?

— LIL XAN AKA DIEGO (@lilxanfuhyobih) February 7, 2018
Ima go M.I.A from Twitter

— LIL XAN AKA DIEGO (@lilxanfuhyobih) February 7, 2018
10) He collaborated with some of his heroes on his debut album
His first official LP for Columbia records featured collaborations with Charli XCX, 2 Chainz, YG, and Rae Sremmurd, to name a few. But one feature in particular really blew Xan away: Diplo.
"Went to a Diplo concert when I was 14!" he recently wrote on Instagram. "Never did I think we would have a song together! Life is crazy! Counting my blessings every day."
11) He took a break from doing interviews this year after catching heat for his opinions on Tupac
During a recent round of press to promote his new album, Revolt TV asked Lil Xan to rate Tupac's music on a scale of 1-to-10, and Xan gave it a 2. He called the California icon "boring," which didn't sit well with some hip-hop fans. After his mentions blew up, the rapper tweeted that he was "done doing interviews," and would "just stop saying how [he feels]" for the time being.
You know what ima just stop saying how I feel and I'm done doing interviews https://t.co/1KFHVSqFkq

— LIL XAN AKA DIEGO (@lilxanfuhyobih) March 5, 2018
I love my fans to death but I can't let these companies keep taking advantage of me and using me to further there shit,it's fucked

— LIL XAN AKA DIEGO (@lilxanfuhyobih) March 5, 2018
In early April, he checked in to notify people that he was still holding strong with his hiatus.
https://twitter.com/lilxanfuhyobih/status/980911312648601600
12) He doesn't know how to tie his shoes yet
The 21-year-old has tried to master the skill, but for the time being, it still eludes him.
"So many people have tried to teach me but it's one of those things where I physically can't learn, I don't know why," he said. "There's an old Spongebob episode where they teach you how to tie your shoes. I even watched that but it didn't help [laughs]."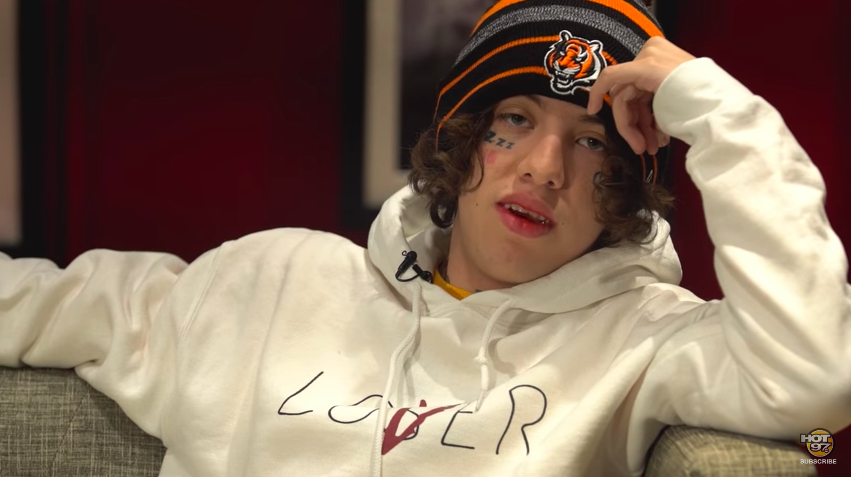 13) He loves Fortnite
Lil Xan has faced off against Twitch gamer Ninja more than once and has also invited fans to add him on Xbox live in his downtime.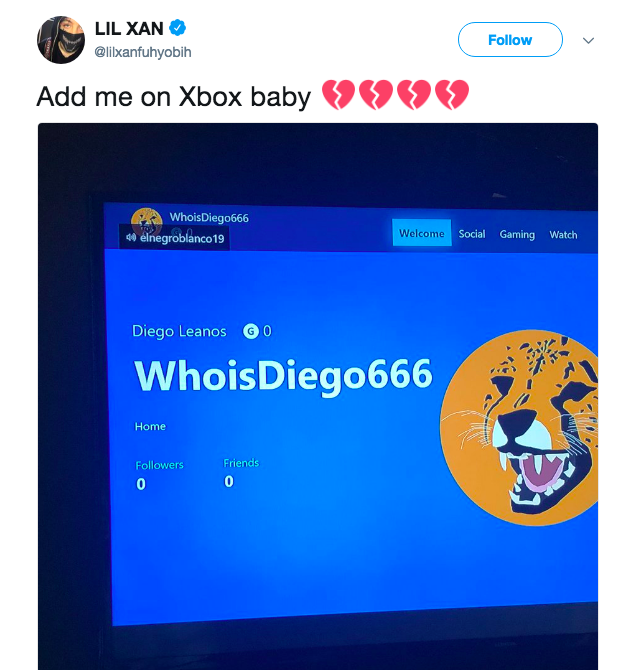 https://twitter.com/HYPEBEASTMusic_/status/983839422343983107

READ MORE:
14) He always makes time for his fans
Lil Xan loves doing meet and greets before his performances, something you might associate with pop artists like Katy Perry. But because he came up as a fan himself, photographing local hip-hop shows, he says he'll always have a minute for someone who appreciates his music.
"When they see me in public, I'll never be like, 'Nah you can't take a picture,'" he's said.
As a result, Xan's fans are super protective. Comedian Jon Daly recently incurred their wrath on Twitter for making fun of the rapper.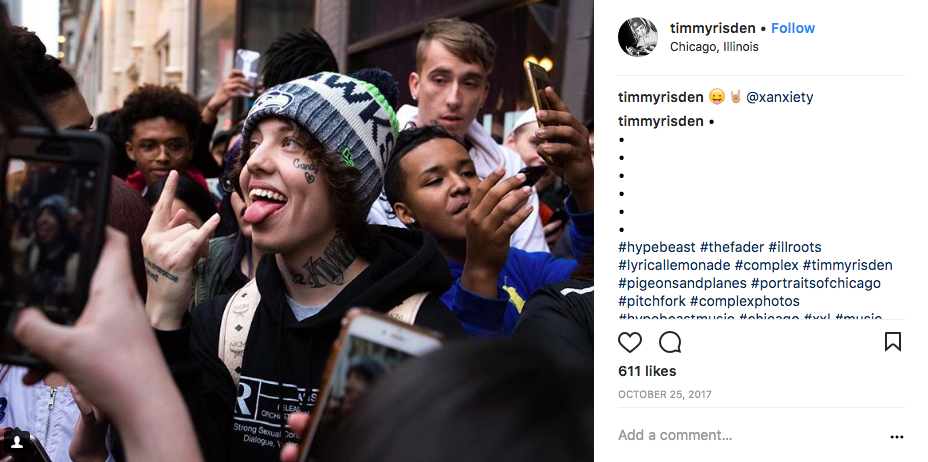 A HUGE thanks to @lilxanfuhyobih for treating the fans of Bloomingdale, Il with an awesome meet/greet! pic.twitter.com/AgpPqJThOs

— FYE (@officialfye) April 13, 2018
15) He named his car Darth Vader
Like many a young rapper, Lil Xan has been excited to spend some of his early money on a house for his family and a fancy new car. His SUV of choice is the 2018 Mercedes Benz G-Class wagon, which starts at a price of $123,600. Xan bought his a custom black-on-black paint job this April and has since dubbed it Darth Vader.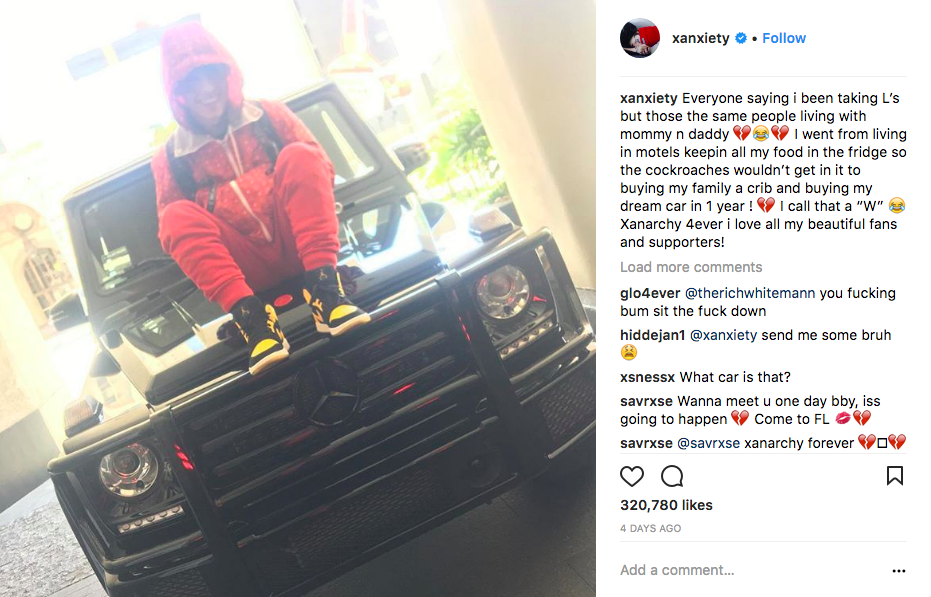 16) He's reportedly dating Noah Cyrus
Singer Noah Cyrus (Miley Cyrus's younger sister) and Lil Xan are confirmed as an item after both young stars posted cozy pics Instagram. In one post, he calls Cyrus "my baby girl." Another photo Xan posted from the 2018 VMAs is captioned "thank you for being my best friend baby Noey."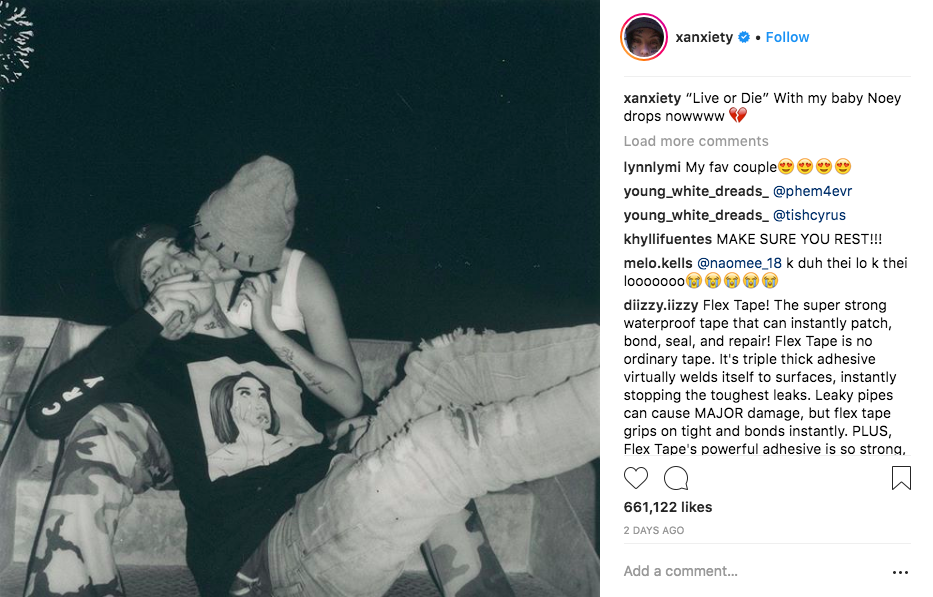 Cyrus and Xan dropped a single together, "Live or Die" in August 2018.
Editor's note: This article is regularly updated for relevance.