Chicago's Second City theater is a special place in the comedy world. Bill Murray, Jim Belushi, Chris Farley, Stephen Colbert, Amy Poehler, Tina Fey, Steve Carrell, and basically every comedian ever started on the stages of 1616 N. Wells. The place is haunted by funny. The latest entertainer to grace the theater? Lil Bub.
As part of a fundraising event, Internet cat Lil Bub and her charming owner Mike Bridavsky were slated to "perform" in an event alongside comedians like SNL and Portlandia's Fred Armisen.
Bridavsky is notable among celebrity cat owners* for his comparatively laissez-faire approach to Bub's fame. Though he keeps a blog and actively participates in events, he has eschewed the services of meme manager Ben Lashes (who reps Grumpy Cat and Keyboard Cat), and he chooses projects based on how cool he thinks they are, not the cash reward. There will be no Lil Bubaccinos in the future (although there will be a special on Animal Planet about the cat featuring Amy Sedaris, another Second City alumni). Choosing Second City was clearly a choice motivated by an appreciation for the venue.
Bridavksy and Bub sat down for a Q&A on one of the Second City stages, talking with Steve Albini, a talented comedian who happens to be Bridavksy's former boss.
Of course, things eventually tip-toed into a weird territory when it was time for Lil Bub to… perform.
A team of improvisers came out to do a set with Lil Bub. Unfortunately, while Lil Bub is very good at being extremely cute, she is very bad at improvisational comedy. She sat on Bridavsky's lap as the improvisers tried to concoct scenes around her presence, and then she scuttled offstage. The comedians, who I saw the night before absolutely killing it, seemed slightly at a loss with the situation, glancing at each other like "how the hell do I improvise with a cat?" They'd been up all night because the fundraiser also happened to be a 24 hour marathon, so perhaps it was not the best time to experiment with integrating animals into the act.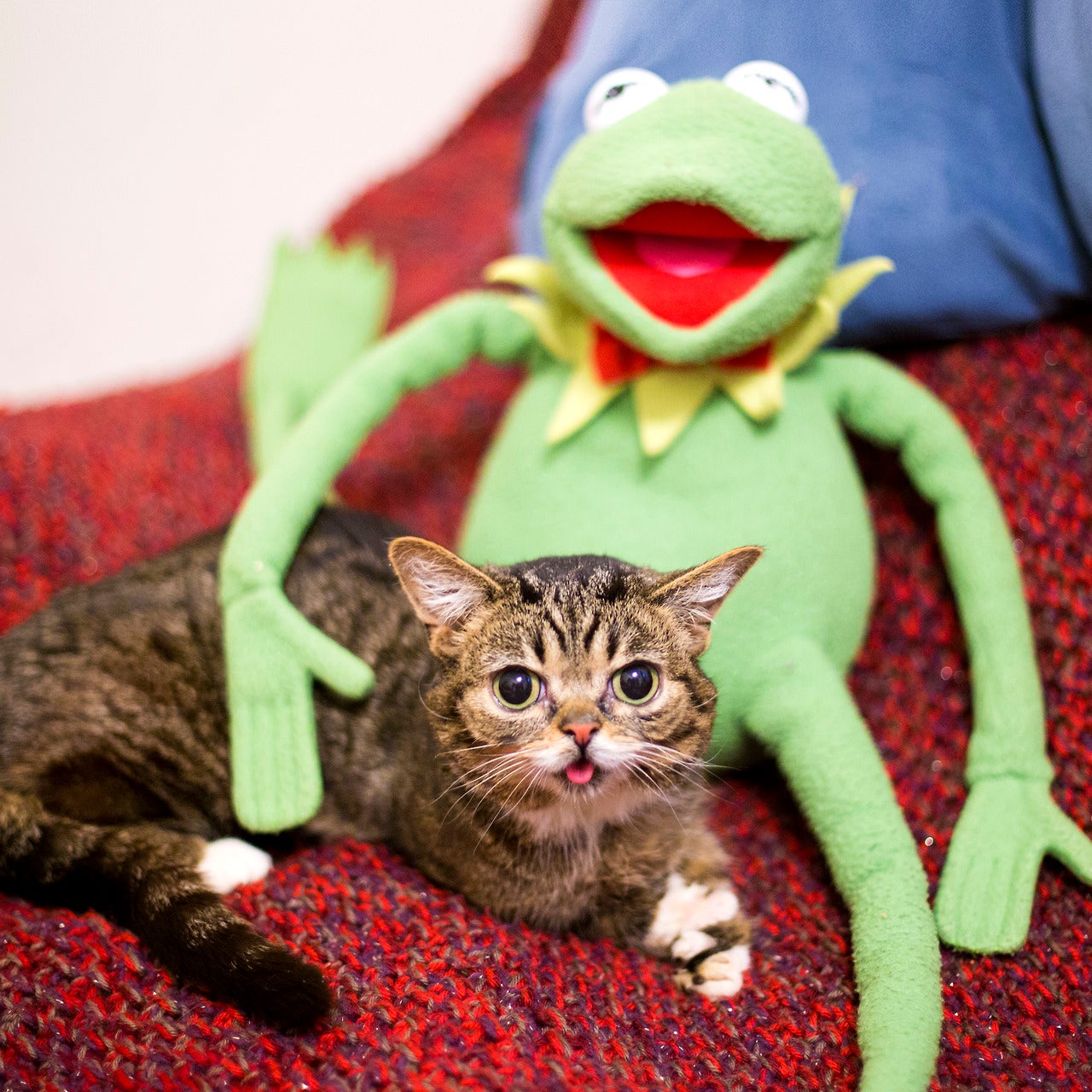 Photo via LilBub.com
Bub sat on Bridavsky's lap as one of the improvisers talked to him like he was a child waiting to go see Santa. There was nothing particularly wrong with the execution, but regular improv is certainly funnier than improv awkwardly shoehorned around the presence of an animal meme. The improvisers coaxed some laughs from the crowd as one of them pretended to be Santa, but Bub was clearly unhappy off of Bridavsky's lap, and when the improviser set her on the ground, she beelined off-stage. This left the improvisers with the unenviable task of trying to continue an improv set that was supposed to be about a famous cat without said famous cat. It's a testament to their talent that it was still funny, but you could tell they weren't overly thrilled with the entire conceit.
There are two important lessons anyone can learn from Lil Bub's improv debut. One, skittish cats are not generous scene partners. Two, improv shows are seldom made worse by the presence of an Internet cat, but they are seldomer made better (although Bub did raise $300 for Second City because apparently that's the going rate for taking pictures with the petite meme.)
While the comedy act itself might not have been improved by her presence, there was a certain charm in it all. And that is the weird magic of Lil Bub.
*I cannot believe I just typed those words.
Photo via Thee All-Nite Images/Flickr