Relationships are hard. Podcasting is easy. Maybe that's why comedians Kurt Braunohler and Lauren Cook decided to use the latter to figure out the former. They started the podcast Wedlock soon after being married, and have used it to explore everything from polyamory to furries.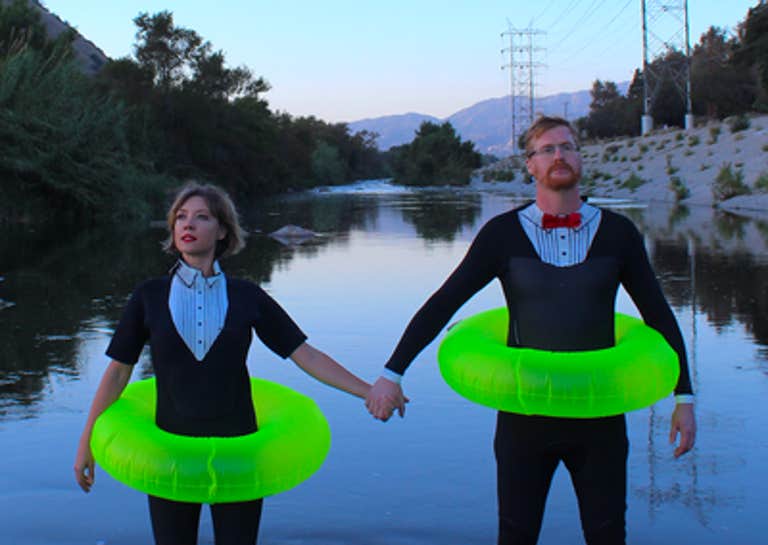 They may not be relationship experts, but they do know something about making an entertaining show. Cook won an Emmy for writing the web series Floaters and Braunohler, in addition to his stand out appearances on late night shows like CONAN and The Tonight Show, can be seen playing Maria Bamford's father on the critically acclaimed Lady Dynamite this season. Besides if two people can stay together while driving a giant butt across the country, they must know something about building a successful relationship.
Yes, that's a real thing they did.
The podcast has been around for about three years, but only recently became available for free on iTunes. Depending on the episode, you might hear the couple visiting a zoo to learn why bonobos have so much sex, or talking to Jim Gaffigan about what it's like raising five children. It's definitely funny, and often educational, but what really makes it stand out is its heart. At its core the show is about two people trying to figure out not only how relationships work in general, but how everything they talk about applies to their own marriage.
A lot has changed in three years, both in the podcast and their relationship (the couple had a baby early this year), but they still managed to find some time to talk to The Daily Dot about what they've learned about love, marriage, and working with your spouse.
What are a few things you've learned interviewing people for Wedlock?

Lauren: I was surprised to learn Furries are 99.9 percent male.
Kurt: Only the sexual furries! The non-sexual furries are pretty evenly split. Yes, there's two camps of furries.
Have you ever had an ex tell you they listened to the podcast? If so what did they think?
L: No. Ha. I had an ex who told me he listened to the mini-interview we did on WTF, but I don't know if any of my exes ever listened to our show.
K: I did, she said she liked it. We're buddies though.
Has anything about your own relationship changed due to things you've learned doing this podcast?
L: I think we've learned to fight a little more productively because we're communicating better because of this podcast. Or maybe we're just maturing and drinking less? I don't know.
K: We went to couples therapy originally because we thought it would be good for the podcast and it turned out it was just good for us in general.
Do you ever worry doing a podcast about relationships could lead to a fight?
L: It has. A few different times. But we often fight when we work together. It's not a rare thing to have happen. It's ok. They aren't bad fights.
K: Oh we fight about it all the time—but I think we learned how to fight better because of it.
Has anything from the podcast made it into your act?
L: I told a story on stage once about the time we had just moved into our house and a neighbor came over to complain about one of our outdoor lights while we were in the middle of recording the Fight Therapy episode. We both forgot we were wearing Brittany mics and our place was covered in mats, so we didn't explain anything. She must've thought we were crazy. We've never spoken to that neighbor again.
K: Not yet! But I'm sure we will.
If you think of something funny to say about the other person on stage do you run it by them first? What's your "rule" about things like that?
L: No. But we warn each other if they're going to hear it or read it (like if the other person is coming to the show or might hear it on the radio or something.)
K: Yeah we kinda do the "hey listen to this thing." No need to do it beforehand, because if it doesn't work, it won't be repeated. The hard part is that if a bit really kills and Lauren isn't OK with it. We've found ways around that up until now. Honestly, if Lauren doesn't like a joke, I probably wouldn't want to keep doing it anyway.
You did a great piece for the A.V. club where you talked about the relationships of fictional characters. Who do you think has the best/worst relationship on T.V. right now?
L: Best – Catastrophe / Worst – Handmaid's Tale
K: Agreed.
What's one piece of advice you would give any couple, married or otherwise, if they want to have a good relationship?
L:
Do the languages of love thing. Take the quiz:
5 Love Languages
. It sounds dumb, but… Seriously. Find out what your love language is and find out your partner's and make sure you're both feeling heard and seen and taken care of.
K: Do couples therapy. Even if you don't have a "problem." It's fascinating.
Would you ever want to make a classic style sitcom where the two of you play a married couple?
L: Yes. That'd be great.
K: Yes. Do you know of one?
You can download and listen to Wedlock on iTunes here.