A day before KSI battles Logan Paul in a YouTube boxing extravaganza, KSI taunted his opponent by wearing a mask of Chloe Bennet, Paul's girlfriend, at Friday's weigh-in.
After Paul stepped on the scale to reveal his weight of 190 pounds, KSI took the stage wearing a Bennet mask.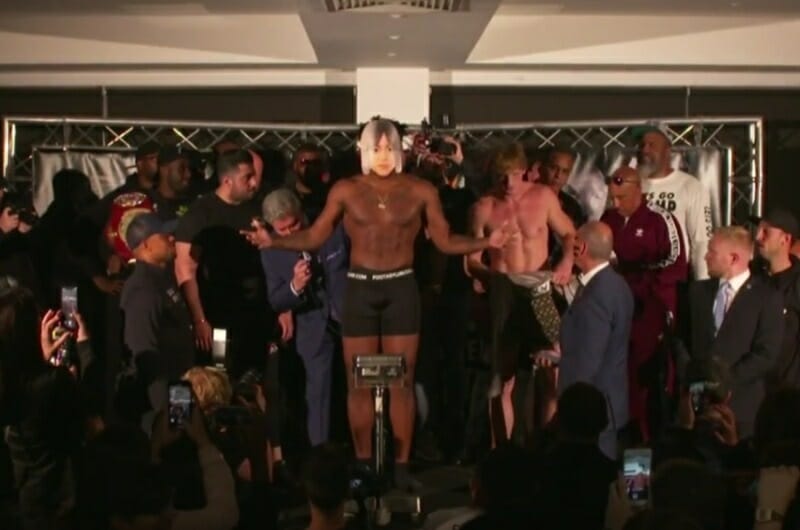 After recording a weight of 187 pounds, KSI and Paul faced off against each other. KSI blew kisses to somebody off the stage—possibly Bennet—and as the two talked trashed to each other, Paul fed KSI a piece of gum to ward off what Paul intimated was KSI's bad breath.
After a brief staredown, the two were separated, and they went their respective ways.
The next time the two will presumably see each other is at the Manchester Arena on Saturday when they face each other in a six-round amateur fight. It probably will be a terrible display of boxing, but the buildup to this matchup has been effective.
KSI attacked Paul at the first press conference in June, and in the second press conference, Paul left the stage after KSI unleashed a number of insults at him.
KSI also talked about Bennet at the second meeting, saying, "Chloe Bennet, what's up babes? Why don't you introduce me to her? You've only got 85 percent of your testicle. I'll show her a real man."
Paul responded later in a vlog in which he ripped KSI for sexually objectifying women. In a recent video, KSI had blasted Paul to Bennet, saying, "How is he going to go down on with you with a busted lip? I'm sorry Chloe, but after the 25th of August, Logan is going to have to fuck you like a prostitute."
In response, Paul said, "You talk about my girl like she's a piece of meat. But you know women have a choice, right? Sometimes they don't like those comments."
The fight will be available to stream on YouTube for an $8 fee. If the livestream numbers for the weigh-in are any indication—at one point, as many as 320,000 people were watching concurrently—you can expect millions to watch the two fight in a boxing ring.