One's a mad-hatted media tycoon from New Zealand, the other's a hard-nosed delinquent from Boston. But on the Internet, Kim Dotcom and Blake Boston have the same dream: Both want to be the next big name in hip-hop music.
The two boisterous personalities took their first collective leap into the rap game last week, releasing tracks in anticipation of full-length albums. Boston, better known on the Web as Scumbag Steve, dropped "Scumbag Steve Overture" as an introduction to his Scumbag Thursday singles series. (Follow-up "My Whip" arrived yesterday.)
Dotcom, infamous for being the overjoyed Pillsbury doughboy who revolutionized file sharing with his now-defunct cyberlocker site MegaUpload, leaked "John Banks Song"/"Amnesia" on Tuesday, a fitting prelude to a dance music album reportedly in the works.
Common sense would suggest that's where the similarities end—a viral meme from Boston and an Internet tycoon in New Zealand surely couldn't share that much. But don't be so quick to draw the gun. The Daily Dot scoped out both dynamic personalities and found that the two share much more than an affection for smoothed out raps.
Tale of the tape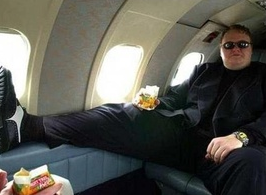 | | | |
| --- | --- | --- |
| Kim Dotcom | Name | Blake Boston |
| 38 | Age | 22 |
| New Zealand-via-Germany | Residence | Boston-via-more Boston |
| Married | Marital Status | Can hardly get a date |
| Doughy | Body type | Doughy |
| Owning and operating MegaUpload, one of the largest cyberlocker sites on the Web | Famous for | |
| Got sultry pop star Ciara to look cunningly at the camera and say "I love MegaUpload because it moves fast, just like I like it." | Greatest accomplishment | Recently earned the adoration of the Daily Dot's Lauren Orsini |
| In 2003, Dotcom was sentenced to two years probation for pleading guilty to embezzlement | Financial woes | |
| Posing with guns, inviting attractive women on expensive yachts, climbing into hot tubs fully dressed, hunting ducks, bathing in balloons | Hobbies | Stealing lighters, drinking with high-school kids, stealing his grandfather's pain medication |
| Pointed, A-B-A-B raps | Rapping style | A-B-A-B #meme rap |
| Dance-pop ready, with an assist from Black Eyed Peas producer Printz Board | Production elements | 50 percent "Grindin'" by Virginia Beach duo Clipse; 50 percent everything Sam Adams and Mike Posner have ever done |
| Dotcom is currently recording material for his debut album, a collection of dance tracks, title unknown | Artistic aspirations | Scumbag Thursdays, a weekly franchise that finds the aspiring rapper releasing a new track onto YouTube every Thursday |
| Bono-style sunglasses | Trademark gear | Backwards, plaid argyle Red Sox hat |
| Mock turtleneck, comfortable khakis, oversized blazers | Style of dress | Olive-colored T-shirt, fur-lined winter coat |
We made this state-of-the-art Venn diagram to help sort out the similarities and differences a little easier.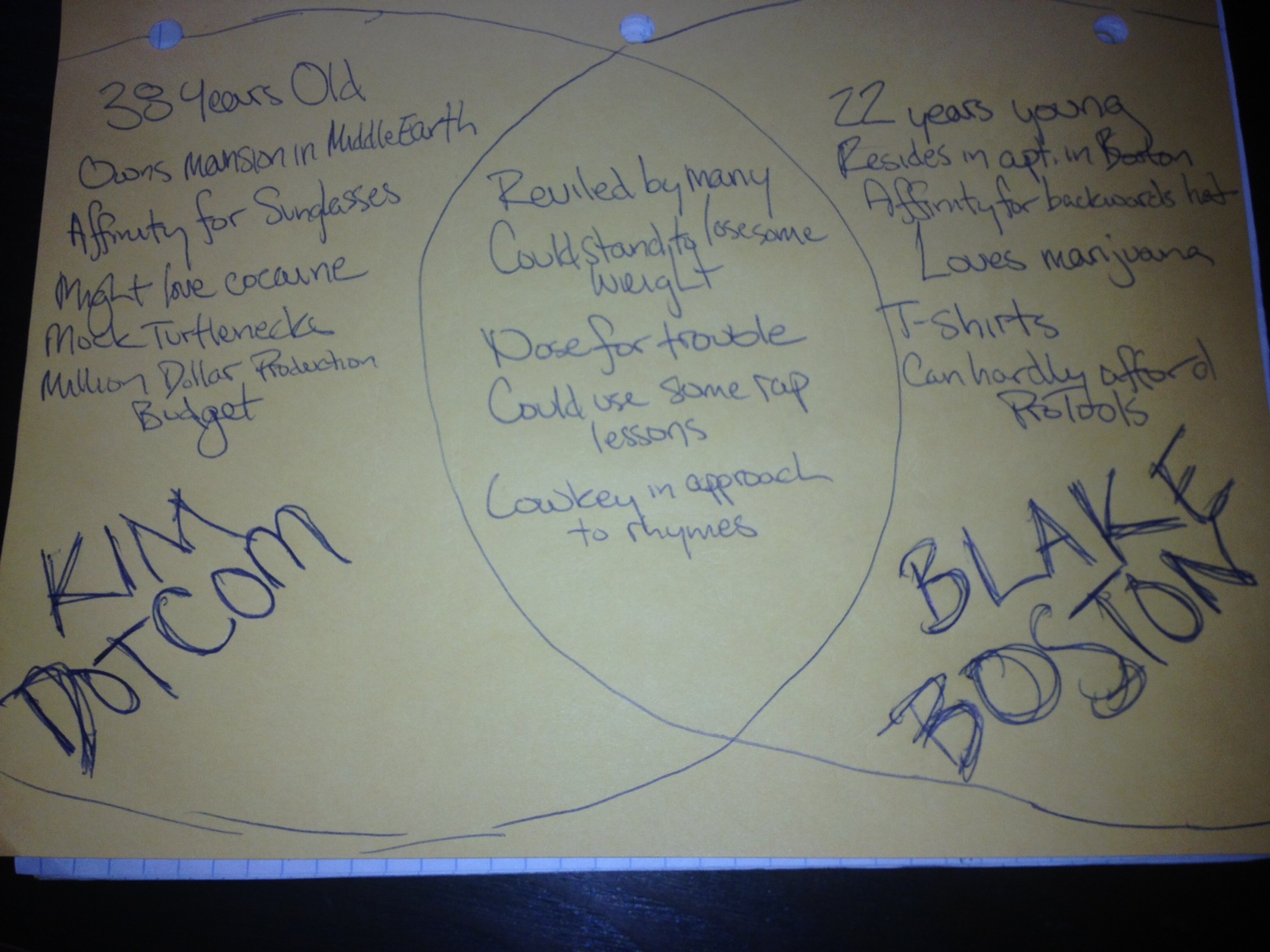 Two rappers with a like-minded flow, a nose for trouble, and a dream to make it big. Are we looking at the next great collaboration of Internet fame? The Daily Dot can only hope.