Two weeks and a million dollars later, Humble Bundle might have created an unexpected paradigm shift in the publishing industry.
Humble Bundle operates on the idea of packaging products into a "humble bundle" for which fans can pay whatever amount they want for music and games, then allowing them to portion their payment out between artists and charities—plus a "tip" for Humble Bundle itself, of course.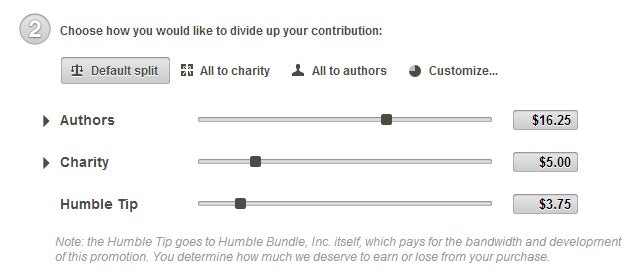 The company's latest campaign, with rights-management-free books, averaged over $14 per bid, making it the most successful per-bundle campaign the site has launched yet. It also provided a new industry model for how to dramatically increase sales of an author's backlist—that is, older books that generally sell fewer copies.
With just under five hours left, the campaign has raised over $1.7 million for participating authors and charities.
Humble Bundle started in 2010 with the "Humble Indie Bundle," an elaborate gaming pack that included not only free downloads but donated source code from developers and challenges from game corporations. Over the last two years, more gaming bundles have seen tremendous success: Humble Bundle V sold over 600,000 bundles and raised over $5 million.
In July, the site branched out, garnering over $200,000 for its music bundle, with profits benefiting various musicians, including They Might Be Giants, and charities like the Electronic Frontiers Foundation (EFF). Despite its previous success, July's performance was lackluster compared to the ongoing popularity of the gaming bundles, so HumbleBundle needed to pull out all the stops for its next attempt to jump platforms.
Enter venerated blogger and author Cory Doctorow. A fellow of the EFF and a vocal supporter of ending Digital Rights Management for books, he volunteered to curate the first-ever Humble E-book Bundle. From there, it was easy to get more powerhouse authors to sign up for the project: Sandman authors Neil Gaiman and Dave McKean donated their acclaimed graphic novel Signal to Noise, making it available in e-book format for the first time. Other noted sci-fi/fantasy authors John Scalzi, Paolo Bacigalupi, Lauren Beukes, Mercedes Lackey, and Kelly Link contributed, with charity funds split between the EFF, the Science Fiction and Fantasy Writers of America, and Child's Play, a nonprofit organization that donates video games to children in hospitals.
A week into the 14-day challenge, it got even better, as several webcomic artists came aboard with digital compendiums of their greatest comics, including XKCD and Penny Arcade. Apart from having a string of A-list writers associated with the project, the e-book bundle also got a boost from Wil Wheaton, who promoted it on his Twitter and is one of the top purchasers.
Though this is the moment for book-lovers, the gaming community is still making its mark; currently in first place on the leaderboard, with a $1200 purchase, is #saveCoH. The bid promotes the fan effort to save online role-playing game City of Heroes, which recently announced that despite the game's profitability and popularity, it would be shutting down its servers so that its parent company could introduce a martial arts fantasy to its audiences instead.
While the #saveCoH campaign might look grim, the outlook for the publishing industry in the wake of the e-book bundle's success could be bright—especially since all the books offered were for older titles which otherwise might not have found this type of audience at all.
"For a lesser-known author like me it's meant that it's eclipsed all my sales on Zoo City to date in two weeks," Beukes told The Guardian. "Two weeks!"
Robert Martinez of Humble Bundle added that the company is already planning more e-book bundles and that the success had definitively impacted the publishing industry:
The average price that customers are choosing to pay for this bundle is unprecedented at over $14. This is, by far, the highest average we have ever experienced for a pay-what-you-want promotion, and we believe it is a great indication for the future of ebooks and Humble Bundle.
With this kind of success paving the way, more authors will doubtless be signing up to be considered for future e-book bundles. Humble Bundle is already accepting submissions for round two.
Photo via Nath Ymt/Flickr