After bottoming out last month, Hulu's holiday-themed horror anthology Into the Dark rebounds with Pilgrim. There was no doubt this would be a rebound; that's how the pendulum swings with an anthology series. It doesn't hurt that Uncanny Annie set the bar so low, it would've been nearly  impossible for Pilgrim not to clear it. Pilgrim takes the worst aspects of the holiday season—forced gratitude and bonding—and weaponizes them. With a game cast and fast-paced script, Pilgrim is consistently entertaining, despite some bumps in the road. It's silly in both intentional and unintentional ways, and its shaggy-dog charm works.
Into the Dark: Pilgrim
RELEASE DATE:
11/01/2019
DIRECTOR:
Marcus Dunstan
STREAMING:
Hulu
In an attempt to bring her family closer, Anna invites Pilgrim impersonators into her home to recreate the first Thanksgiving. The experience will challenge the family in unexpected, bloody ways.
The premise of Pilgrim is as terrifying a concept as Into the Dark has conjured. Suburban mom Anna (Courtney Henggeler) invites a few grown adults who cosplay as Pilgrims into her home in order to recreate the first Thanksgiving. Anna imagines this will give her busy family a chance to put away their devices and reconnect. Things are particularly thorny between Anna and her teenage step-daughter Cody (Reign Edwards). Meanwhile, Anna's father, Shane (Kerr Smith), can't seem to live without his fifth appendage, his tablet, glowing reassuringly by his side. That leaves the youngest family member, Tate (Antonio Raul Corbo), to his own devices.
As the Pilgrims, Ethan (Peter Giles) and Patience (Elyse Levesque), move in for their days-long stay, it's immediately clear to Cody that this is a terrible idea. It says a lot about the family dynamic that Cody is the only one who calls out the absurdity and creepiness of this plan. But in her desperation, Anna is blind to it and just wants everyone to give it a chance. Anna and Cody are both right and sympathetic. Despite the readymade tension between the two, the script is smart enough to not vilify either character. During an early party scene, Cody overhears a few neighborhood moms talking down on Anna. Edwards makes it clear Cody has some affection for Anna. It's a brief moment, but a key one for their relationship.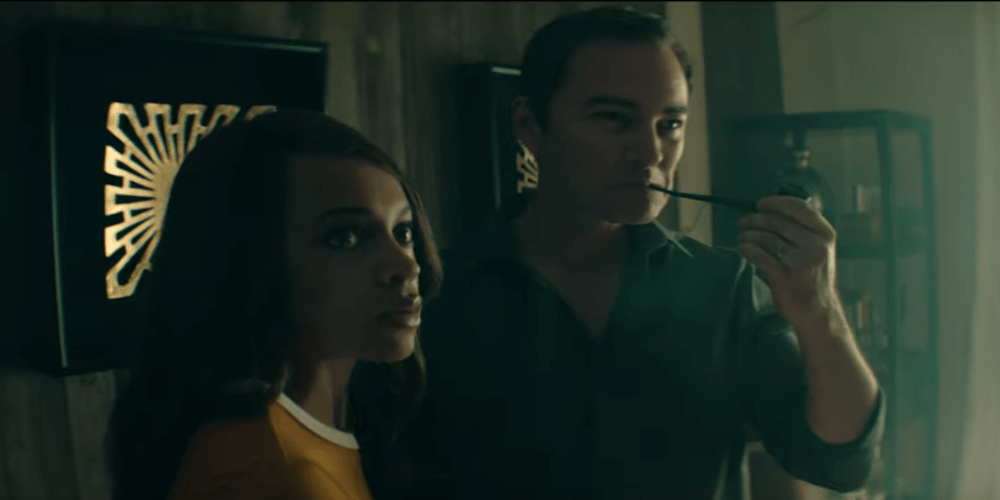 As Ethan and Patience lay the groundwork for their plan, clues that things won't end well abound. While we wait for the rest of the family to get onboard with Cody's suspicions, the story becomes repetitive. That's partly due to audience expectations, since we know what's coming. Once the Pilgrims enter the picture, the film treads water until things get violent. Luckily, Pilgrim's creative team is well-versed in single-location stories. Co-writers Patrick Melton and Marcus Dunstan (who also directs) have a ton of horror credits on their resume, including multiple Saws and The Collector series. Their experience is obvious in Pilgrim's efficiency. They, along with third co-writer Noah Fienberg, pack Pilgrim's script with amusing bits. Dunstan directs the film with a playful eye. The fluid camerawork creates a bit of claustrophobia, as it can only move so much within the confines of the house.
I don't think there is a single surprising moment throughout Pilgrim's 80-minute runtime. It hardly matters, because it's still fun to go down a path we've all seen before. Most of the credit belongs to the cast, particularly Edwards, Giles, Levesque, and Kerr. Giles packs menace into every word Ethan utters, and Levesque is creepy as hell as Patience. Smith's distracted dad bit is scary in its authenticity, and Edwards is the engine that drives Pilgrim.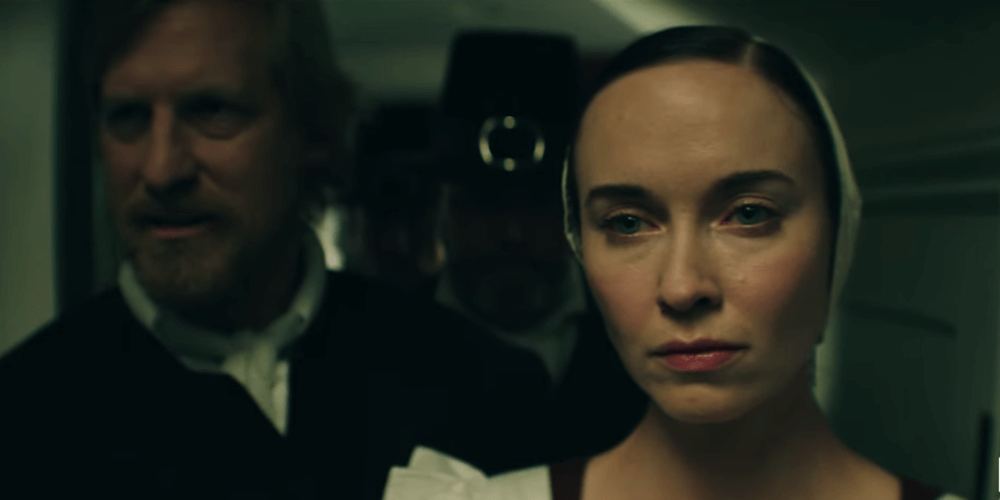 While Dunstan knows how to deliver the genre goods, he also succumbs to some of its pitfalls. These range from little moments like Cody sneaking her boyfriend into her room but leaving the door open so anyone can hear them (hilariously, Ethan is the only one who is onto them), to huge gaffes like Cody refusing to ask for help as she runs home from her boyfriend's house after a terrifying discovery. I can't blame anyone who rolls their eyes at these moments and checks out of Pilgrim. I must have been in a good mood when I watched, because these goofs added to the experience. Probably, though, I was just happy Pilgrim wasn't as bad as Uncanny Annie. That's something to be thankful for.
Still not sure what to watch on Hulu? Here are the best movies on Hulu, what's new, the best shows on Hulu, the sexiest movies you can stream on the service, Hulu documentaries, anime, and the must-see Hulu originals.
Looking for something more specific? Here are the best thrillers, serial killer movies, and action movies to get your heart racing, classic movies when you want a blast from the past, sad movies when you need a good cry, adult cartoons, and funny movies on Hulu when you need a good laugh.