When heavyweight Josh Barnett (35-8) walks into the Bellator cage on DAZN for the first time on Friday night to fight Ronny Markes (19-7), he'll do so after nearly 23 years as a professional mixed martial artist, which is an absurd amount of time to be doing something so absurd.
Barnett's résumé reads like a history of MMA and its shifting promotional power centers. He beat Randy Couture for the UFC heavyweight championship back when the UFC was more a national scandal than a sports league. He fought Mirko Cro Cop and Antonio Nogueira during the glory days of PRIDE. He was on the main card of the first Affliction event. He took part in the Strikeforce Heavyweight Grand Prix tournament that introduced the world to Daniel Cormier. He returned to the UFC in 2013, just as the promotion and the sport were hitting the mainstream.
And now, at 42 years old, he's signed on to Bellator's "master's tour," joining Frank Mir, Roy Nelson, "Rampage" Jackson, and countless other veterans whose time has probably gone but for whom the addiction to fighting remains. Every time MMA has had a moment, it feels like Barnett has been involved.
Despite this seeming ubiquity, however, Barnett actually hasn't fought in more than three years, the result of a dispute with the UFC's anti-doping partner, USADA, over a failed drug test in December 2016. After a lengthy arbitration, USADA cleared Barnett in March 2018, but by then, the damage was done: Barnett had lost faith in the agency. In June 2018, Barnett asked to be released from his UFC contract, and earlier this year, he signed with Bellator. Thirty-eight months after beating fellow veteran Andrei Arlovski at UFC Fight Night 93, he will once again walk into a cage, a middle-aged man in a young man's game.
The man welcoming Barnett back to the world, Ronny Markes, is an MMA veteran himself, but his 12 years in the sport seem like a dip in the pool compared to Barnett's career. And while the Brazilian has had his moments, including a brief run in the UFC, Barnett will be forgiven if he's looking past him to legacy-defining fights with bigger names, including Bellator heavyweight champion Ryan Bader and, especially, Fedor Emelianenko.
This second possibility is the one that entices longtime MMA fans the most, if only because it's been percolating forever. Barnett and Emelianenko both fought in PRIDE in the mid-2000s when Japan was the center of the MMA world and Emelianenko was its undisputed king. But they never fought each other, even after Barnett beat Emelianenko's little brother Alexander.
They very nearly made the fight happen a few years later in Affliction, an upstart promotion backed largely by money from Donald Trump that was making a run at the UFC's place atop the MMA world. Emelianenko had wowed American crowds at the first two Affliction events, crushing former UFC champions Tim Sylvia and Andrei Arlovski in no time and bolstering his reputation as an unbeatable Russian enigma. His fight with Barnett, after all those years, was being sold as the solidification of Affliction's place in the world. But then the roof caved in. Ten days before the event, Affliction announced that Barnett had tested positive for anabolic steroids. Two days after that, his fight with Emelianenko was canceled, the rest of the card was canceled, and Affliction itself was canceled. Everything went up in flames in a matter of moments.
If Barnett hadn't taken those drugs, the world could be a very different place. Maybe today we'd be talking about him and not Emelianenko as the greatest heavyweight ever. Maybe Affliction would have established itself as a legitimate challenger to the UFC, breaking its monopoly and offering fighters a real first-tier alternative and the bargaining power that goes with it. Maybe Trump would still be just a simple majority stakeholder in a fight promotion. And maybe his former lawyer Michael Cohen would still be that promotion's chief operating officer rather than a convicted felon wasting away in federal prison.
Here's everything you need to know to stream Barnett vs. Markes.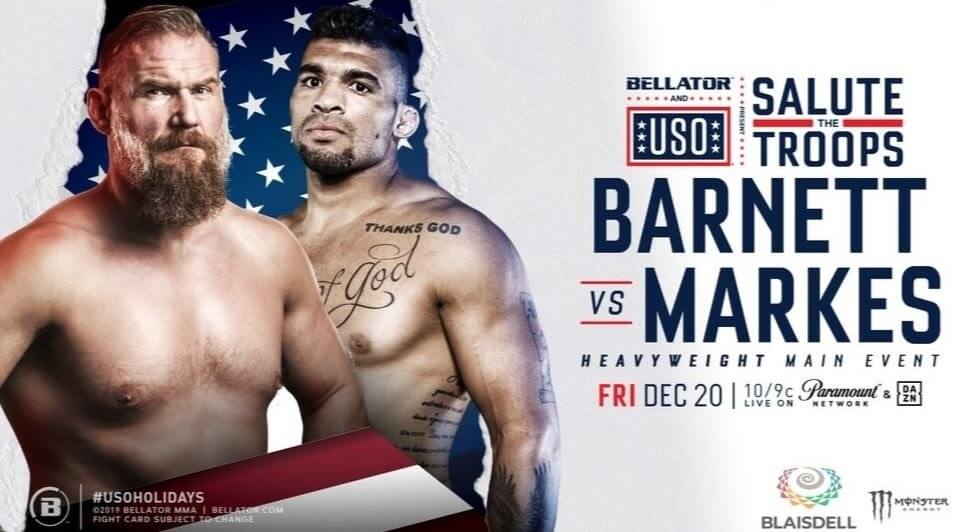 Bellator Salute: Josh Barnett vs. Ronny Markes
When: Friday, Dec. 20 at 10pm EST
Where: Neal S. Blaisdell Arena in Honolulu
Streaming: DAZN
If you still have cable TV, you can watch many of the Bellator events on the Paramount Network. For this card, that is the case. But you can also stream it on DAZN. A subscription to DAZN costs $19.99 per month or $99.99 for a year, and it's been a great resource for combat sports fans.
DAZN was introduced to the U.S. audience in September 2018, and since then, it's showcased Bellator's biggest events along with featuring some of the most popular boxers (Canelo Alvarez, Gennady Golovkin, and Anthony Joshua) and that sport's rising stars (Regis Prograis, Devin Haney, and Vergil Ortiz Jr.). With the two combat sports combined, DAZN shows more than 100 fight cards per year (including a pair of Bellator cards this weekend).
DAZN works with Roku, Apple TV, Amazon Fire Stick and Fire TV, Xbox One, PlayStation 4, and both iOS and Android phones. All you have to do is download the DAZN app and log in with your subscription credentials. You can also stream via computer browsers Chrome, Firefox, Safari, Edge, Internet Explorer, and Opera. (You can read our full DAZN review here.)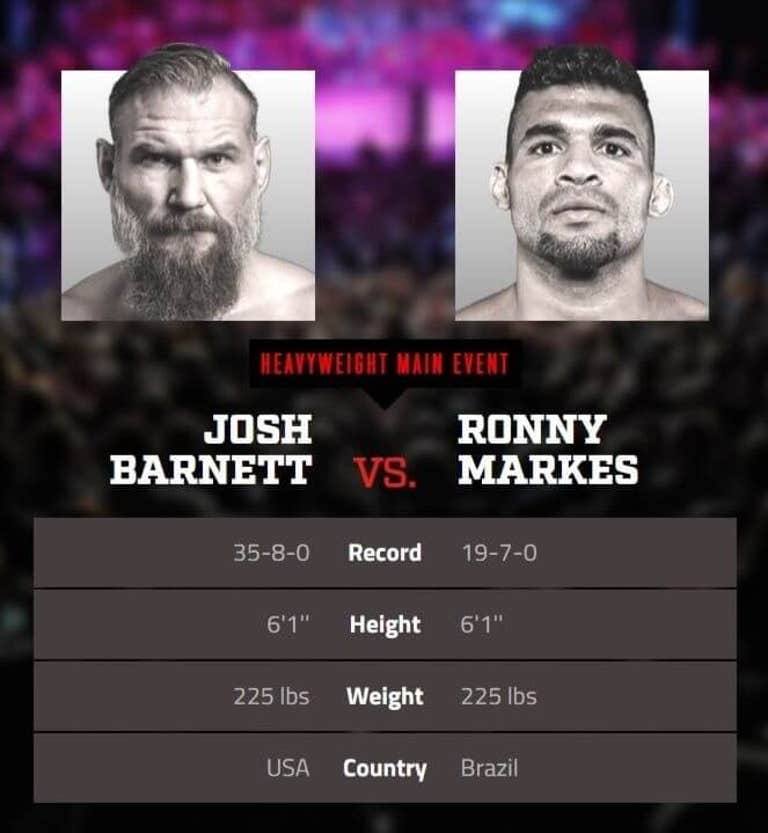 Bellator 232 live stream schedule
All times ET.
Main card | 10pm on DAZN
Josh Barnett vs. Ronny Markes
Toby Misech vs. Erik Perez
Alejandra Lara vs. Veta Arteaga
Tywan Claxton vs. Braydon Akeo
Joey Davis vs. Chris Cisneros
Prelims | 8:45pm on DAZN
Cass Bell vs. Pierre Daguzan
Ty Gwerder vs. Joseph Creer
Hunter Ewald vs. Brysen Bolohao
For a year-round sports fix, sign up here and check the "sports" box to receive our weekly boxing newsletter. You'll hear about all the biggest fights and best knockouts from the Daily Dot's streaming sports guru Josh Katzowitz.
The Daily Dot may receive a payment in connection with purchases of products or services featured in this article. Click here to learn more.